One-club men have been a rare phenomenon in football with even the likes of Steven Gerrard, Xavi, and Matt Le Tissier spending a year or two towards the ends of their careers elsewhere.
In the modern age of big-money signings from all over the globe, the one-club man thing looks like something completely of the past. Lionel Messi still qualifies for now, but with how things are right now, it could all change anytime soon.
However, history has still thrown out some sensational players who stuck with the same team their entire playing careers. Here's a starting XI of the best one-club men the world has seen in the history of football.

Goalkeeper – Lev Yashin (Dynamo Moscow, 1950-1970) – In the unfair world of forwards picking up all of the glory, Lev Yashin remains the only goalkeeper ever to win the prestigious Ballon d'Or.
Alongside his Ballon d'Or, Yashin won five league titles and three Soviet cups in his 20-year career at Dynamo Moscow, where he made 326 appearances. In 1960, he also won the inaugural European Championships.
Right Back – Carles Puyol (FC Barcelona, 1996-2014) – Carles Puyol was a key part of the FC Barcelona managed by Pep Guardiola that was one of the greatest club sides that football has ever seen.
Widely regarded as one of the best captains and defenders, Puyol, could play as a full-back on either side (mostly right) and also played a big part of his career as a centre-back and could have also made into this list as one.
The Spaniard held the captain's armband for ten years at the Camp Nou and appeared in 593 competitive matches for the club. He won 18 major trophies including six La Liga titles and three Champions Leagues, on top of a World Cup and a European Championship with Spain.
Centre-Back – Franco Baresi (AC Milan, 1977-1997) – During his two decades at AC Milan, he captained the side for 15 years. Baresi made 719 appearances in all competitions, lifting 19 trophies for the Rossoneri including three UEFA Champions League titles, six Serie A titles, four Supercoppa Italiana titles, two European Super Cups, and two Intercontinental Cups. He also lifted the 1982 World Cup with Italy.
Centre-Back – Tony Adams (Arsenal, 1983-2002) – Tony Adams spent his entire playing career of 22 years as a centre back at Arsenal and is considered one of the greatest Arsenal players of all time. In his 504 appearances for Arsenal, he won four top-flight division titles, uniquely captaining a title-winning team in three different decades, three FA Cups, a UEFA Cup Winners' Cup, two Football League Cups, and two FA Community Shields.
Left-Back – Paolo Maldini (AC Milan 1984-2009) – Considered by many to be the greatest defender of all time, like Puyol, Paolo Maldini could also have made it into this Top XI as a centre-back.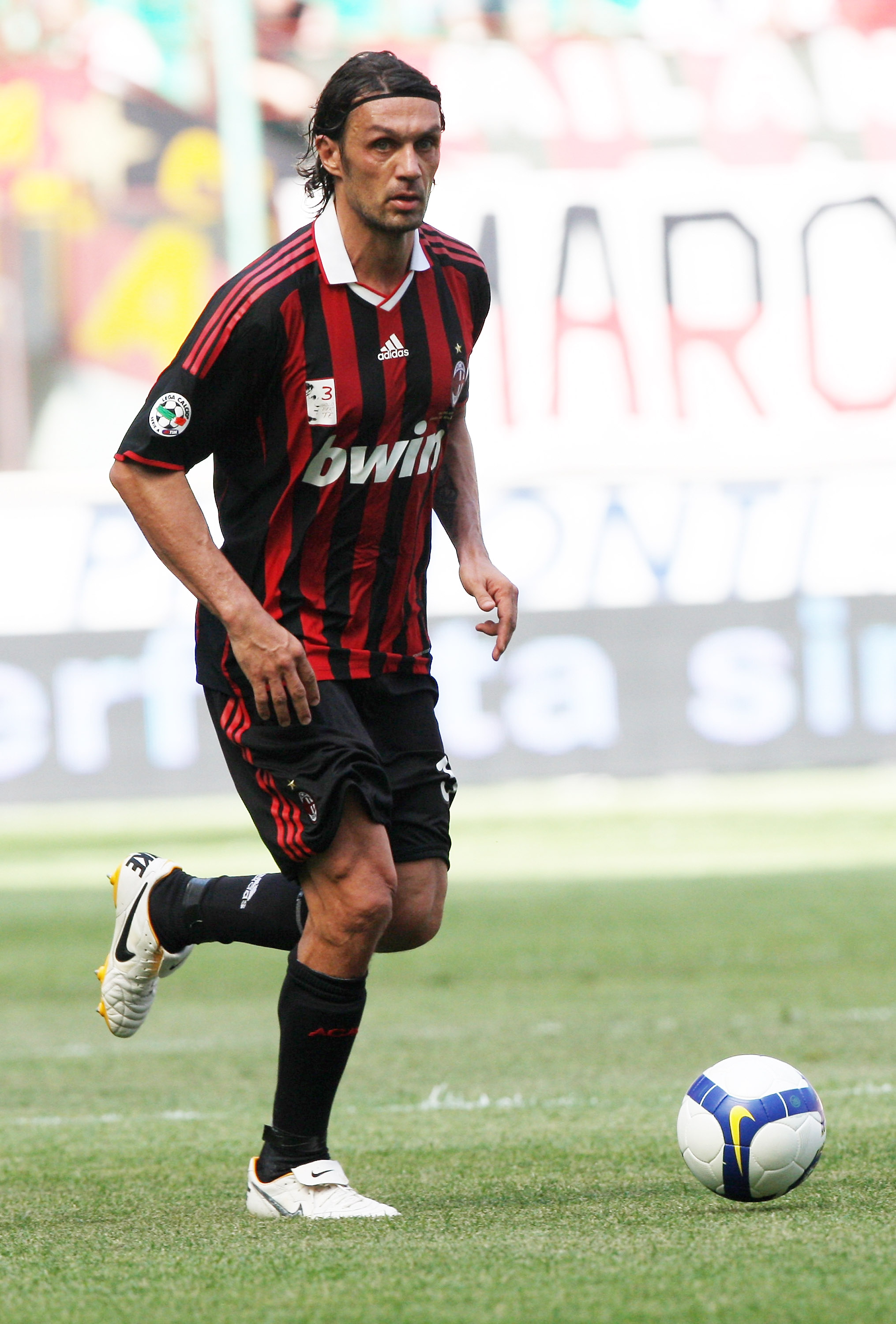 In his astonishing streak of 25 years playing for AC Milan, Maldini made over 900 appearances. During this quarter-century, the Italian won 25 major trophies, including seven Serie A titles and five European Cups.
Right-Midfield – Tom Finney (Preston North End, 1946-1960) – As Sir Thomas Finney made appearances for Toronto City and Distillery, technically he is not a one-club man. However, considering those were exhibition matches after his retirement, so we'll let him off.
Not one of the most famous members of the XI, Finney was a hero at Preston North End, making 569 appearances for them in 14 years, scoring 210 goals.
Centre-Midfield – Paul Scholes (Manchester United, 1993-2011 & 2012-2013) – One of the Class of '92 members and Sir Alex Ferguson's passing maestro in midfield, Paul Scholes played 18 seasons till 2011 for Manchester United, winning ten Premier Leagues, retired, then came out of retirement in 2012 and won another.
The Englishman has made 499 appearances for the club and is often held in very high regard by those who played with him. With United, Scholes won 25 trophies including 11 Premier League titles and two UEFA Champions League titles.
Centre-Midfield – Ricardo Bochini (Independiente, 1972-1991) – Ricardo Bochini is an icon in Argentinian football and was known to be an idol to Diego Maradona. He spent his entire career at Independiente, making 634 appearances, scoring 97 goals, and winning 14 trophies in total.
Left-Midfield – Ryan Giggs (Manchester United, 1993-2014) – Another one of Manchester United's 'Class of '92', for over two decades, Ryan Giggs was one of English football's standout.
Giggs is one of the most decorated footballers of all time, he won 13 Premier League titles, four FA Cups, three League Cups, two UEFA Champions Leagues, a FIFA Club World Cup, an Intercontinental Cup, a UEFA Super Cup, and nine FA Community Shields. He is also United's record appearance maker with 963.
Striker – Matthias Sindelar (Austria Wien, 1924-1939) – Unfamiliar to many of the younger and quite a few of the older generation, Matthias Sindelar established himself as one of the sport's finest ever players from 1924 through to 1939 playing for Austria Wien. He scored 240 goals and starred at the 1934 World Cup.
Striker – Francesco Totti (AS Roma, 1992-2017) – One of the first names that would come to your mind when you listen to the phrase 'one-club man', Francesco Totti played 25 seasons for Roma from 1992 to 2017.
The Italian holds the record for the most appearances and most goals for Roma, scoring 307 in 786 in all competitions while winning one Serie A title and two Coppas Italia. He also won the FIFA World Cup in 2006 with Italy.
Honorary mentions:
Gary Neville (Manchester United, 1992-2011)
Nat Lofthouse (Bolton Wanderers, 1946-1960)
Guiseppe Bergomi (Inter Milan, 1979-1999)
Jamie Carragher (Liverpool, 1996-2013)