- Advertisement -
Looking for a reliable mechanical keyboard with all the features a gamer needs yet you are not willing to spend much? Then ASUS's new TUF K3 mechanical keyboard could be a great option for you as it has a price of around Rs. 6k, and if you are lucky, then you can get at its launch price of ₹ 5,499.
I got this budget mechanical keyboard at its asked price, thanks to ASUS, and yes, the experience has been great and obviously smooth as the Red switches used in the keyboard. Obviously, at such a budget, a solid and reliable keyboard is hard to find, and having used it for a month, here's a complete review of the ASUS TUF K3 Mechanical Gaming Keyboard.
Specifications
MECHANICAL GAMING KEYBOARD – ASUS TUF K3 features heavy-duty & highly-durable mechanical switches (customizable Blue, Brown, or Red switches) with a lifespan of 50-million keystrokes for responsive & reliable performance during intense gaming sessions
ANTI-GHOSTING – With N-Key rollover response, onboard memory, 8 fully-programmable keys with on-the-fly macro keyboard recordings for uninterrupted video games – itâ€s got it all!
DETACHABLE WRIST-REST – TUF K3 Wired Gaming Keyboard comes with a detachable magnetic wrist rest that provides optimal comfort and a sturdy aerospace-grade aluminum alloy frame that keeps the keyboard in place during intense battles and gaming marathons
DEDICATED KEYBOARD MEDIA CONTROLS – Control your audio with intuitive media keys on this PC gaming keyboard. Includes USB Passthrough for easy connectivity with various devices such as a mouse, flash drive, or for charging smartphones or tablets
DESIGNED FOR COMMITTED GAMERS – TUF K3 Computer gaming Keyboard supports ASUS Aura Sync & the latest Armoury Crate software for centralized controls & customization of audio profiles, colors, lighting effects, recording macros, and more
In the Box
To be frank, the packaging of this simple keyboard is very impressive wrapped around plastic and the box itself looks great. In it you have simply the keyboard that comes with pretty thick dual cables and a superior quality Wrist Rest but with TUF Gaming branding.
Design & Build
- Advertisement -
The full-size mechanical keyboard comes in dimensions of 45.9 x 19.2 x 6.5 cm and has a standard US English layout which we Indians are pretty used to typing. The keyboard weighs around 1Kg and is pretty heavy, thanks to the aluminum-alloy top cover, but it looks pretty premium at the price offered.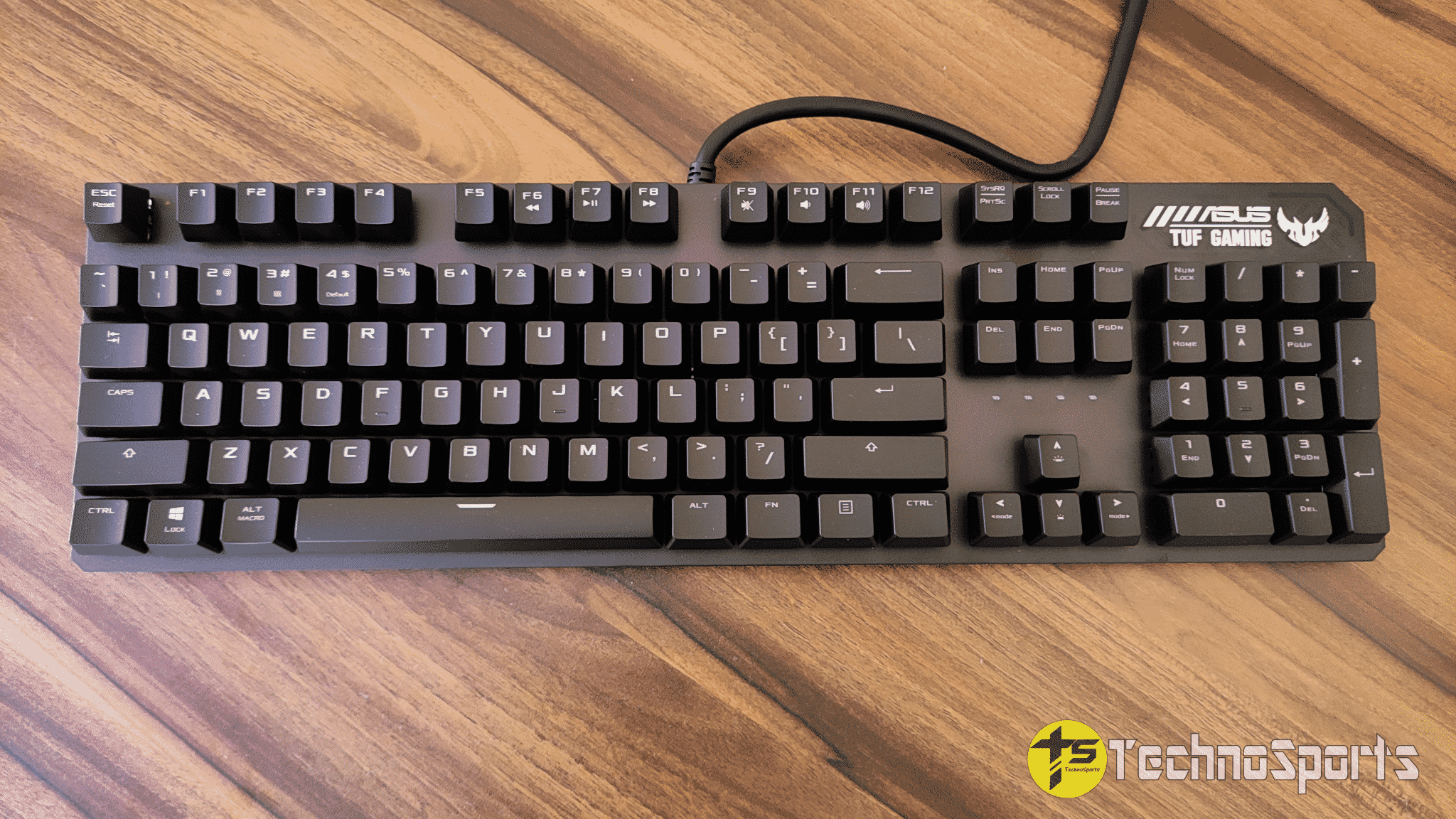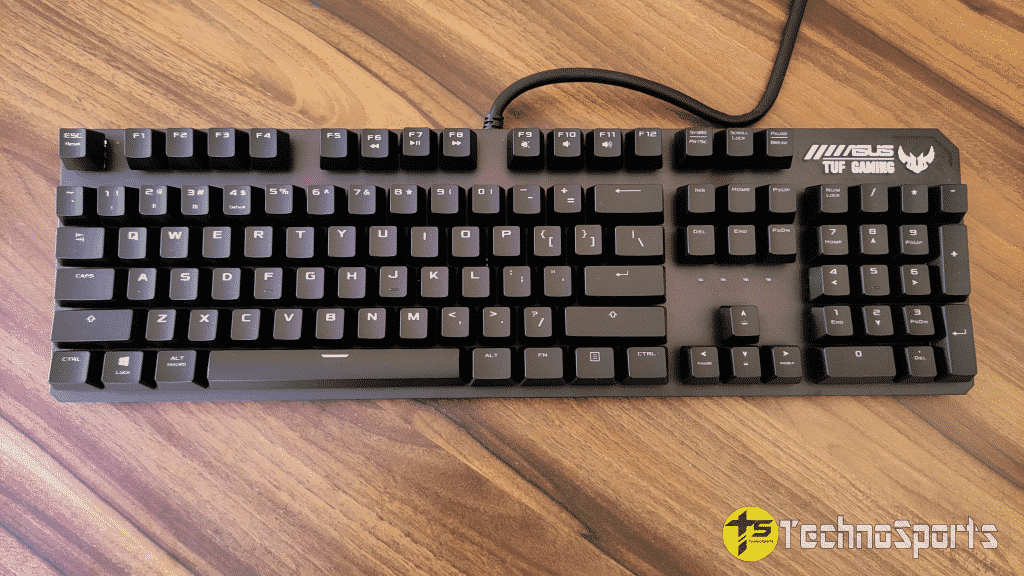 It is very compact and still has all the keys adequately spaced for a good typing experience. The TUF K3 mechanical gaming keyboard features durable switches for responsive and reliable performance. However, it features Red switches but can be customizable with Blue or Brown switches and a lifespan of 50-million keystrokes for responsive & reliable performance during intense gaming sessions.
Thanks to the Dedicated Media Controls, you can control your audio with the media keys on this PC gaming keyboard. The keyboard has two USB cables, including a USB Passthrough for easy connectivity with pen drives, charging other devices, etc. Kudos to ASUS for including this, even though this is a budget mechanical keyboard.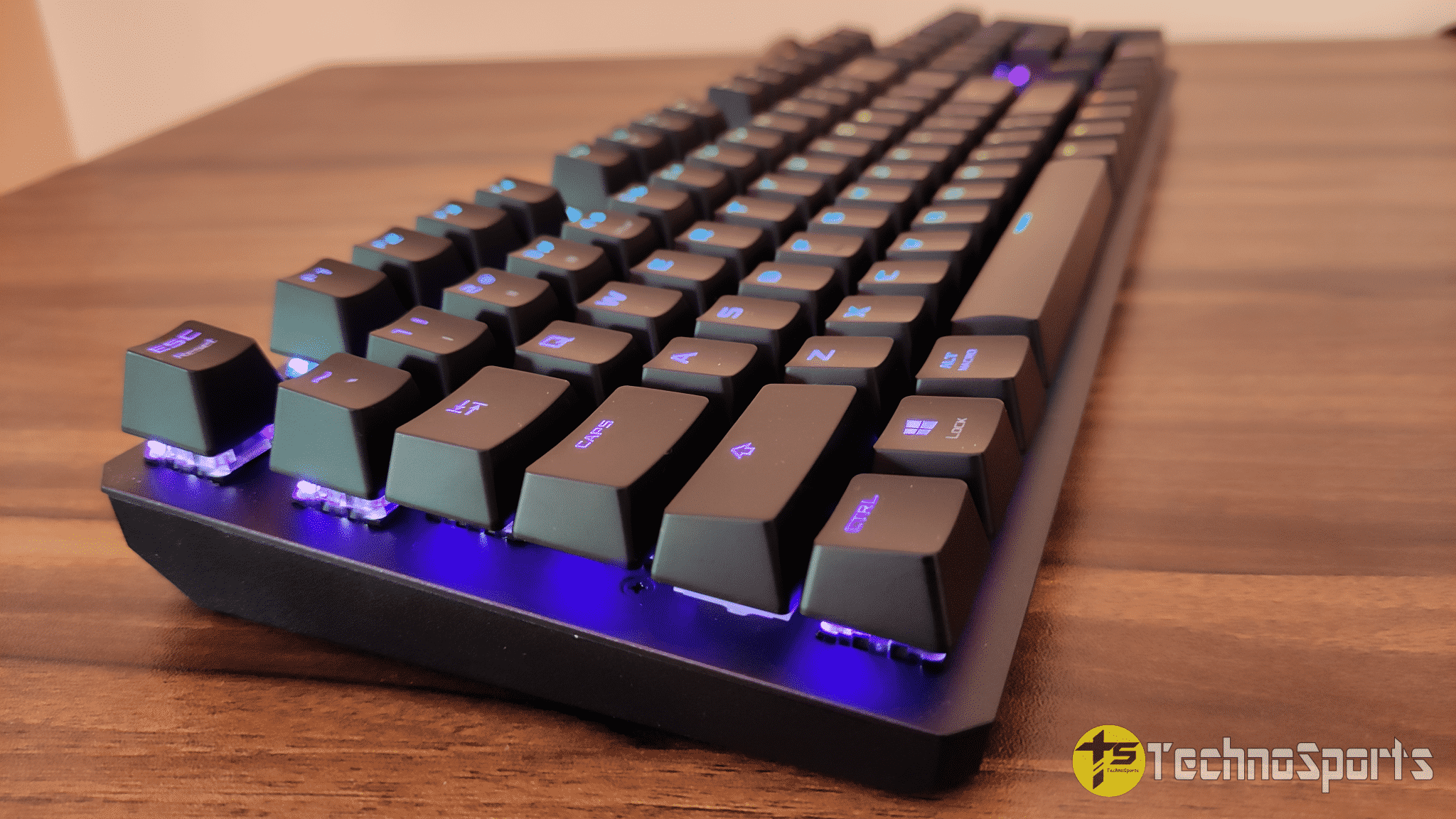 - Advertisement -
The wrist rest provided with the keyboard is also a good one as you can comfortably keep your rest your palm while typing. However, ASUS could have made the wrist rest a bit less smooth and more grippy to help typing during long hours, and that TUF Gaming branding doesn't look that good, but some can love it; it's completely your liking sense.
Typing
Coming to the main typing experience, I think it is one of the most premium mechanical keyboard experiences you can expect from the TUF K3 keyboard. ASUS claims to have used heavy-duty mechanical switches with 50-million-keystroke lifespans.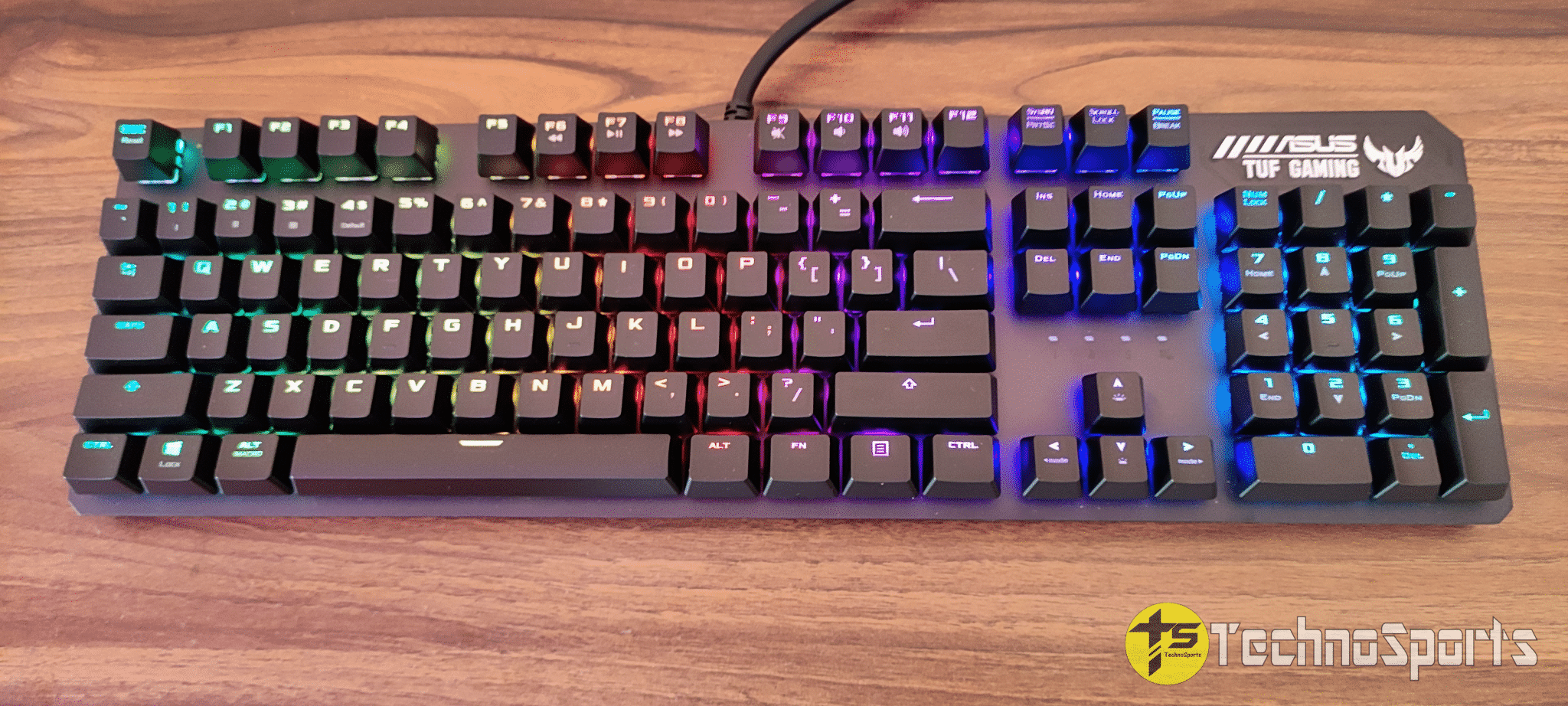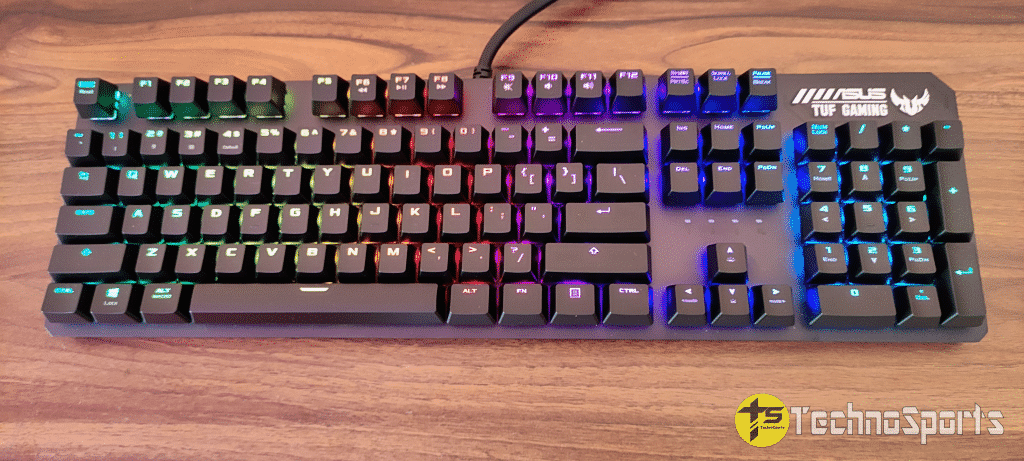 The Red switches used here have a 4mm travel distance and feels good while typing, not loud like Blue switches but still gives you the clicky feel you expect from a mechanical keyboard. Compared to the 45g actuation force as Cherry MX Red switches, ASUS promises a 50g actuation force which makes the feel almost similar to the Cherry MX Red switches.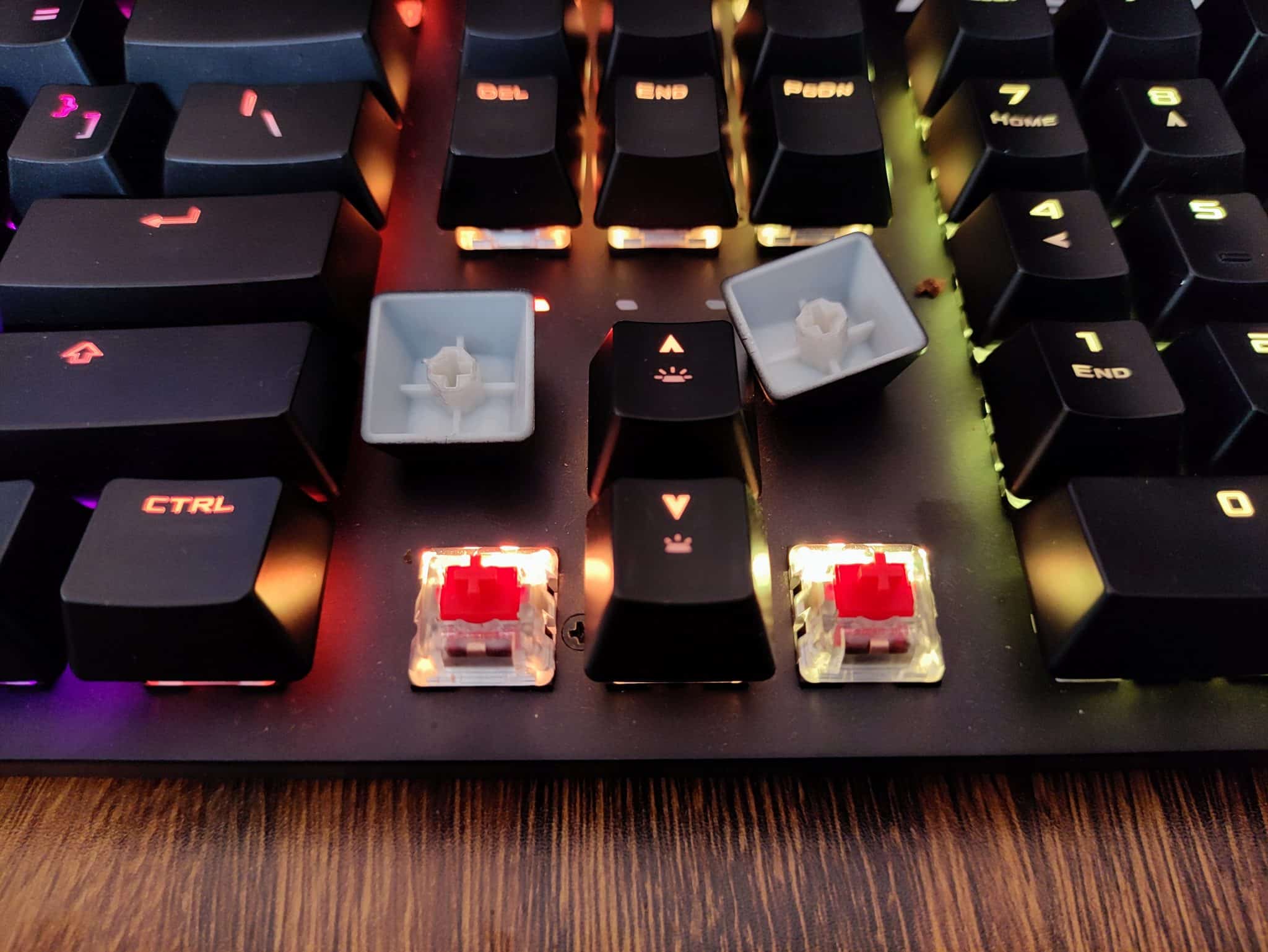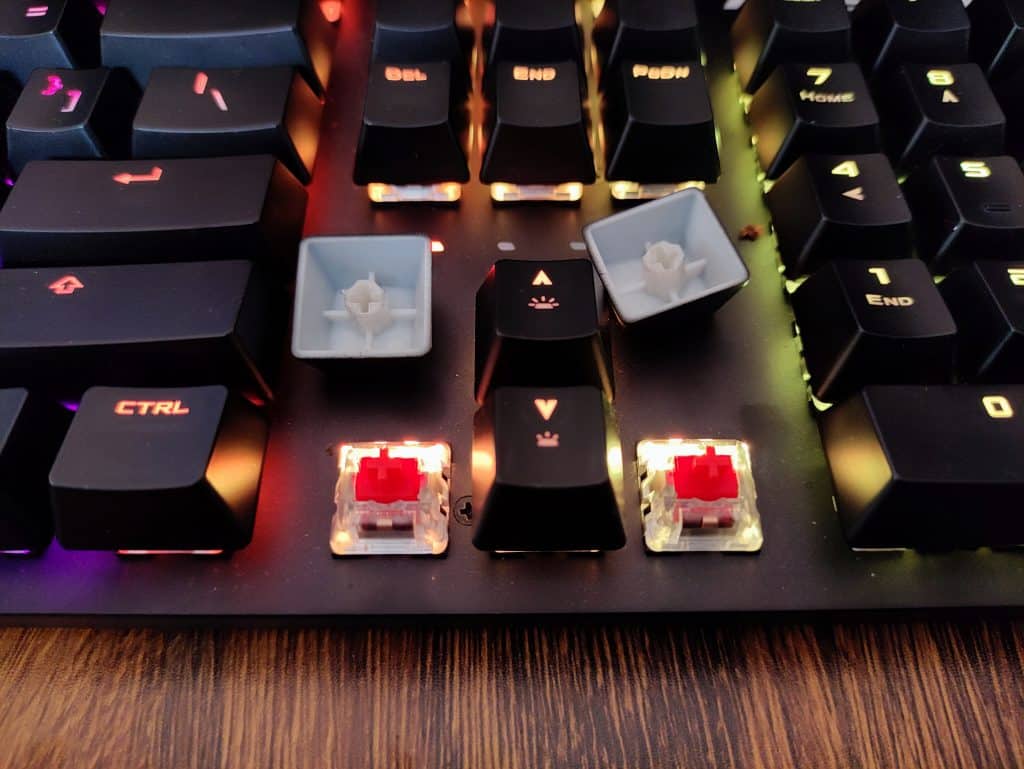 - Advertisement -
ASUS also promises 100% anti-ghosting and n-key rollover (NKRO) technology that ensures each keystroke gets registered, so even if you are typing casually or seriously, each of your keystrokes is indeed accurately reflected on the PC.
The TUF Gaming K3 also features fully programmable keys with on-the-fly macro recording, as well as the onboard memory helps keep your settings even if you switch PCs. The total typing experience on this gaming keyboard is really smooth, and at ₹ 5,499, you can't ask more.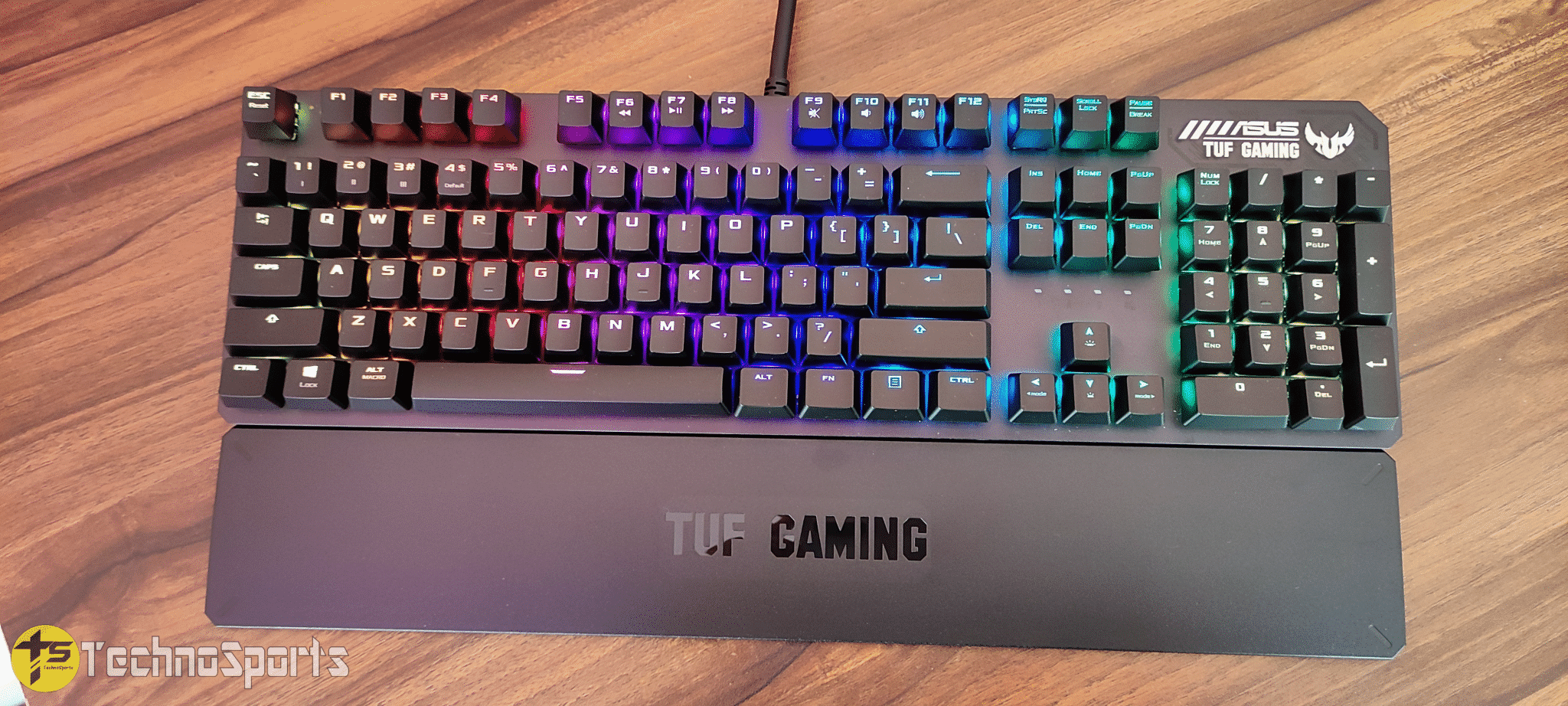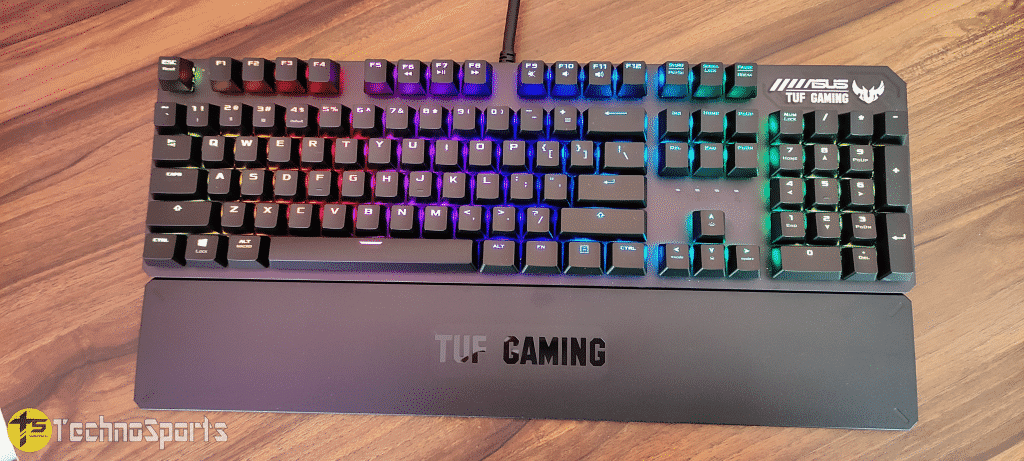 Gaming
Much like a comfortable typing experience, you obviously have a good gaming experience as well, now you cannot compare with a Blue switch, that is more mushier and tactile during gaming but I like the low noise with the Red switches, which can really be painful at times with blue ones.
The switches are indeed light and easy to press and the keys snapped back quickly, which does help while gaming. So, I do prefer Red switches for that but Blue switches are also loved by many, so the preference is completely yours but the quality of the keys used here is good for a lot of average users who need a good mechanical keyboard.
RGB
Coming to the RGB front, being an ASUS keyboard, you have the Aura Sync RGB lighting that enables you to light up your keyboard as per your wish. Honestly, it puts the entire color spectrum and a range of lighting effects at your fingertips.
The backlighting strength is adequate, and I usually kept it at max also lower it anytime just by using Function and down arrow keys. The RGB rainbow looks damn cool, but you can use other modes if you do not like so many colors. Also, with Aura Sync RGB, you can even synchronize effects with other Aura Sync-supported devices.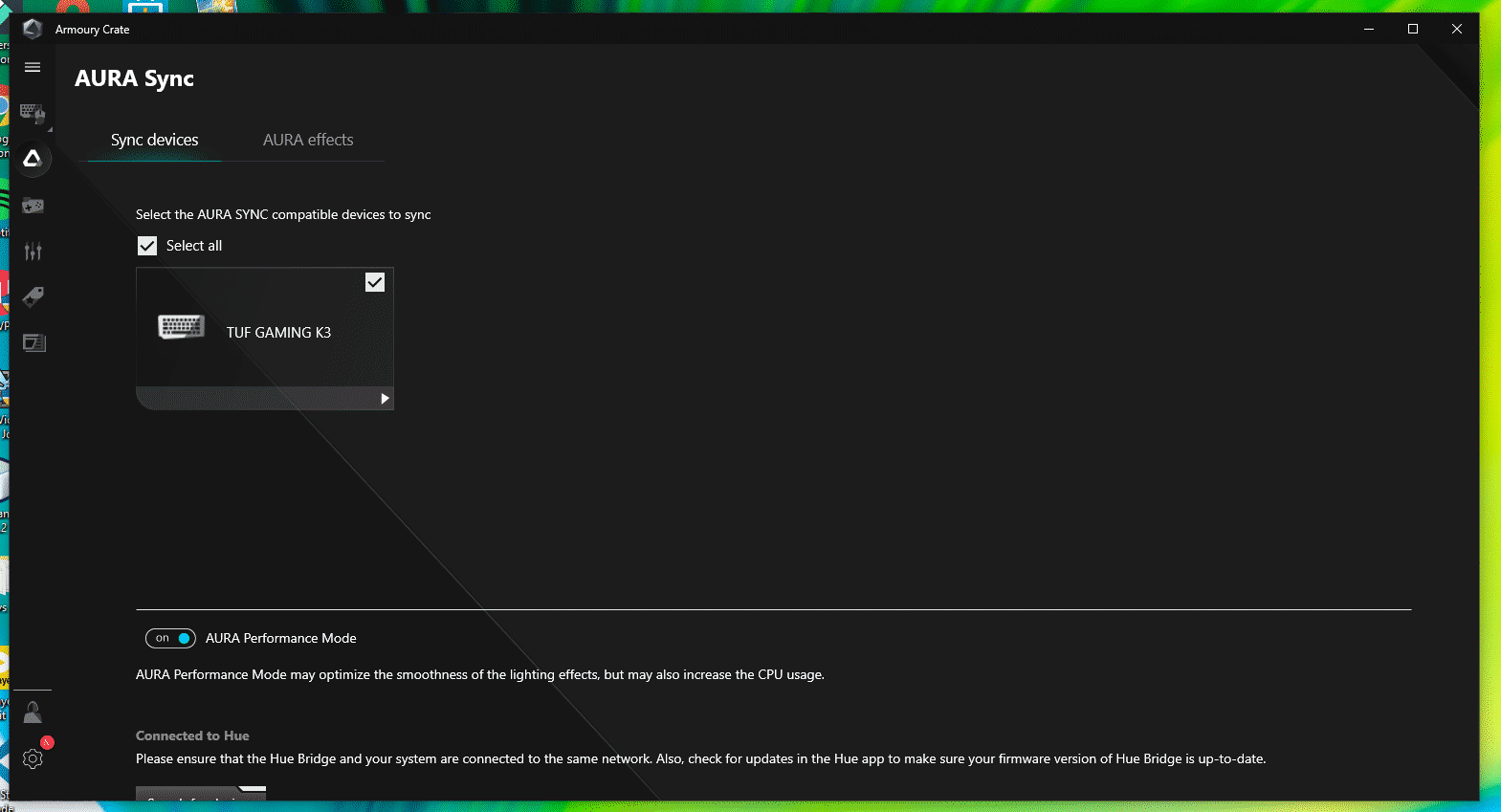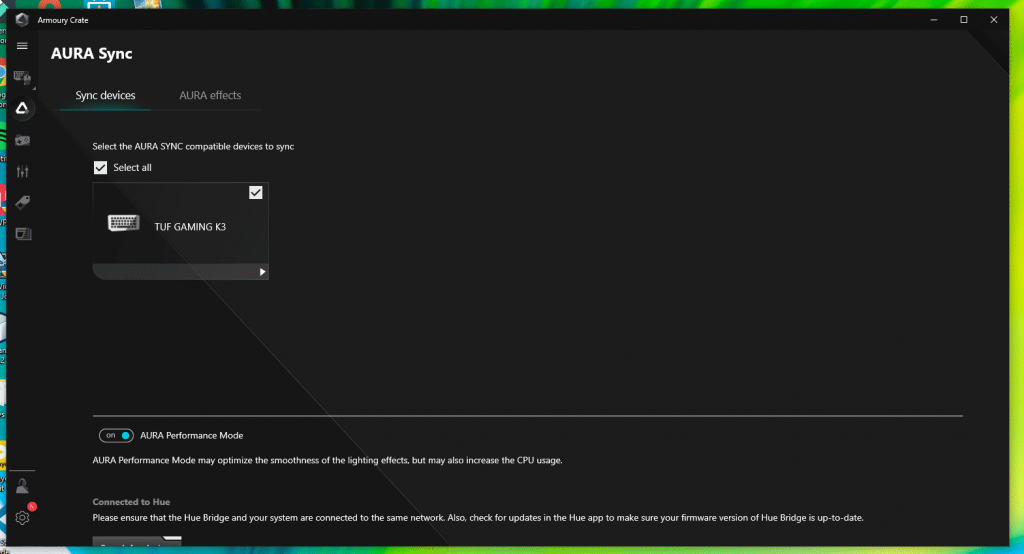 Software
I have been using many ASUS products, and to be fair, their software is pretty useful and accurate. In this case, too, the Armoury Crate software detects the keyboard without any hassle, and you can easily customize a lot of things via the software itself.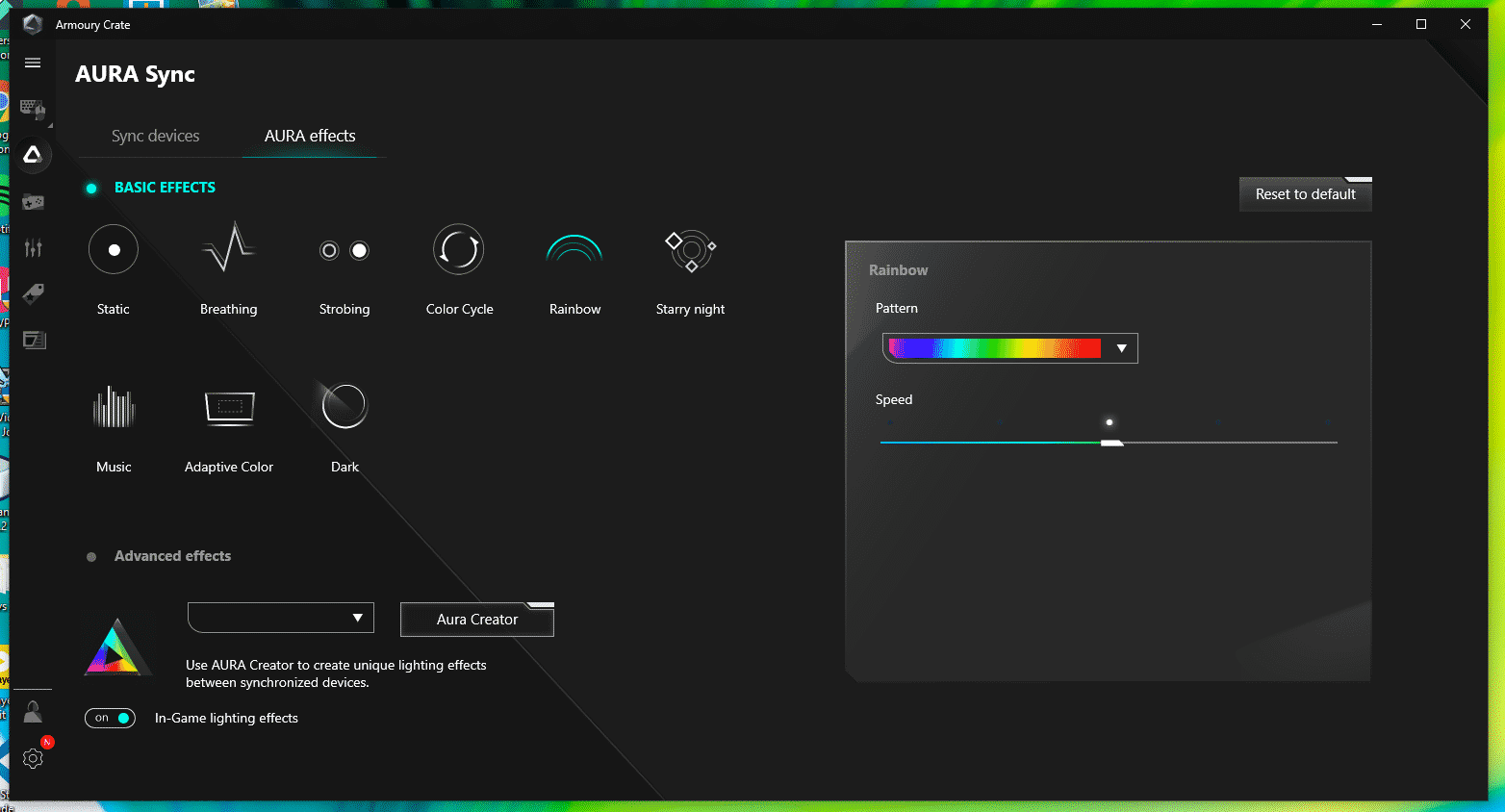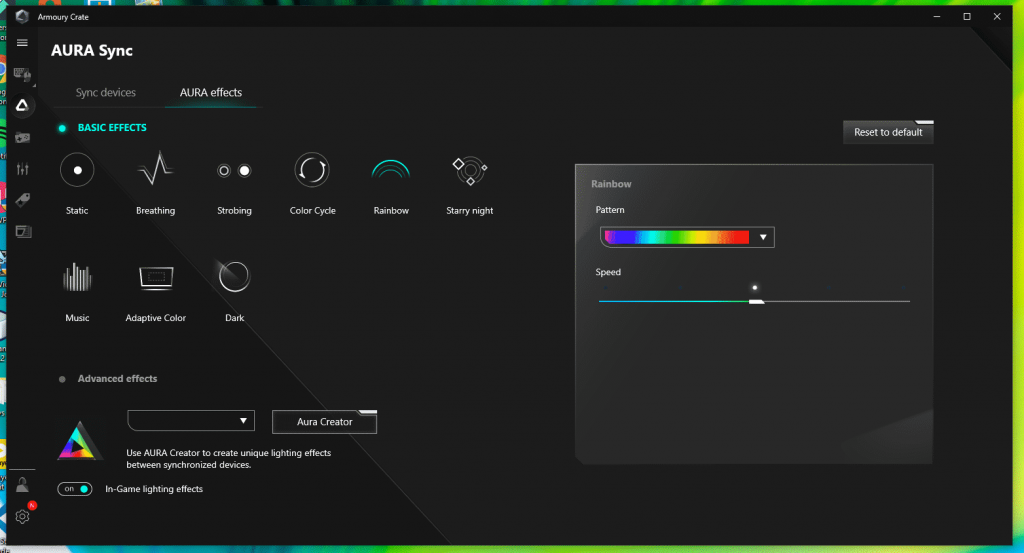 There are a lot of AURA Sync effects in the software and in an instant, you can change the backlighting effect as well as customize patterns, speeds, etc. If you are still not satisfied, you can make your own effect by using the Aura Creator software that even unlocks the potential to configure per-key RGB lighting as per your preference.
Pros & Cons
This keyboard is too good at its price to talk about cons but still here are things you should know: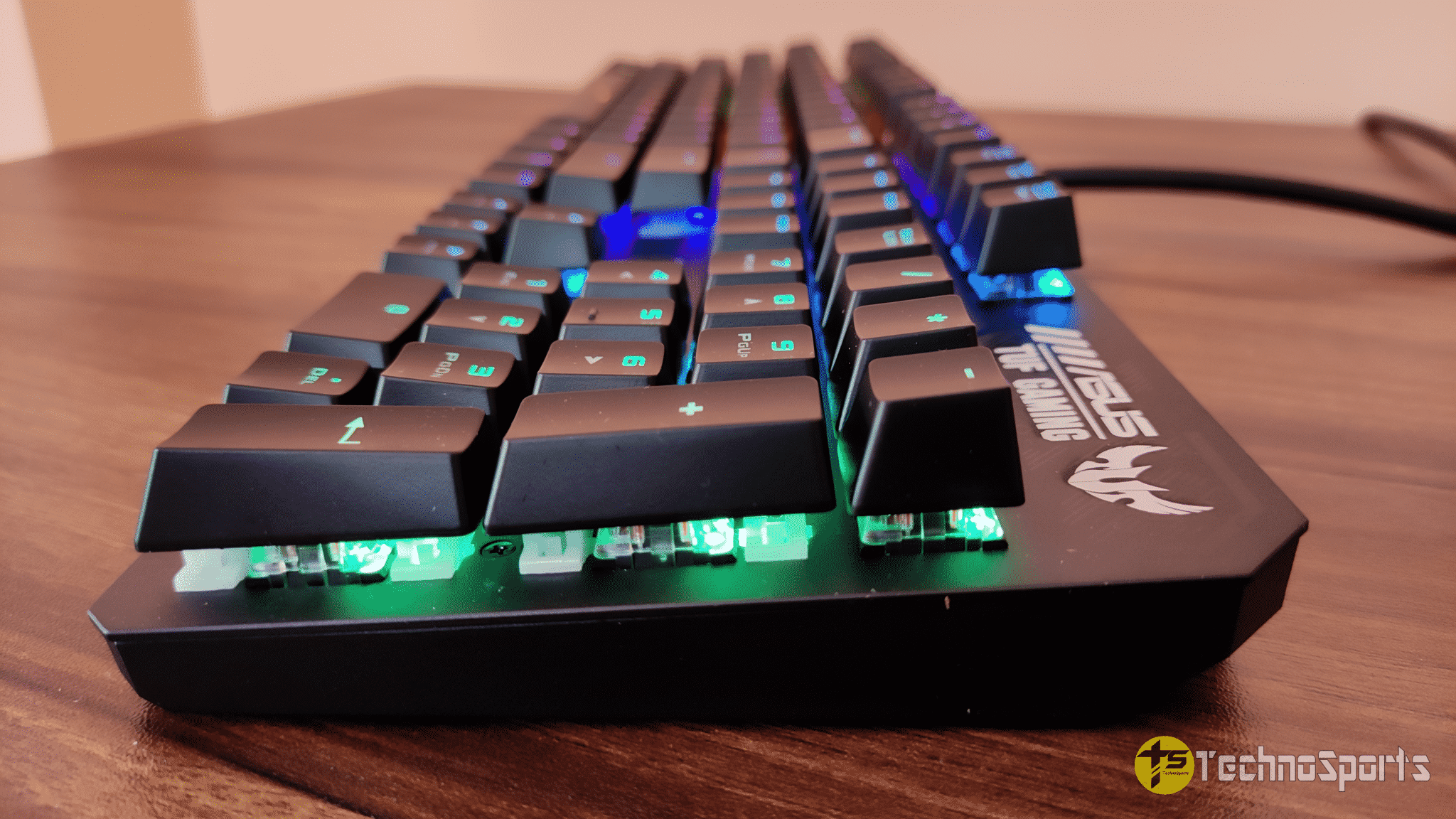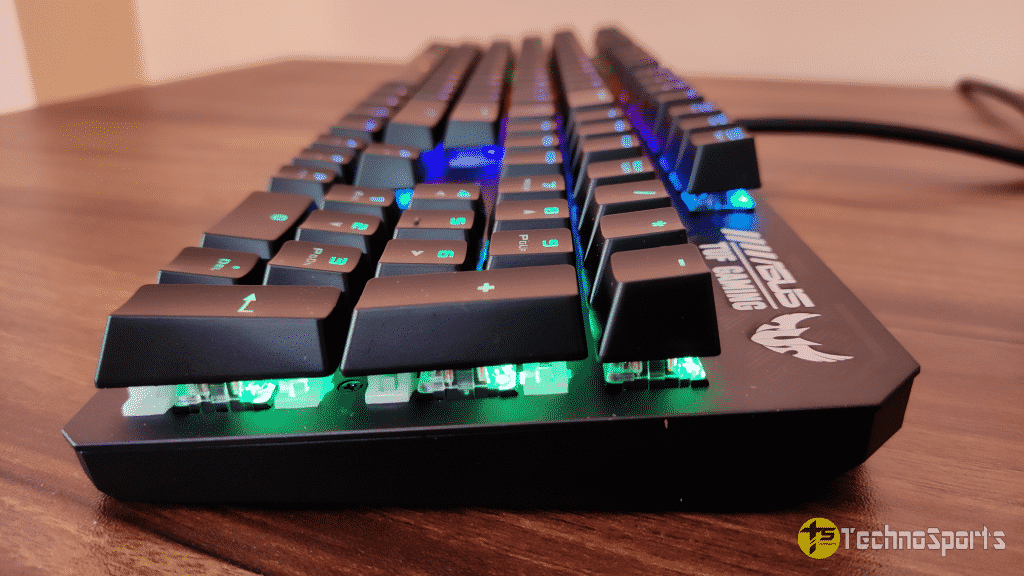 Pros –
Premium quality keyboard with no flex & a modern design
Standard US English layout with proper spacing
Comfortable keys to type & game
Great customizable Aura Sync RGB lighting
USB Passthrough and onboard memory
Cons –
Non-detachable cable
The wrist rest could have been more grippy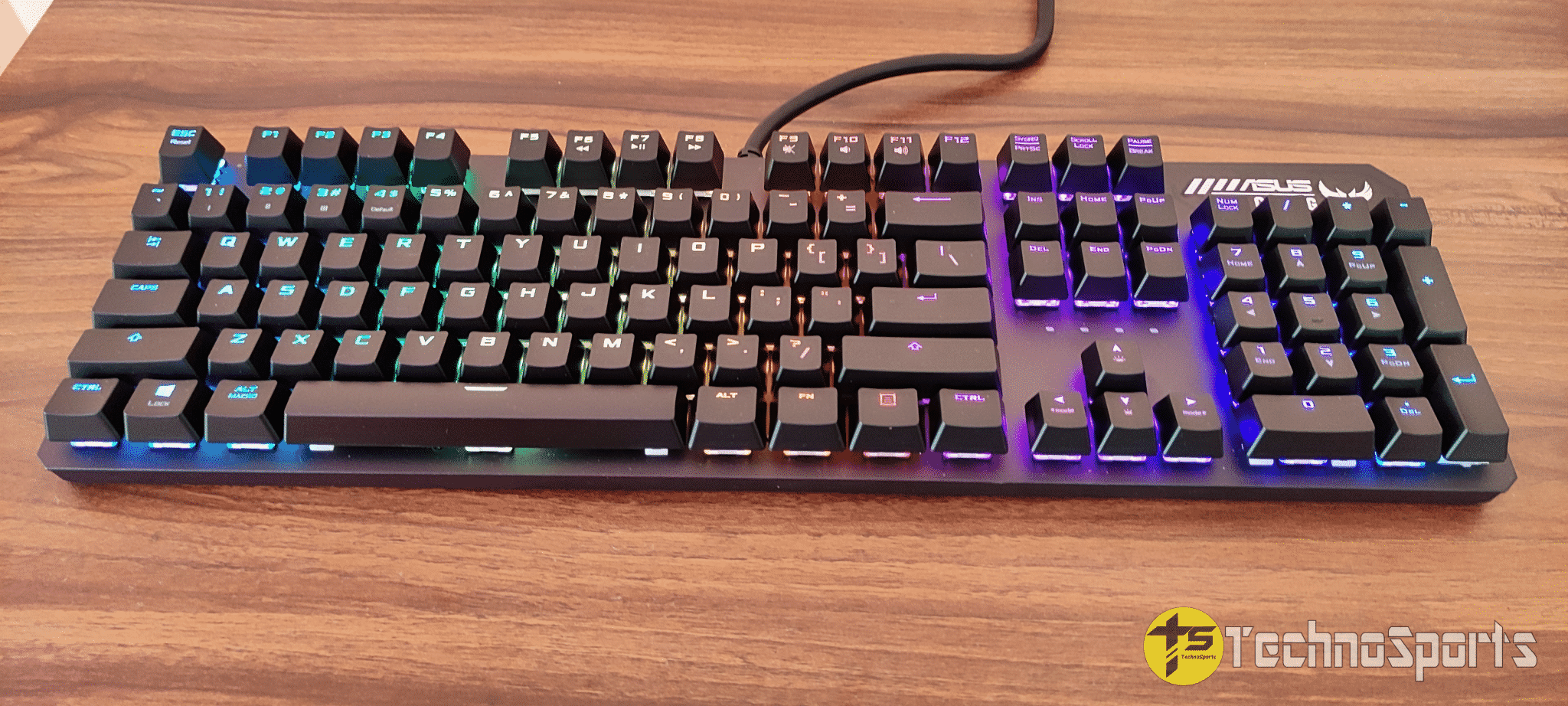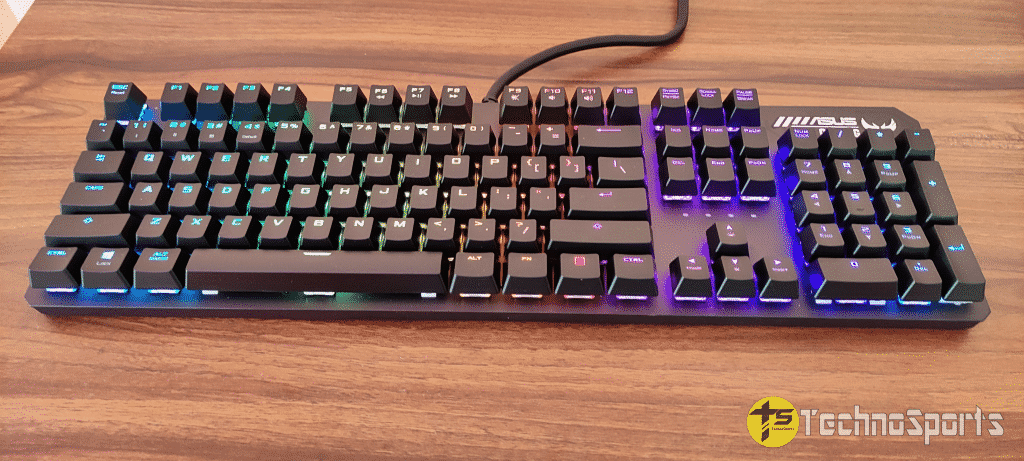 Verdict
Overall, if I had to suggest the ASUS TUF K3 Mechanical Gaming Keyboard, it would be a straightforward job for me. However, the main issue you can face is getting it at its asked price of ₹ 5,499; you can look for various retailers selling at less. On the other hand, Amazon sells the keyboard for ₹ 6,799, and that price still holds its value.
ASUS has really made a great mechanical gaming keyboard at budget with a lot of features, and the typing or gaming experience on it is just superb; if you genuinely need one, then this would be a better choice than the Redragons or Cosmicbytes available for cheap.
If you are planning to upgrade your keyboard or need a mechanical gaming keyboard badly, this is the one you should definitely look upon.
Buy the ASUS TUF K3 Mechanical Gaming Keyboard: https://amzn.to/3rKRGWt
- Advertisement -