Andres Iniesta is still appreciated as one of the greatest midfielders to ever play the sport, and the Barcelona legend recently sat down and talked about his top ten moments as a footballer in Spain:
1. His official debut in La Liga
"For me it was undoubtedly one of the most important [moments]. To be able to debut in La Liga, to do so after pursuing that dream of officially debuting in the elite, as they say, was very special", don Andrés told the interviewers.

Iniesta made his debut at 18, and the start of a legendary career is something that will no doubt stay in his memory forever.
2. His first goal in La Liga
"It was a match in Zorrilla, against Real Valladolid. I came off the bench and had the opportunity to score a goal and that first goal with your team is always very exciting"
Coming off the bench and scoring can only boost your stock, and the midfielder did exactly that when he scored his first professional goal.
3. His first La Liga title
"It's also very special. I remember the game, in the field of Levante UD. We had Ronaldinho, Etoo, Deco … with Rijkaard as coach. The first title also has a very important corner in my life."
The team's journey during Frank Rijkaard's tenure was quite a rollercoaster of emotions. The Dutchman brought back Barcelona from the brink and made them winners once more. In that squad that boasted the likes of Ronaldinho, Samuel Eto'o and Deco, there was also a very young Iniesta.
4. First game as first captain of FC Barcelona
"First of all, he [the captain] feels a lot of responsibility. It is a very special moment. For everyone, but above all, for the people who have grown up at Barça, who spent so many years there … See, in this case, I had that opportunity, and although it was due to the absence of teammates, it was special. It was in a symbolic field in LaLiga, San Mamés, and I remember it with great joy."
Iniesta inherited the armband from fellow midfielder Xavi and he went on to be one of the greatest club captains that Barcelona has ever had, always putting in a brilliant shift for the team and dictating the match from the heart of the park.
5. The mythical 2-6 at the Bernabéu
"Thore are games that we all remember. Sometimes we were happy, other times sad, but in this case, obviously, because of the importance of the game: La Liga was very even, because of how the game was, that we started losing and then we turned it around … I think It was one of the best games we played as a team and, above all, to do it at the Bernabéu, which is more important. And it was one of the games that the Catalans will always remember"
As a Barcelona academy product and as a player who has represented the club so strongly, beating arch-rivals Real Madrid in their own backyard with a thumping 6-2 result is no doubt an unbelievable achievement. And Iniesta was crucial to that win.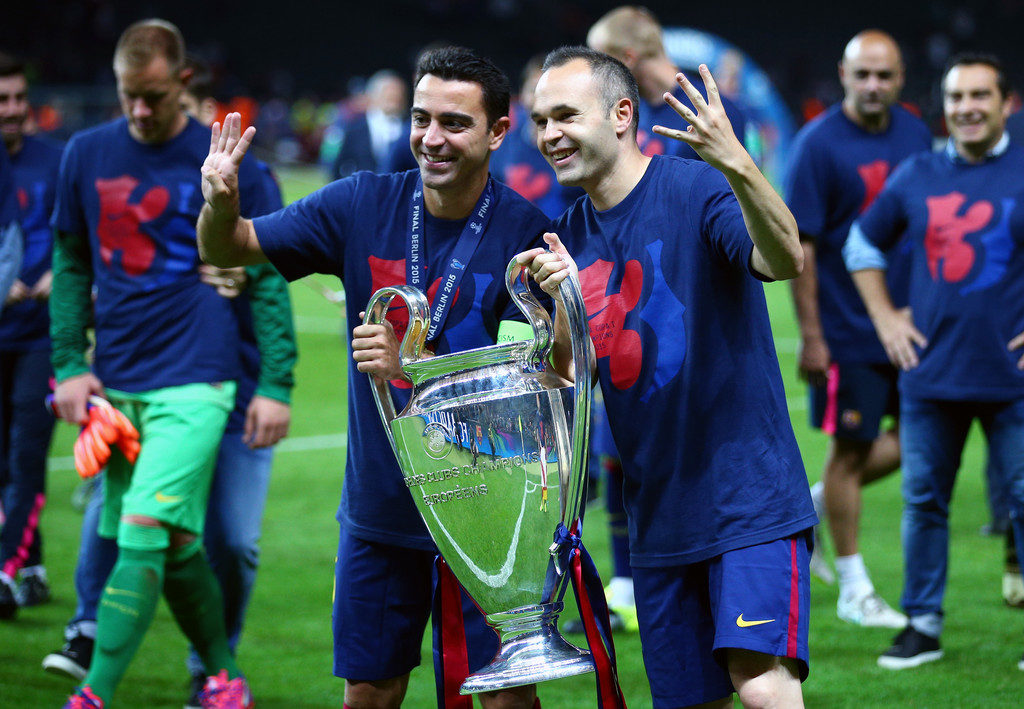 6. His sextet with FC Barcelona
"2009 was an incredible year, a historic year for the club and for football. It was a privilege. Obviously a sign of a job well done in a season in which you get all the titles. Being the first to do it shows us the importance or the difficulty of being able to do it. It is a year that will go down in history for FC Barcelona"
2009 truly was a historic year for the club and also for the sport as a whole. Barcelona conquered Spain, Europe and then the whole planet with their scintillating football.
7. Last official La Liga game
"It was a game … I think the most special one. For what it meant, my last game in my stadium meant that, with my people, emotions are running high from the moment you step onto the pitch and after it. That goodbye was something tremendous. As an anecdote, not only did I say goodbye that night, but also a very special player from the rival, an emblem of Real Sociedad, said goodbye too"
All good things must come to an end, and the midfielder was given a hero's send-off in his last match. The goodbye made for a sad day for football fans all across the world irrespective of the club they support. 
8. Last title he achieved while playing in Spain
"Those are magical memories because it was my last title with my club, and having the opportunity to lift the trophies and all the sensations and emotions that I felt before playing the game, during and after the game, were magical. In addition, I remember them, individually, as one of the best games that have come from me"
Back in 2017/18, Iniesta's last campaign with Barcelona, the Catalans clinched La Liga and the Cup as well, sending their magician off with a domestic double to honour his legacy.
9. First standing ovation in Spain after the 2010 World Cup
"I have always said it: all the affection and respect that people have shown me is something that I have always classified as more important than any title. Everything was magical in many stadiums and, therefore, I am very grateful to the people"
The 2010 World Cup remains his greatest achievement as a football player to this day. Of course, that's something he did with Spain and not Barcelona but that national team was full of Azulgrana players anyway. Iniesta scored the winner for the Spanish national team as they conquered the world and it is no doubt one of his favourite moments in his career.
10. When he was named the favorite son of Fuentealbilla
"It is a tiny town, like many in Spain, which not many people are familiar with, but for that part of my life it is nice that it is now recognised, that people know the name of Fuentealbilla with barely 2000 inhabitants"
No matter how famous he became and how big his name is nowadays, Iniesta will never forget his roots. Fuentealbilla is where it all began and now, courtesy of his fame and success, he can give something back to the people who supported him even when he was a nobody.