Ashok Dinda served Bengal cricket for one-and-a-half decades with his amazing pace and passion. He also donned India colours in ODIs and T20Is and has announced his retirement from all forms of cricket on Tuesday.
During his press conference, he thanked everyone who supported him in his journey and was accompanied by his wife Sreyasi Rudra, at the Eden Gardens and said, "Today I am retiring from all formats of cricket. There have been several people, including my parents, who have helped me throughout my career and I would like to thank them. A thank you to my on-field guardian, Sourav Ganguly. He has a lot of contribution in my career,"
"I am today retiring from all formats of cricket. I have sent the mails to BCCI and GCA to this effect. There have been several people who have helped me throughout my career whom I would like to thank beginning with my parents. Then it's Dada (Sourav Ganguly). It is because of him that I got to play for Bengal and when as skipper he stood at mid-off he would always guide and encourage me."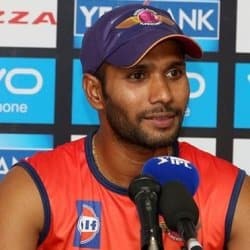 Dinda hails from a small village named Naichanpur in West Bengal. Dinda has faced many struggles and has crossed many hurdles to play for the Indian National Cricket team. He was spotted by a coach from Kolkata and his journey as a cricketer began as Dinda was brought to Kolkata and gave him a contract with quite a famous West Bengal club, Kalighat Club. Since then, he never had to look back beside his first-class debut for Bengal in 2005.
Dinda with his consistent pace, impressed everyone in his first season with the Bengal cricket team. His impressive spell in domestic cricket helped him earn a spot in Kolkata Knight Riders for the inaugural edition of the Indian Premier League. Despite being a late addition to the team, he got nine wickets in 13 games at an economy rate of 6.66. Subsequently, his impressive performance earned a spot in the Rest of India squad for the Irani Trophy.
A year later, Dinda appeared for his T20I debut against Sri Lanka. When the selectors picked him for the ODI and T20 squads for the tour of Zimbabwe after the selectors decided to rest several senior players, Ashok Dinda made his debut in 2010 and concluded with 12 wickets in 13 matches.
His international career consisted of only 13 ODIs and nine T20Is with 29 wickets to his name overall. Dinda has also been a star performer for Bengal and has been the highest wicket-taker for Bengal season after season without much limelight and, has 420 wickets to his name from 116 first-class games and 141 wickets from 91 List A matches. Dinda has a record in first-class cricket with 8 for 123 against North Zone in the 2011-12 season and clinched 151 wickets in List A cricket and 151 scalps T20 format.
Ashok Dinda has featured for many IPL franchises like Delhi Daredevils, Kolkata Knight Riders, Pune Warriors, Rising Pune SuperGiants, and Royal Challengers Bangalore, and was known for distinctive action, speed, and the ability to generate great bounce from the surface. His bowling speed was on average 130 kmph, however, there were situations when Dinda bowled at a speed which also clocked in the late 130s.
He has 68 wickets in his bag from 78 IPL games at an economy rate of 8.22, although the economy rate has been on the higher side in the IPL, the 35-year-old fast bowler possess an economy rate of 7.62 which is quite decent in the shortest format. Dinda has also represented Goa in 2021 domestic cricket season.
So after such a glorious domestic cricket career along with the international caps, the pacer from Bengal has now decided to call it quits from all forms of cricket.