- Advertisement -
In 2020, both AMD and NVIDIA introduced their flagship GPUs that were absolutely game-changing because of the insane performance bump compared to last-gen. It is the first time AMD has rightfully challenged NVIDIA with its GPUs and both their flagship Radeon RX 6800XT and GeForce RTX 3080 are insanely powerful.
We have tested both of these GPUs in various games and productivity tasks and honestly, the competition is so fierce the ultimate choice can be a real tough choice for you as well. AMD has delivered significant performance against its sole rival, which has its own advantage of DLSS and a matured ray tracing performance.
In terms of raw horsepower, AMD and NVIDIA are toe-to-toe with each other and you cannot deny that each has its lead in optimized gaming titles. However, NVIDIA enjoys some exclusive features like DLSS, NVIDIA Reflex, NVIDIA Broadcast, while AMD has features like Rage Mode, Smart Access Memory, Radeon Anti-lag.
- Advertisement -
NVIDIA has a bit mature gaming software while AMD has sweet for a creator with its extra VRAM. So, here's a quick look at the benchmarks and comparisons of both the GPUs:
Test Config Specifications:
Motherboard: Gigabyte X570 UD
CPU: AMD Ryzen 7 5800X or Ryzen 5 5600X
RAM: 16GB 3200MHz
SSD: 240GB WD Sn550, 480GB Crucial SATA SSD
Power Supply: Cooler Master 750W
GPU: ZOTAC GAMING GeForce RTX 3080 AMP Holo/ AMD Radeon RX 6800XT / RX 6800
CPU Cooler: Deepcool Gammaxx GTE V2
Cabinet: MSI Mag Forge 100R
Productivity
AMD has always been the number one choice for creators and professionals; that's why Apple still prefers it. So, with 16GB VRAM across all the new GPUs, we knew AMD would have a slight advantage over NVIDIA, and that's the case in all of the productivity benchmarks: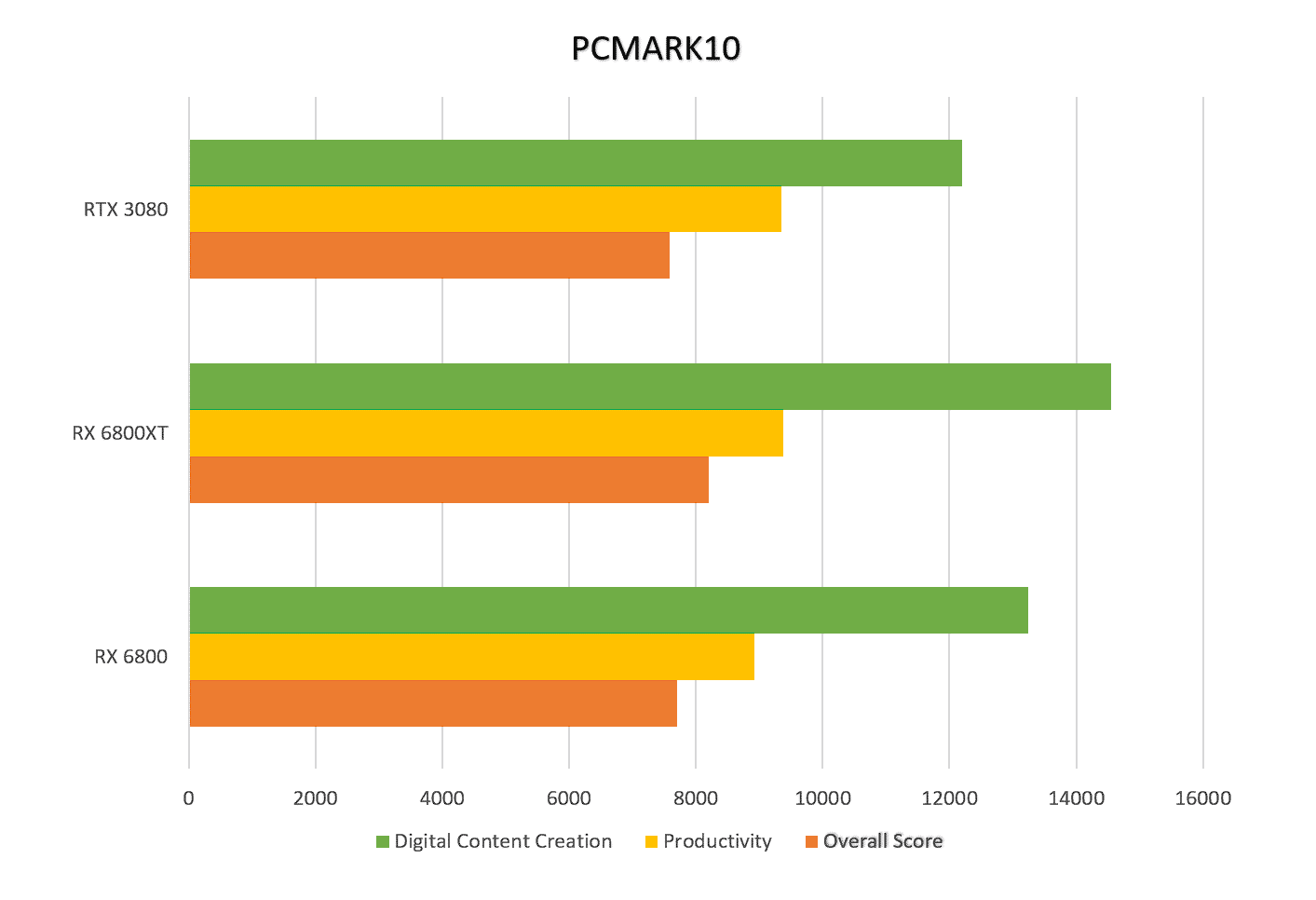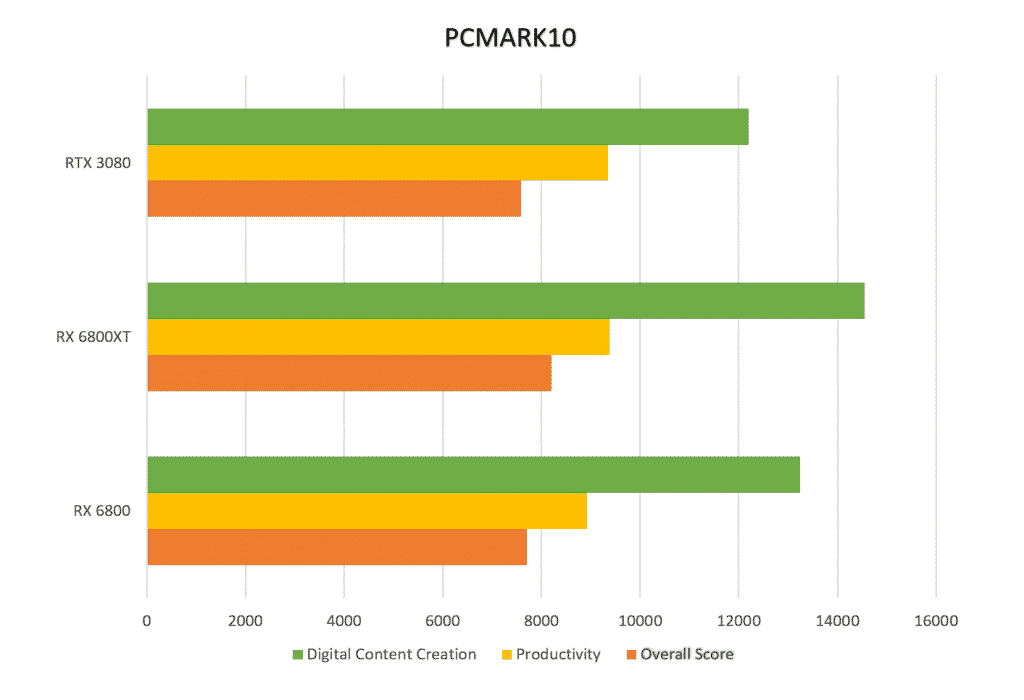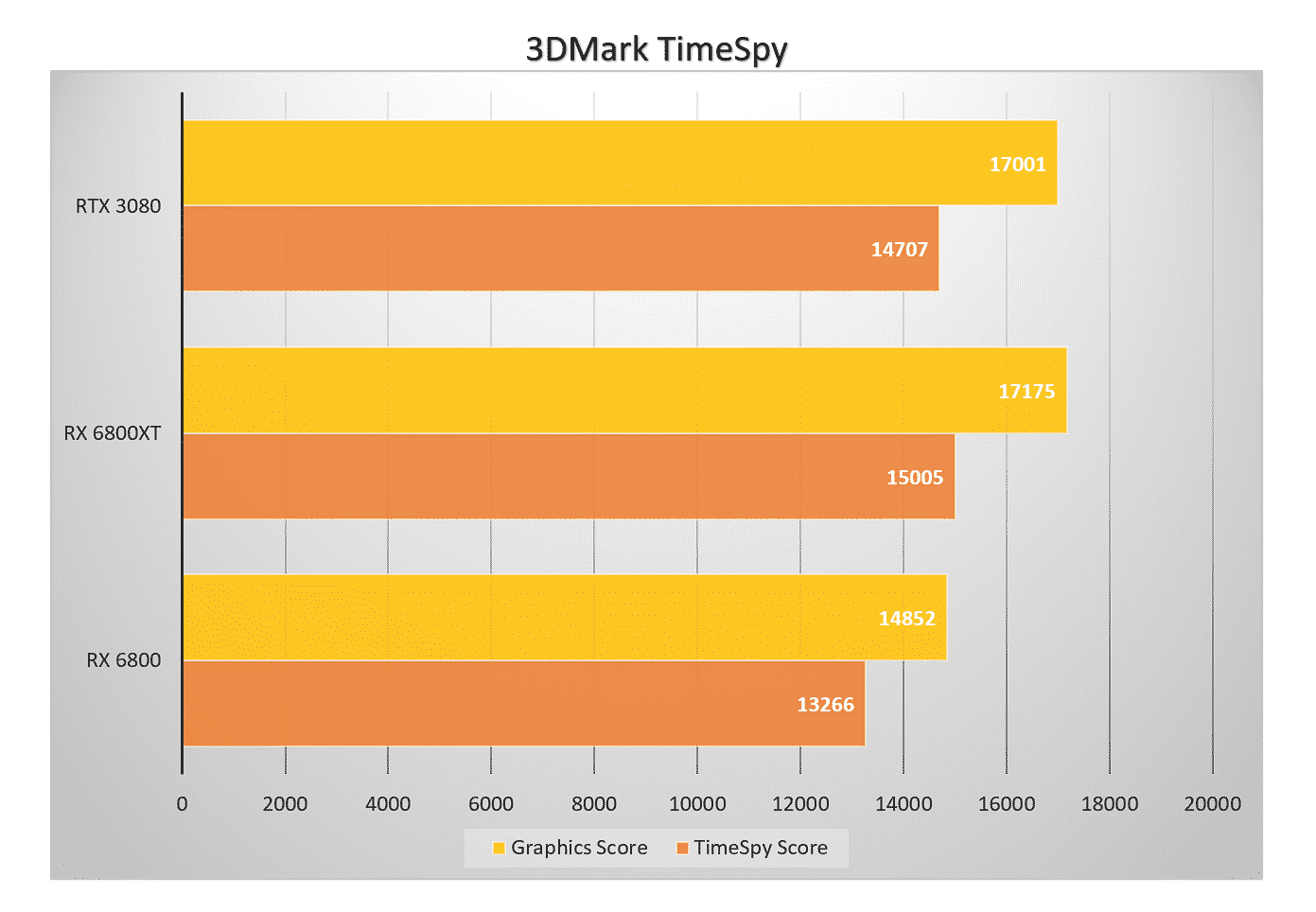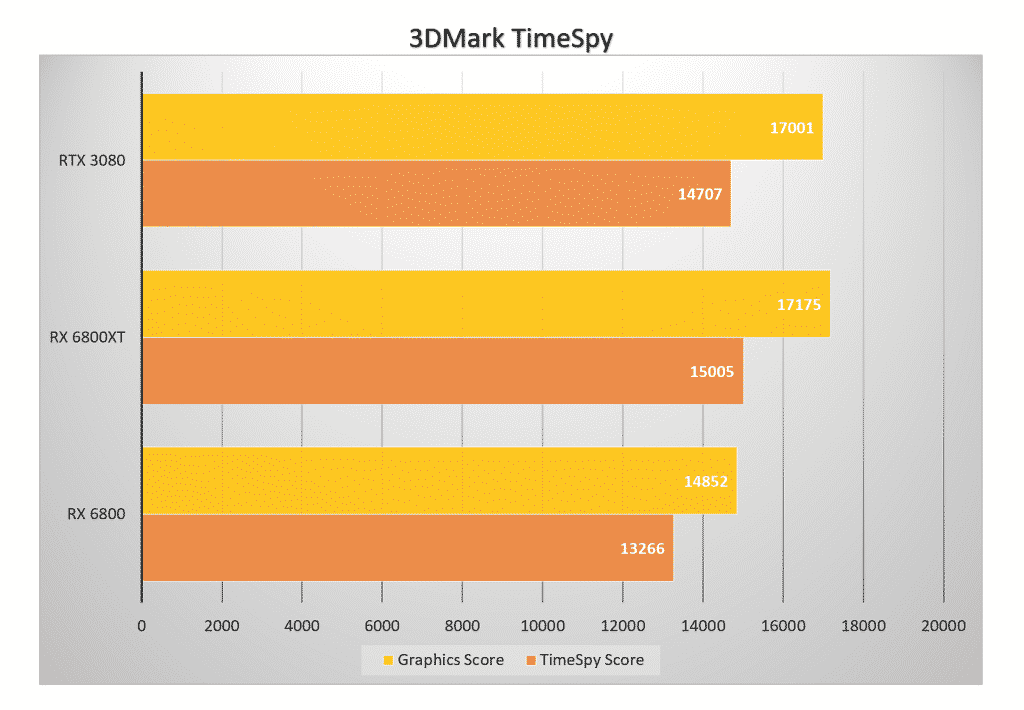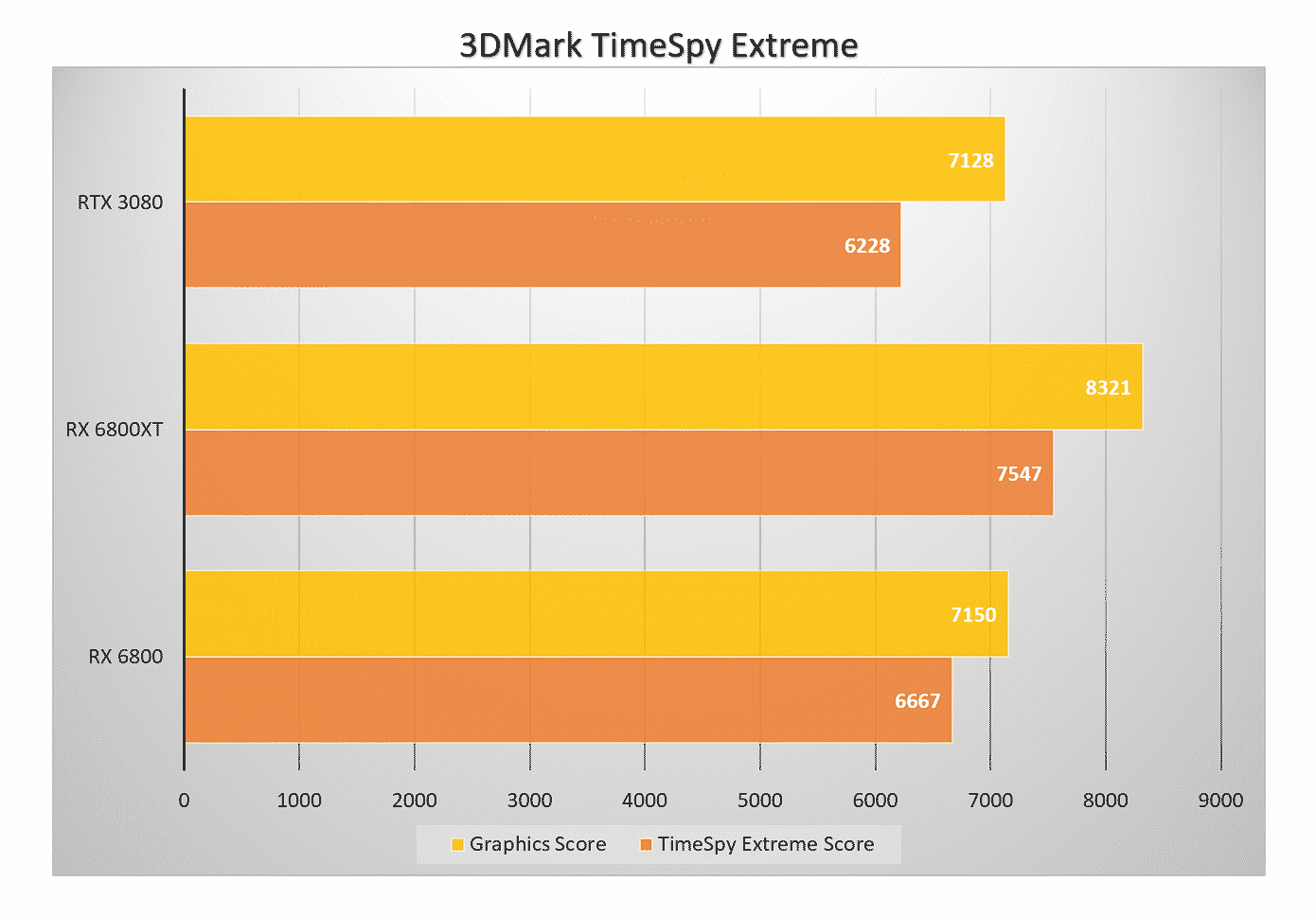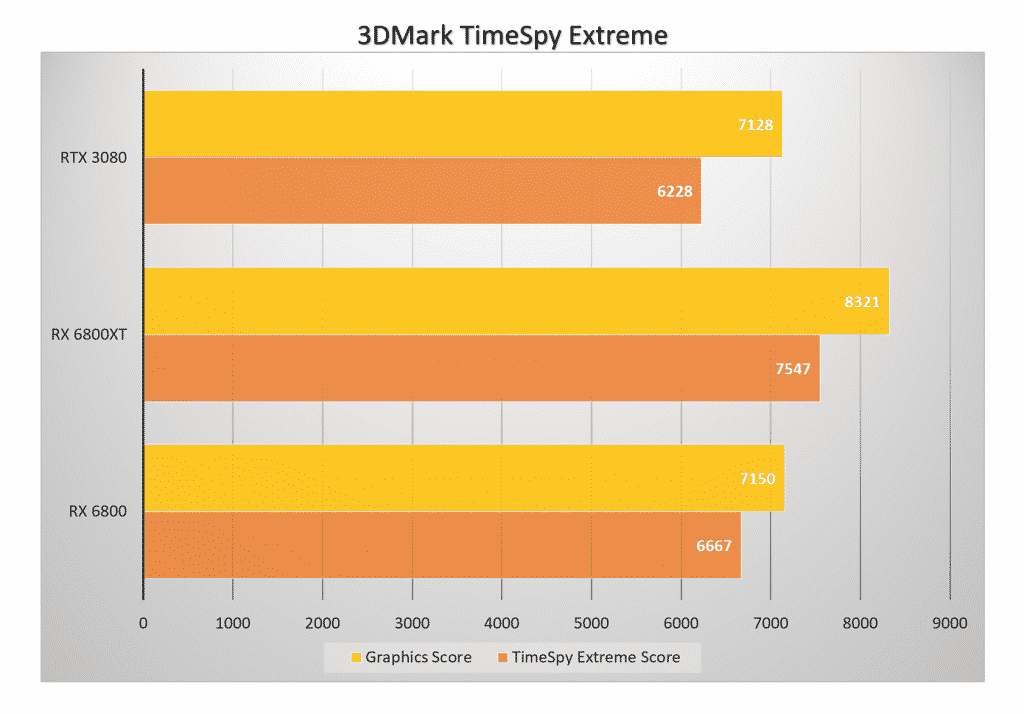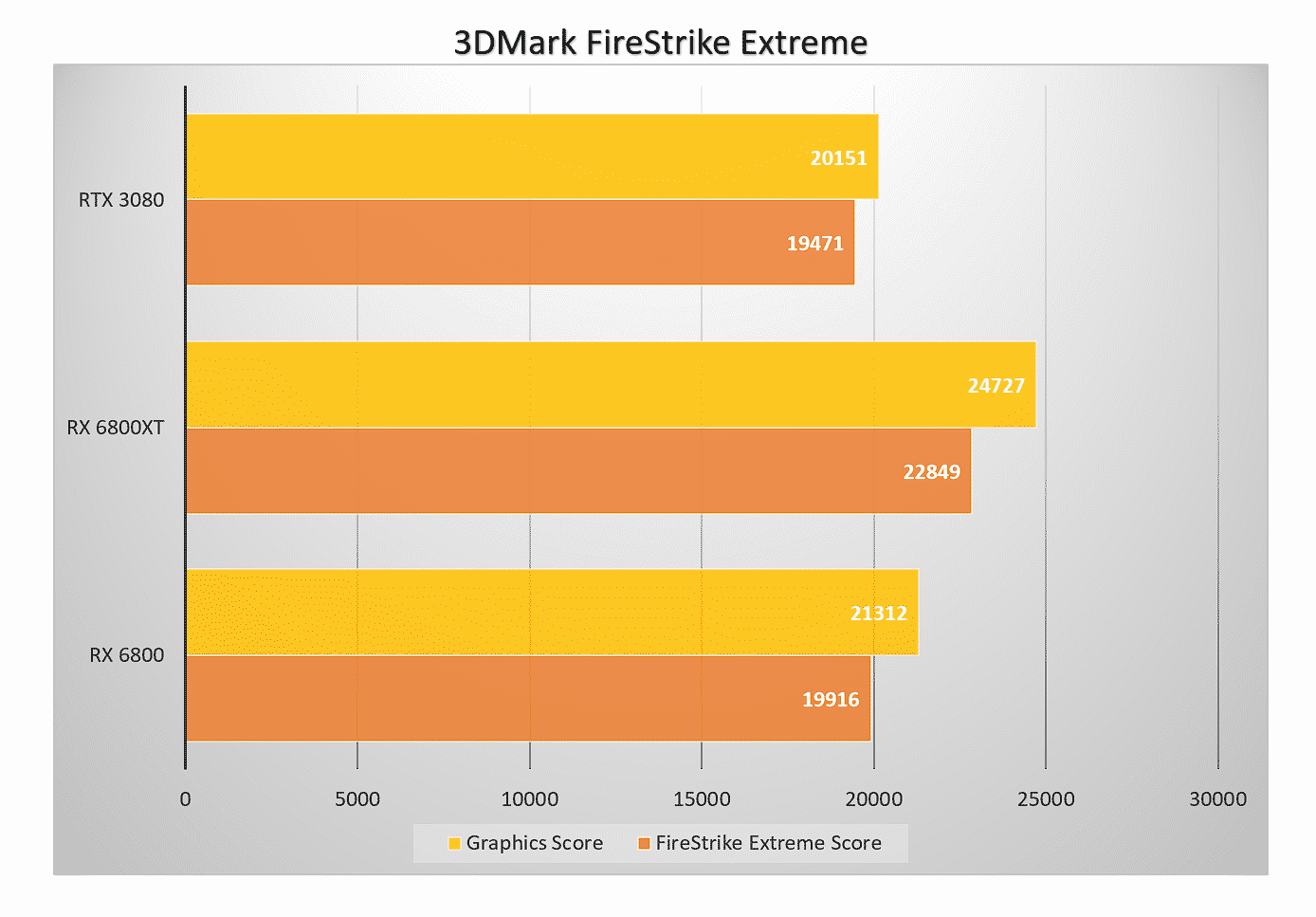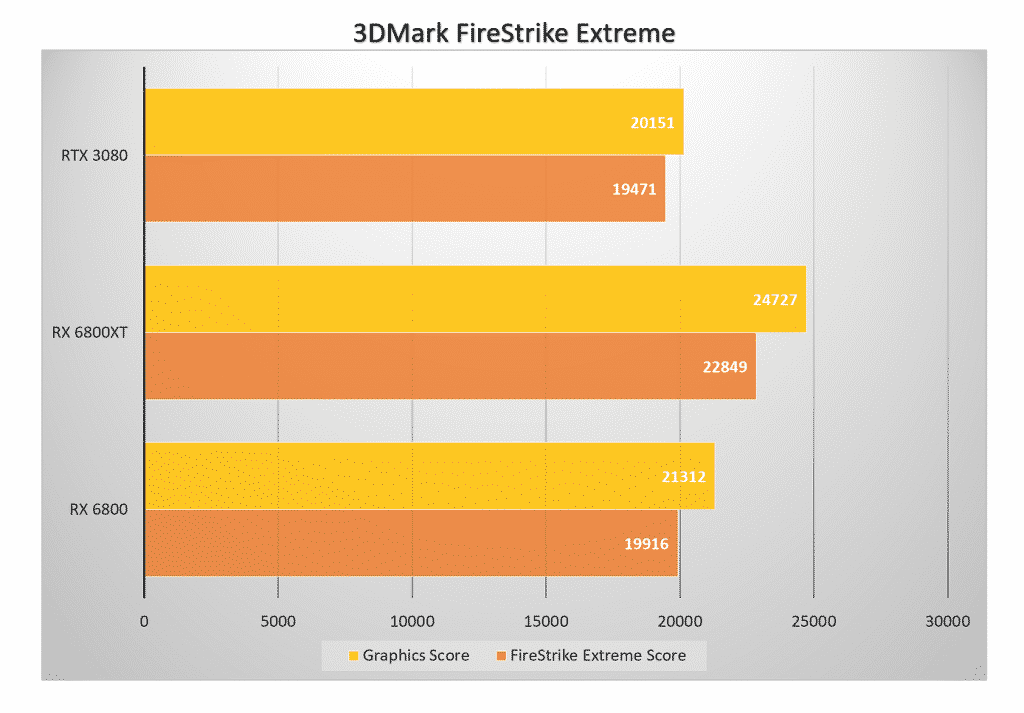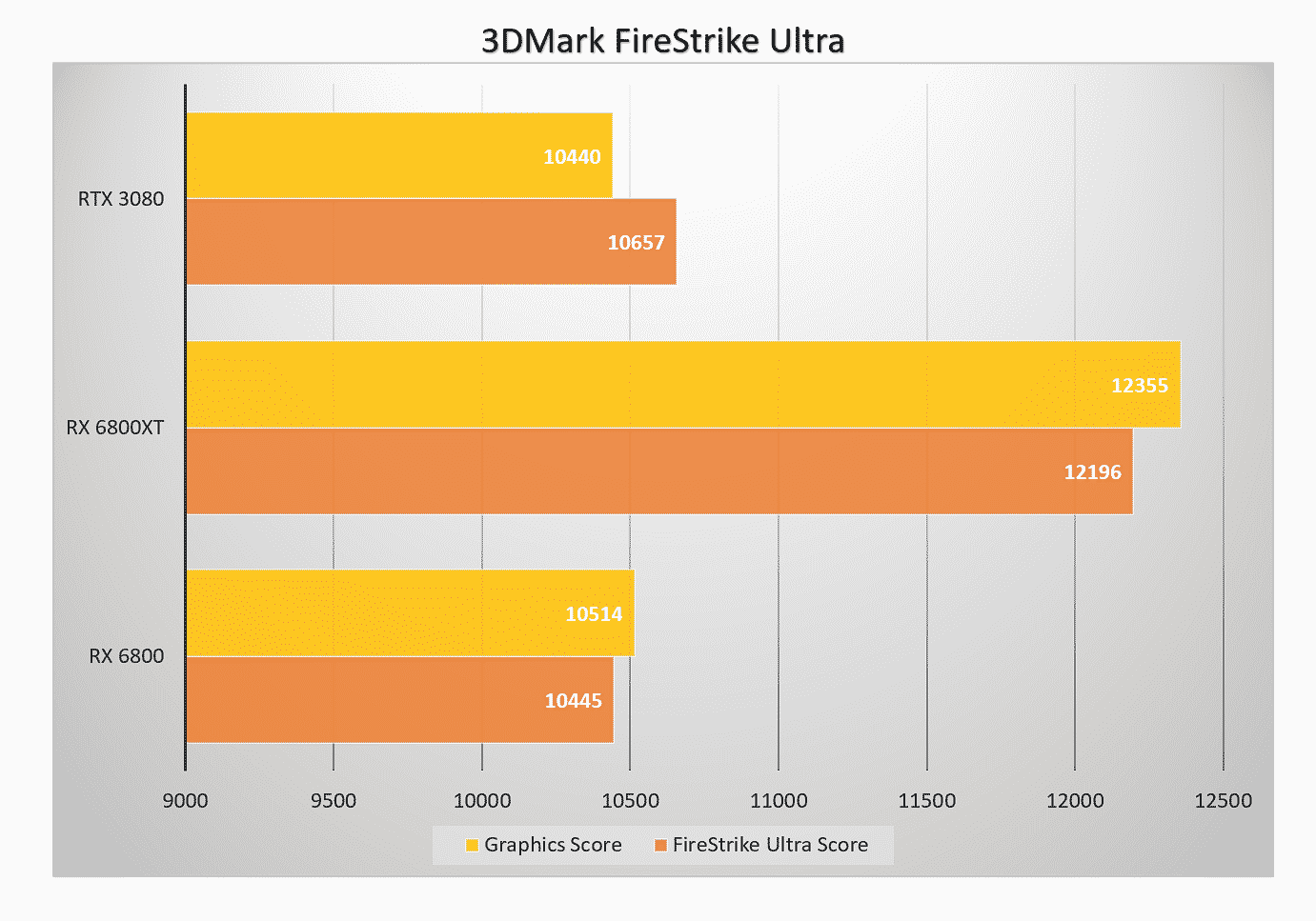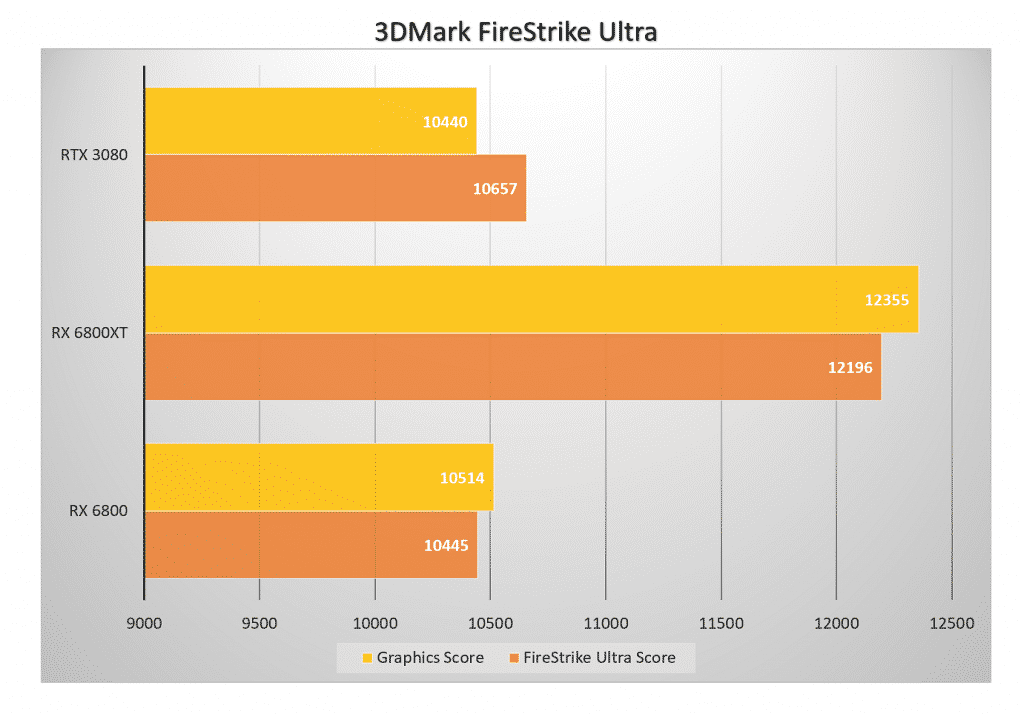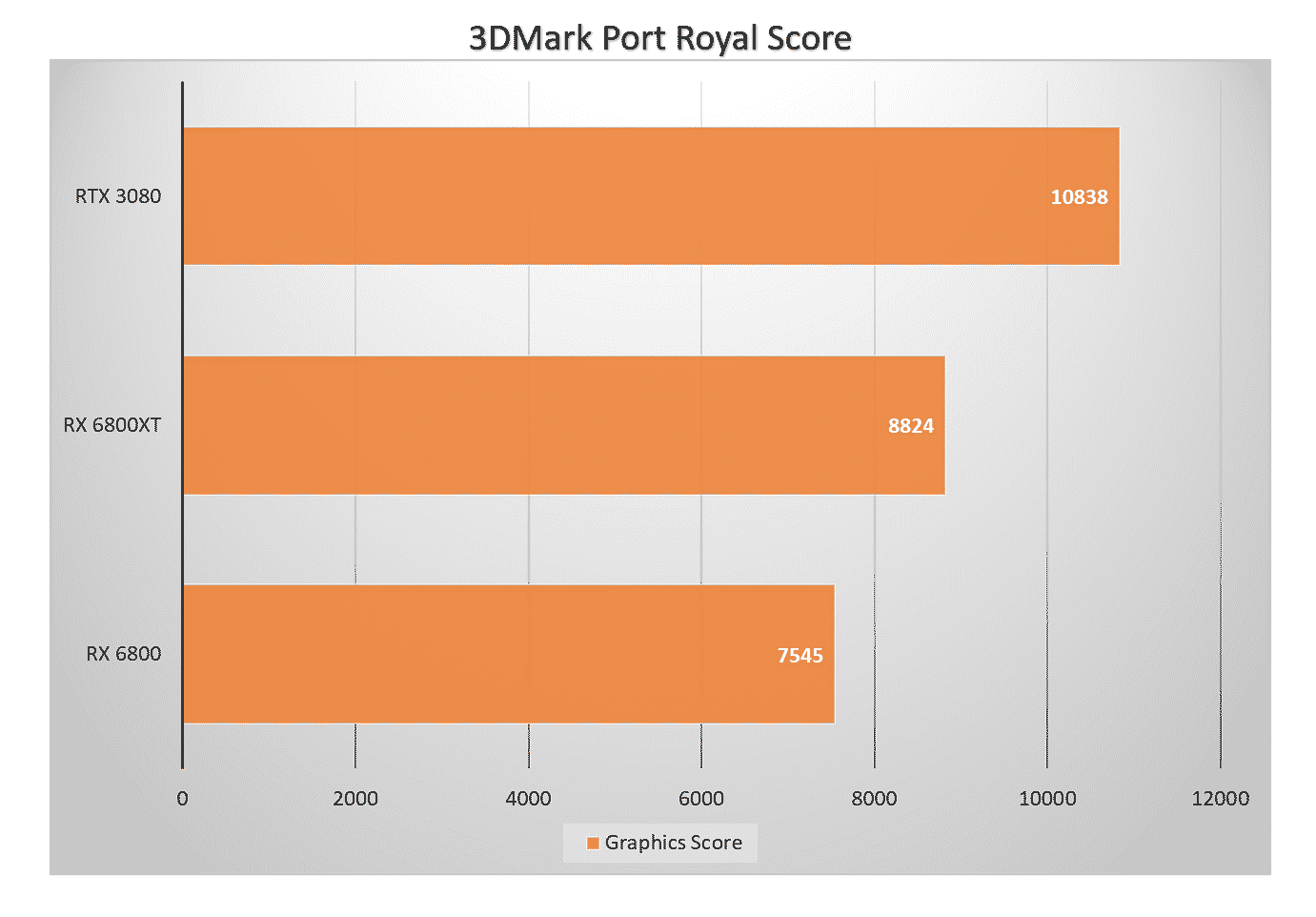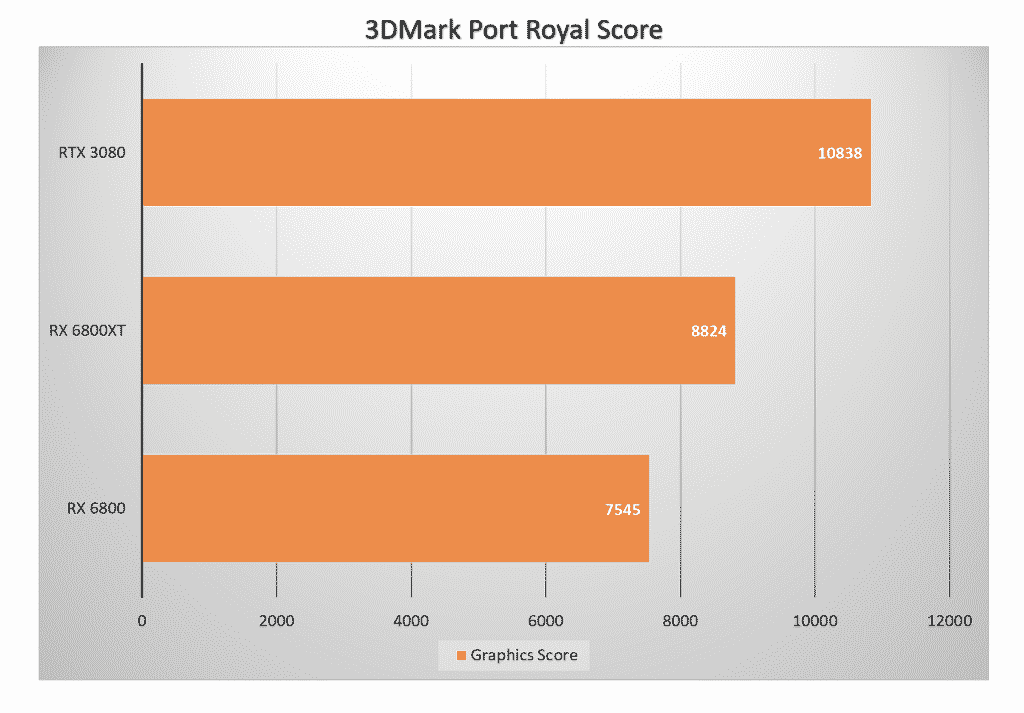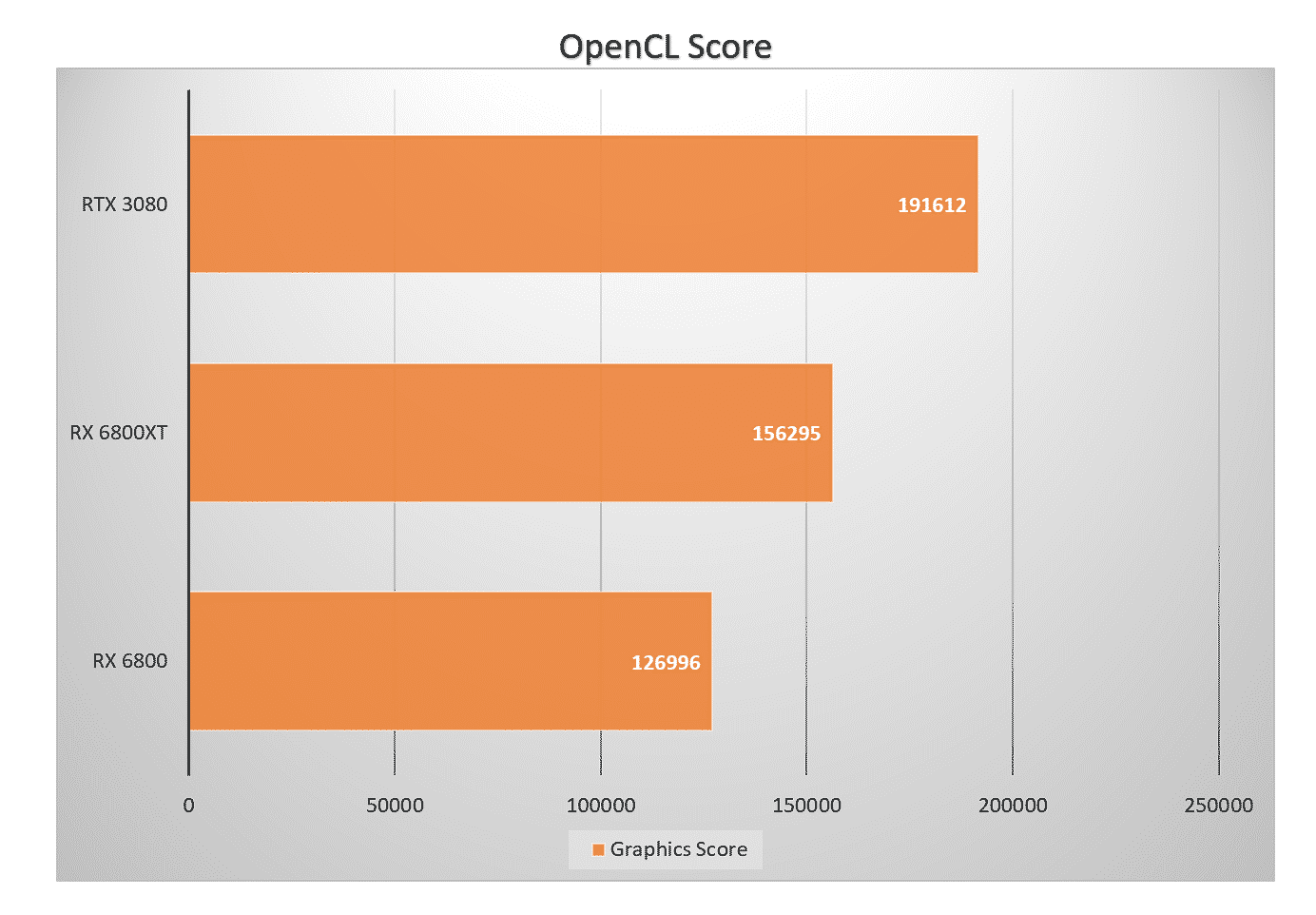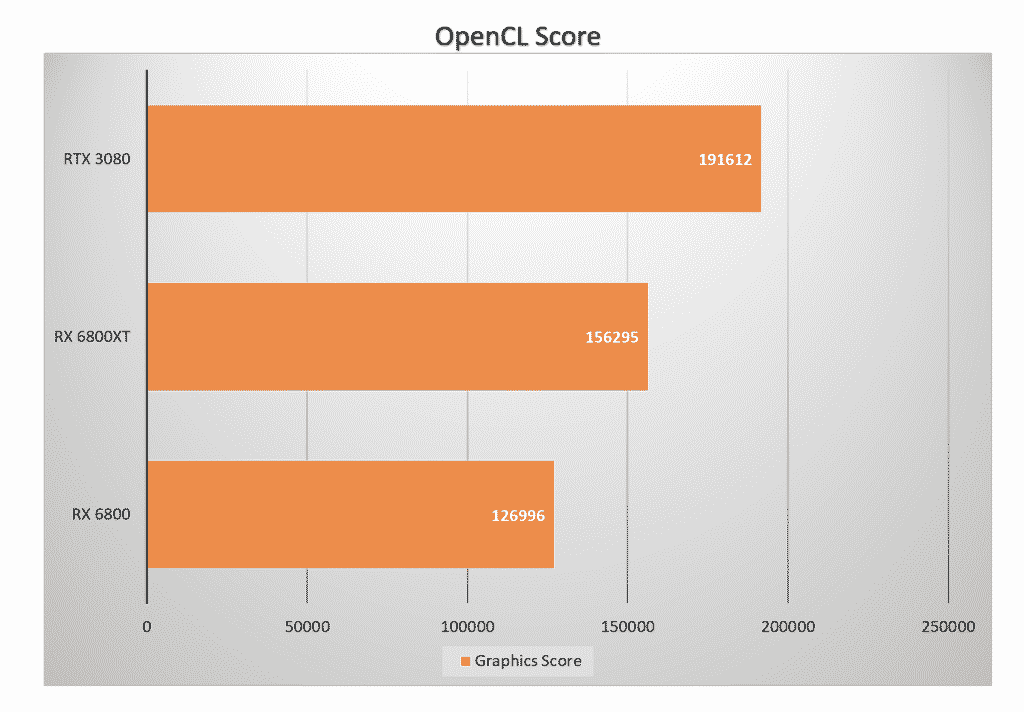 - Advertisement -
You can clearly see in almost all the productivity benchmarks AMD has a lead over NVIDIA's flagship RTX 3080, showing how these new RX 6000 series GPUs are good for content creation. However, in one area AMD still lacks by some margin is in ray tracing, as you see in the Port Royal test, which is a ray tracing test, NVIDIA is ahead of AMD.
Overall, if you are a creator and gamer, buying a Radeon RX 6800XT would definitely make sense as an extra amount of VRAM can be used by a lot of productivity applications.
Gaming
In gaming, this is the first AMD has almost matched as well as beaten NVIDIA when it comes to raw gaming performance. However, NVIDIA enjoys its own creation i.e. DLSS, that gives them a slight advantage as well as a wide number of games with NVIDIA RTX support.
- Advertisement -
But considering AMD's first huge effort to challenge NVIDIA, I am surprised how the Red team's GPUs have performed toe-to-toe against team Green.
Now here's testing the RX 6800XT with the Ryzen 7 5800X and putting it against the RTX 3080: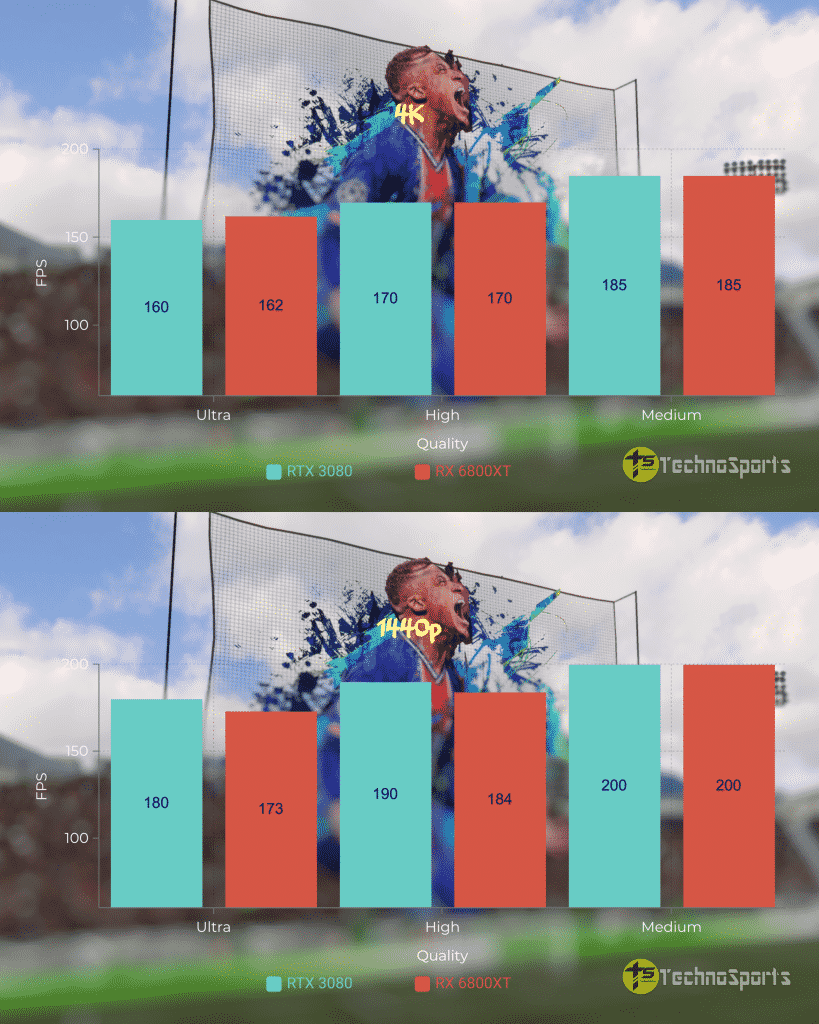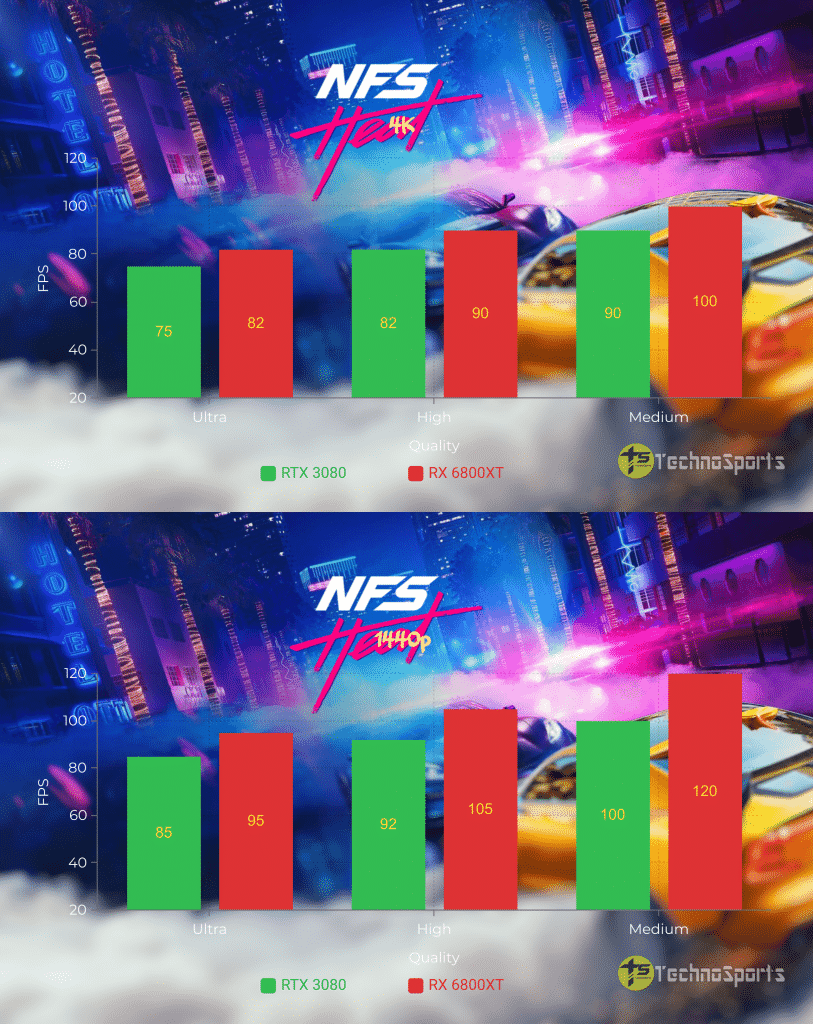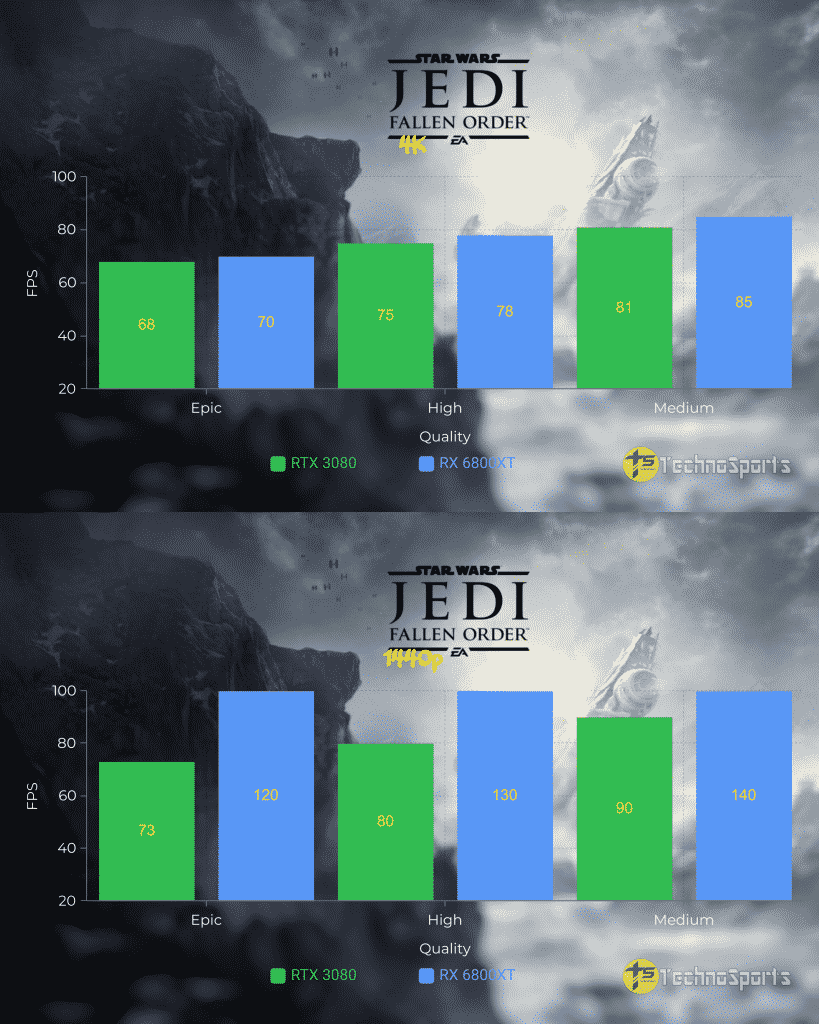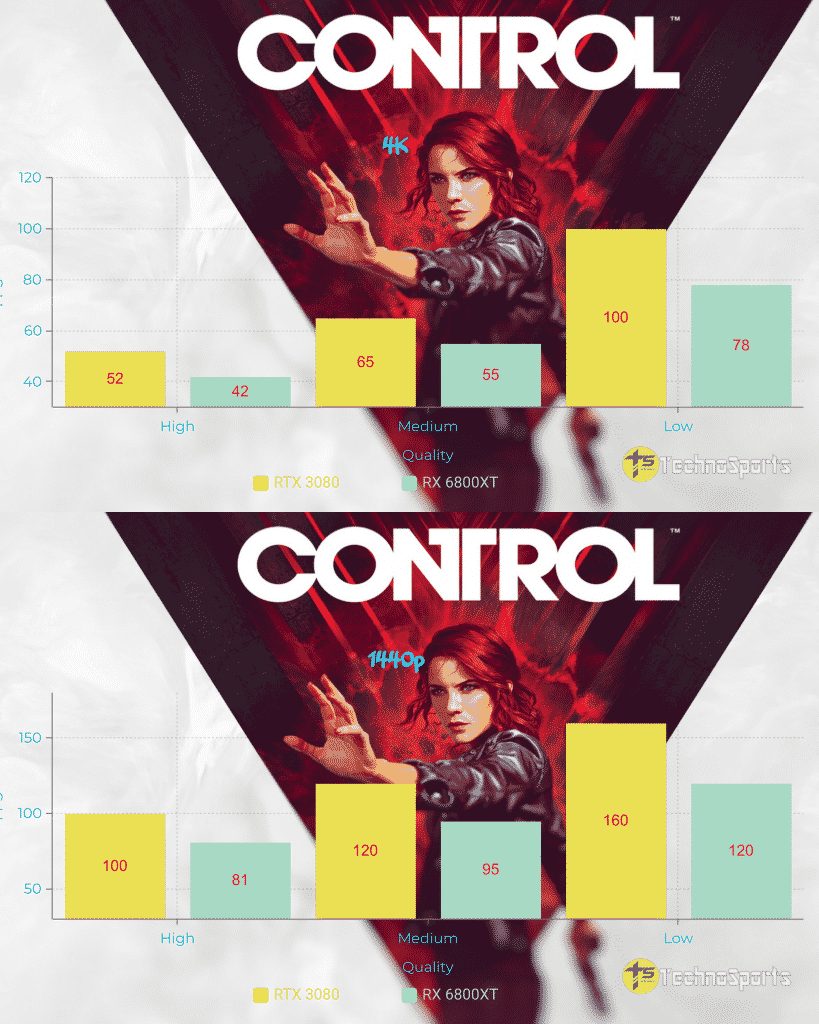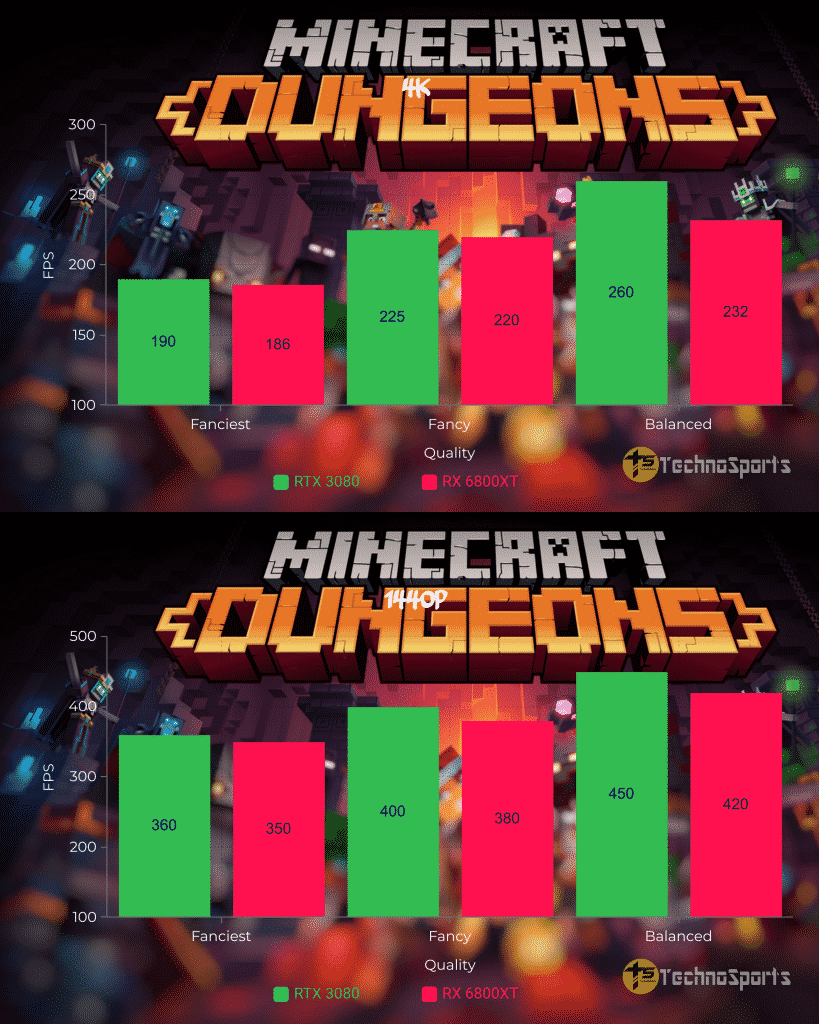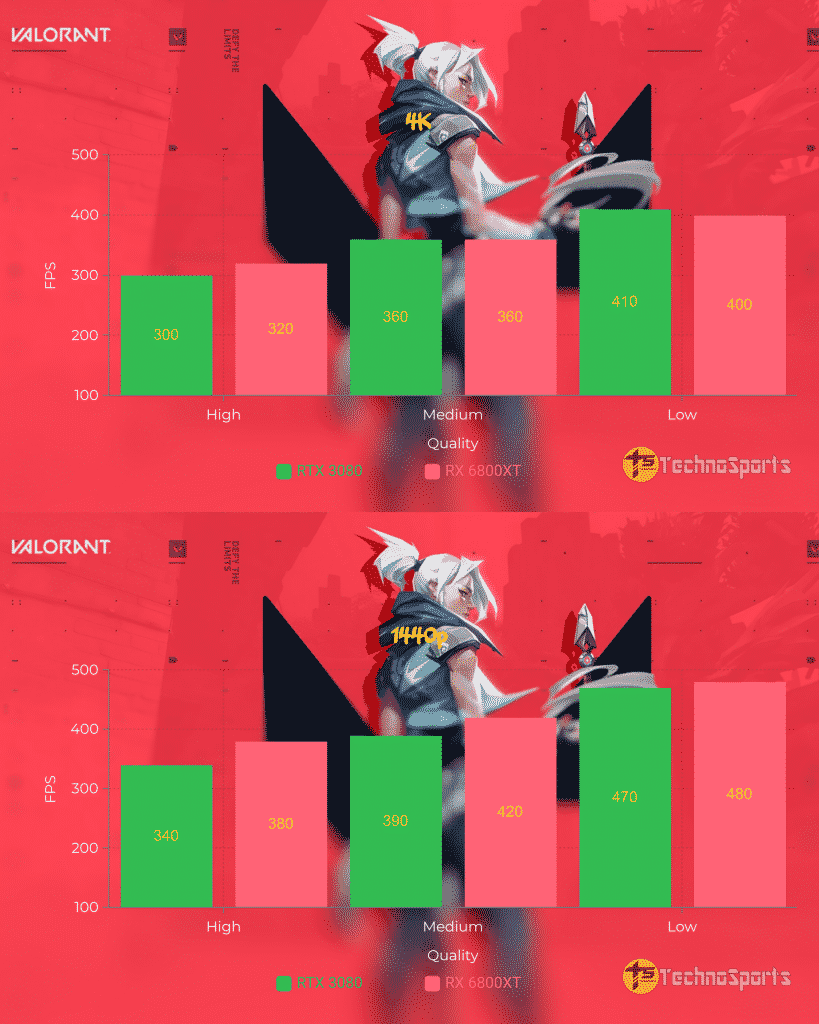 As you see in the benchmarks, the Radeon RX 6800XT gives the RTX 3080 in many games, especially in 1440p, the performance of the AMD GPU is similar or even better in most titles. In titles like Star Wars Jedi Fallen Order, Cyberpunk 2077 and NFS Heat, while you see in 1440p AMD gives better performance than NVIDIA.
A few years ago, this kind of performance from AMD was unimaginable, but this time AMD has nailed it with a flagship RX 6800XT and crushes or touch the RTX 3080 level performance coming in at lower price points. But, NVIDIA with its years of experience in the gaming area has its own advantage and still, ray tracing performance is better on NVIDIA GPUs.
Here are some more benchmarks comparing the RX 6800 GPU series GPUs with RTX 3080 paired with a Ryzen 7 5800X: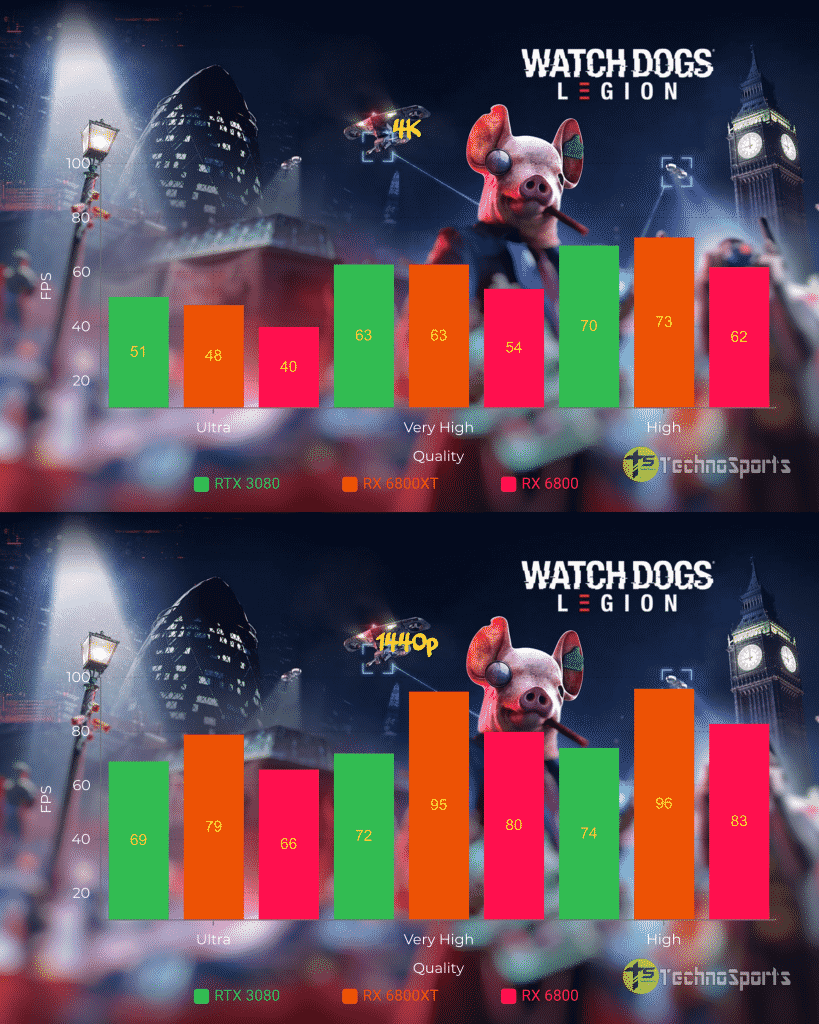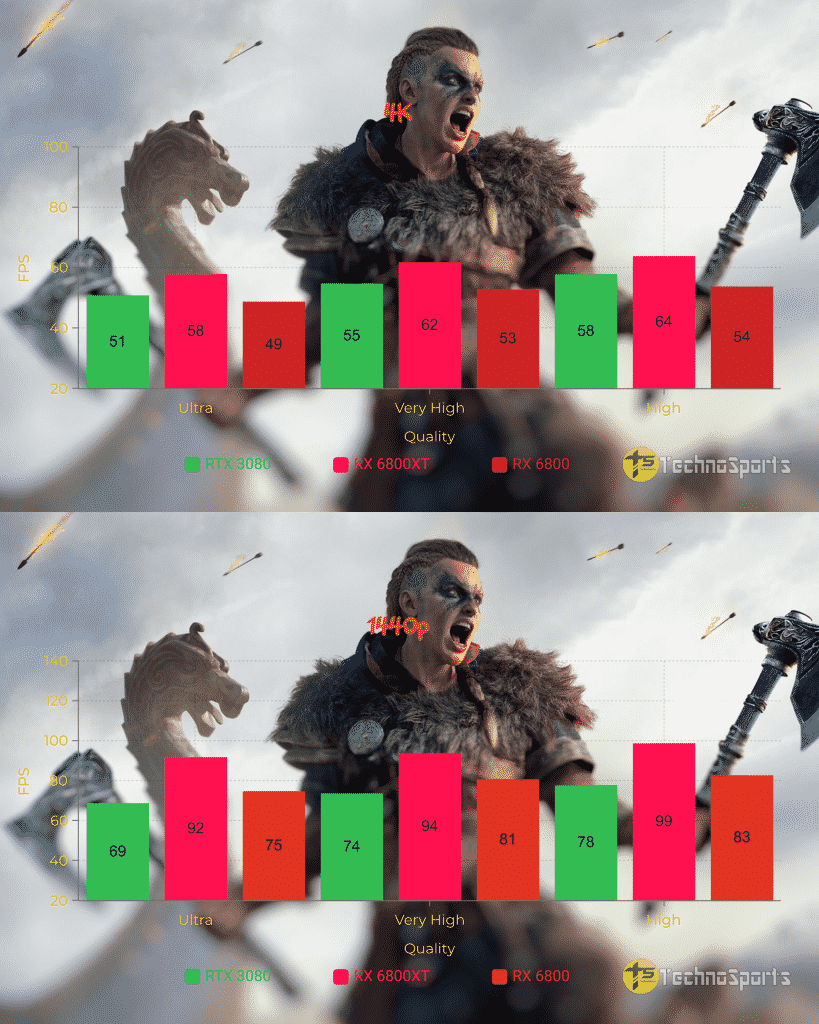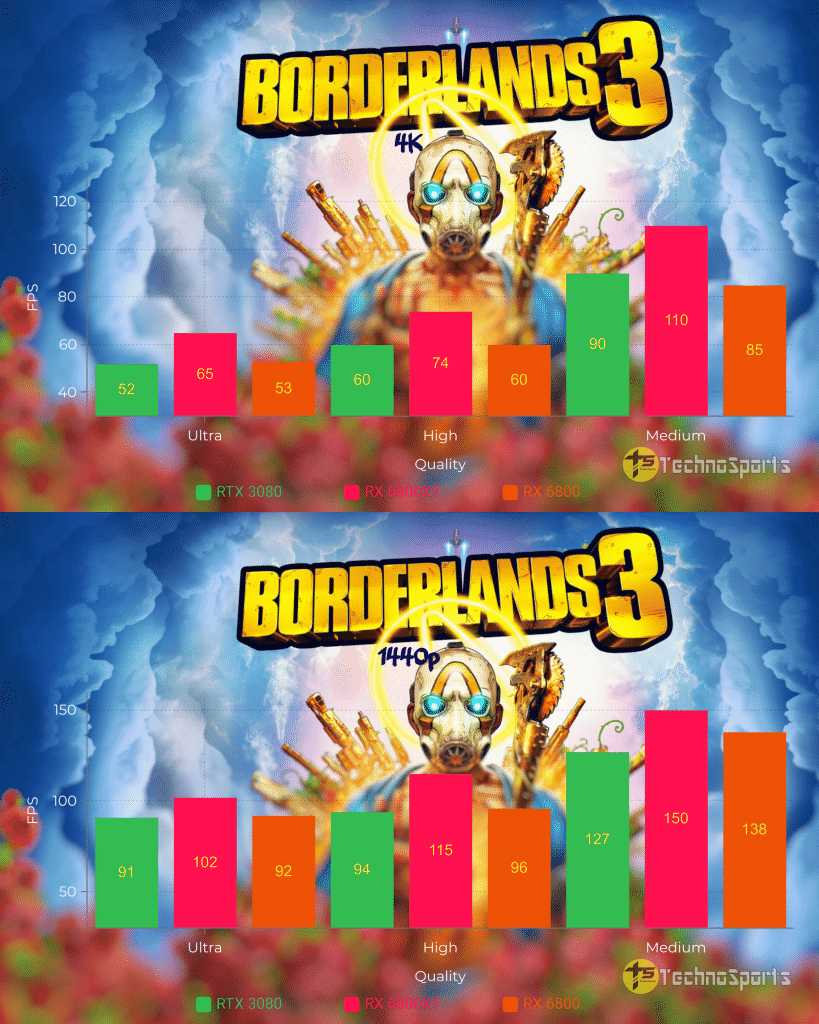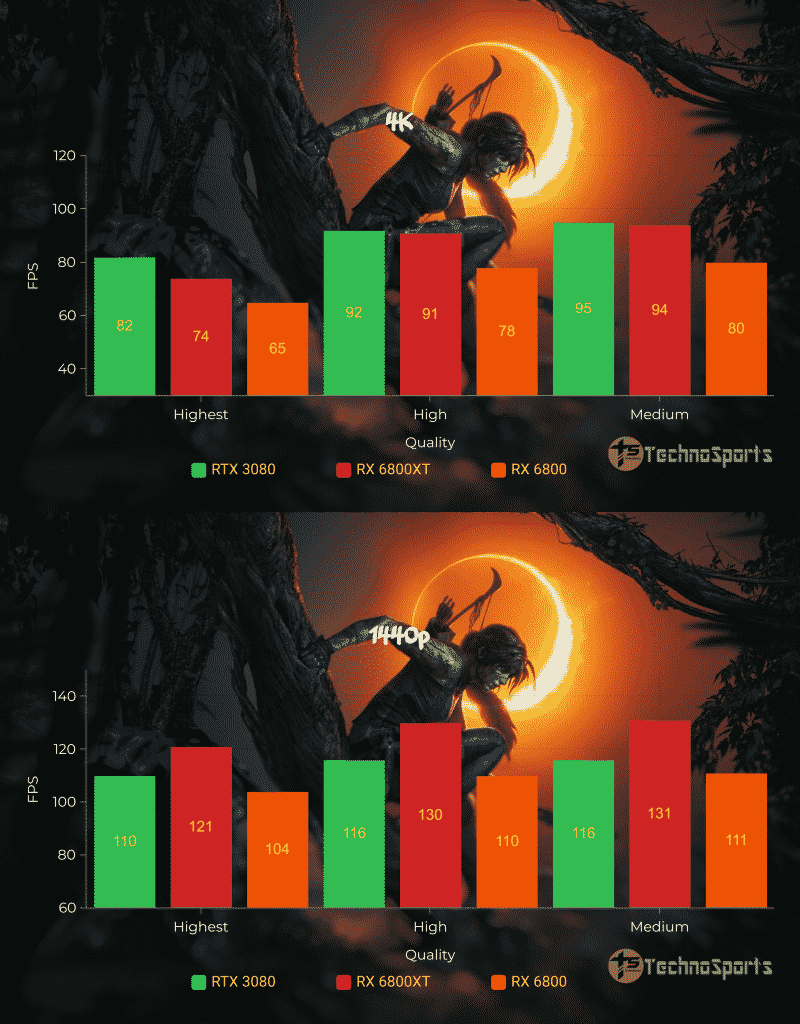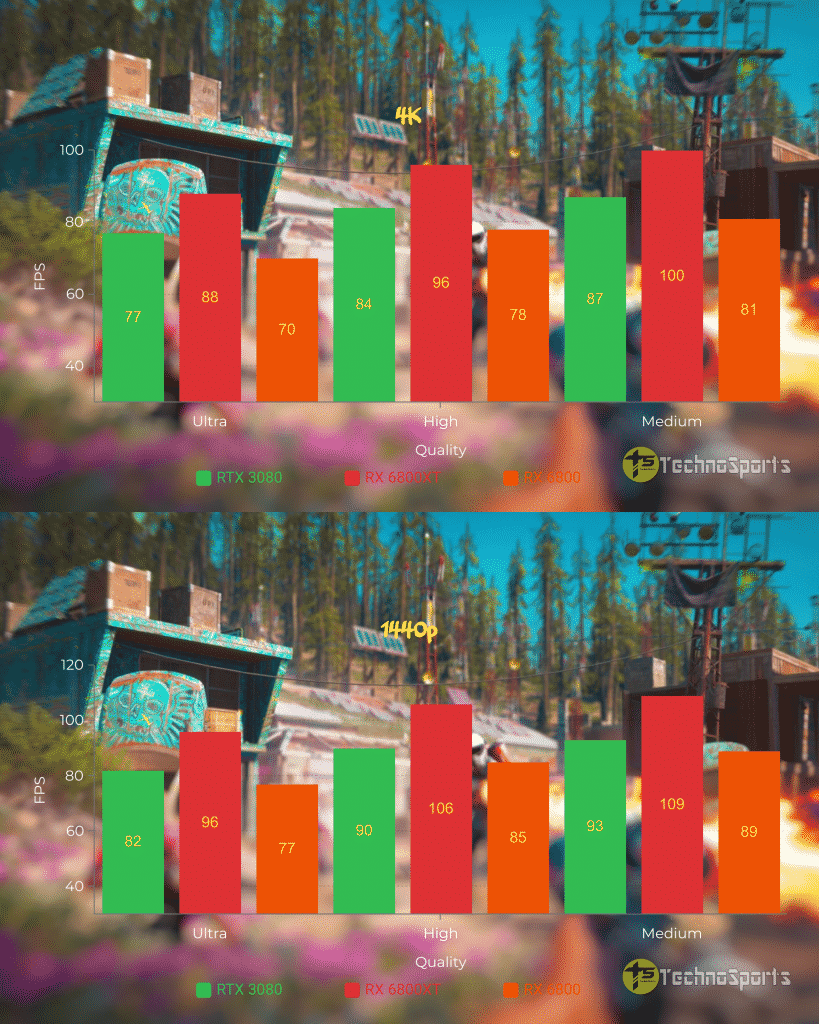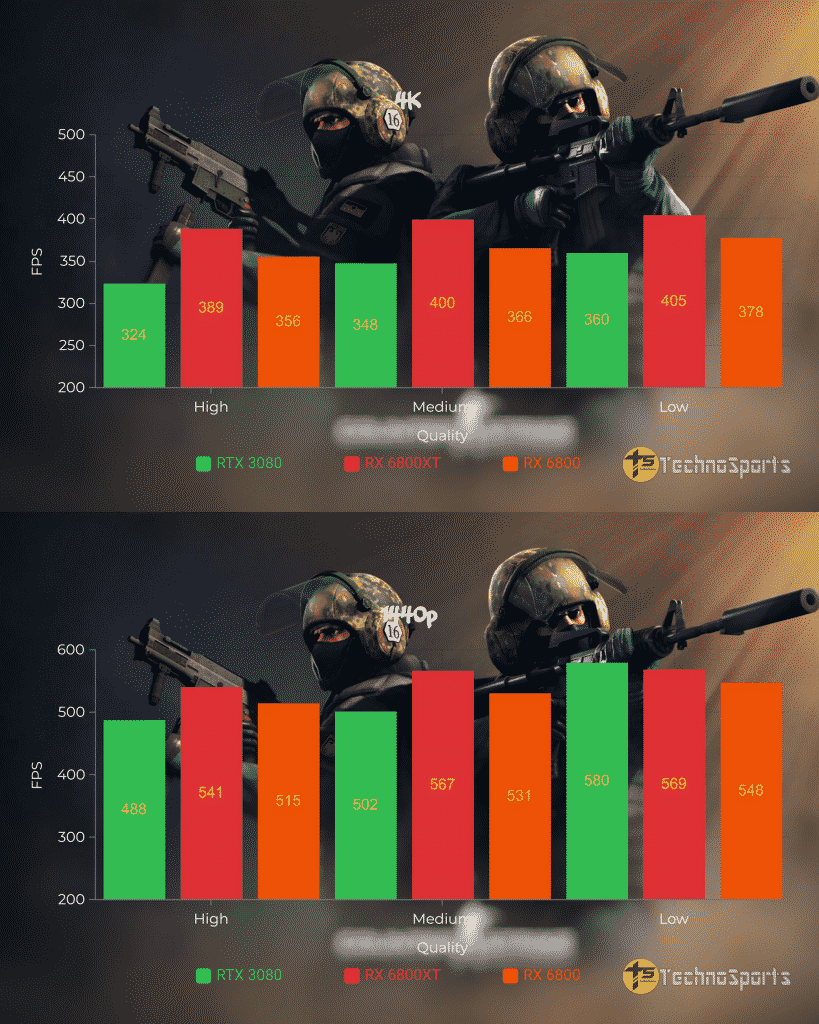 In these last few games, you will see AMD is leading ahead of NVIDIA, and this is surprising that even the RX 6800 is challenging the RTX 3080. If it's an AMD optimized title, AMD enjoys a huge lead over NVIDIA but strangely even though the 4K performance is quite similar to both of RTX 3080 and RX 6800XT, but in 1440p, AMD leads in almost all games.
If you cast aside NVIDIA's DLSS advantage, both GPUs are very similar to each other, and most of the times the Radeon RX 6800XT is more powerful in terms of raw performance. However, AMD's Radeon software is not up to the mark in front of NVIDIA's mature GeForce Experience, and you cannot forget DLSS 2.0 is magical in a lot of titles which support it.
Note: This performance of the AMD GPUs are on the reference models, not even the better performing OEM customized GPUs. However, the RTX 3080 is a custom ZOTAC GAMING GeForce RTX 3080 AMP Holo, so the reference NVIDIA GPU will have somewhat lower performance than this.
Verdict
If you want a gaming GPU, you cannot be fooled as both GPU are very powerful and very competitive with each other but if you end up deciding which GPU to go for then it will be a close call. In 1440p, the performance is kind of inclined to AMD if DLSS is turned off for NVIDIA but if it's on then you the almost same performance.
In 4K, the performance is similar to when DLSS is off, but the games which support it has a prior advantage as with RTX and DLSS ON you get almost to a little performance dip, further enhancing the gaming experience. So, if you are a gamer and want those NVIDIA advantages, then RTX 3080 would still make sense.
Whereas AMD needs to bring a DLSS alternative to cut NVIDIA's advantages, but this doesn't mean the Radeon RX 6800XT is bad, because its raw performance is giving NVIDIA shivers. If you are a creator or professional who needs those extra 16GB VRAM, then AMD is your rightful choice productivity and gaming.
Now, talking about availability, it is sad to say both AMD and NVIDIA face huge availability issues while AMD is on the worse side as you cannot get a single RX 6000 series GPUs right now. NVIDIA's situation is still better but overpriced, and RTX 3080 is to be found nowhere, putting both of these GPUs on the same page.
If you do end up getting both at right prices, then it depends on you to choose whether you want a matured ray tracing performance with DLSS and some more NVIDIA advantages or enjoy AMD's raw graphics horsepower while even utilizing it for productivity.
- Advertisement -