- Advertisement -
The price details of the flagship SKU of Asus, ROG Zephyrus G15, have been revealed and it is very expensive. The laptop revealed recently comes at a price of €2,799. This European price of Asus ROG Zephyrus G15 has been exhibited by Cyberport. 
Asus, the Taiwanese multinational computer and phone hardware company, launched a few gaming laptops at the recently held CES 2021. One of the laptops revealed at the event was ROG Zephyrus G14. The price of this gaming laptop was not revealed by the company. A bigger version of this, namely, ROG Zephyrus G15 was also shown at CES 2021. Though Asus did not reveal the price and many of the specifications or configurations of the laptop, it did create a lot of buzz in the mind of gaming laptop users.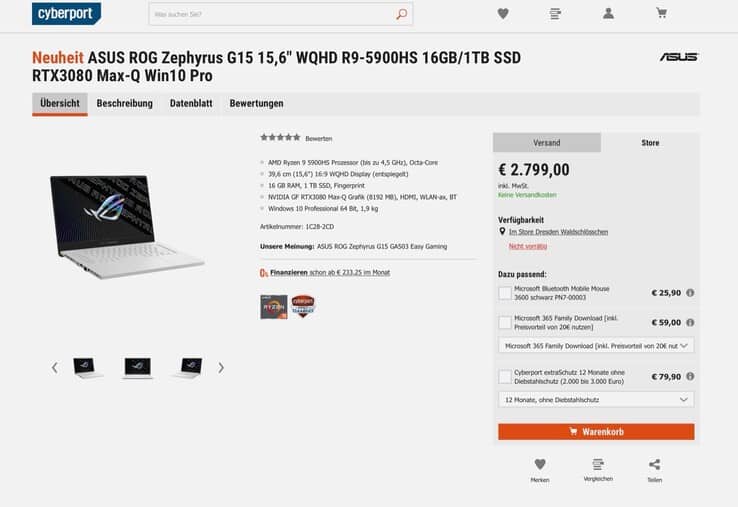 Asus' ROG Zephyrus G15 will come with an AMD Ryzen 9 5900HS APU and an NVIDIA GeForce RTX 3080 Max-Q GPU. It will be supported by 8 GB and 16 GB of GDDR6 VRAM and DDR4-3200 RAM respectively. Along with the price, Cyberport also reveals that this gaming laptop will have only one SO-DIMM slot and come with a 1440p display.
- Advertisement -
The 16 GB of RAM is divided between 8 GB soldered and an 8 GB SO-DIMM module. This gives us a hint that the laptop will support dual-channel memory. But this option is available only till the laptop's maximum capacity is not reached. The maximum RAM limit of ROG Zephyrus G15 is 24 GB. It has a 15.6-inch display and comes with a refresh rate of 165 Hz, and is Pantone validated. It's display peaks at 300 nits.
Even after these many features, users may wonder whether the product is worth giving €2,799 out. Razer Blade 15 Advanced Edition is another machine with similar features, and it cost €200 less than ROG Zephyrus G15. You will get two SO-DIMM slots but will lose the Ryzen 5000 series APU. So, the decision rests on you. What are your views on this gaming laptop of Asus?
- Advertisement -