- Advertisement -
NVIDIA is all set to launch its RTX 30-series mobile GPUs on January 12th as a part of the CES 2021 launch. NVIDIA will provide all the three options: RTX 3080, RTX 3070, and RTX 3060 for mobile and among them the flagship RTX 3080 GPU has been spotted.
It will feature a full-fat GA104 GPU along with 6144 CUDA cores far less than the desktop RTX 3080 GPU with 8704 CUDA cores. Obviously this means that desktop and mobile variants of the same RTX 3080 will not offer the similar performance.
It is also said that the same Nvidia GeForce RTX 3080 mobile GPU will have two variants in the form of Max-P, with total graphic power of 150W and the Max-Q variant with 90W of power draw. While the Max-P variant will come with 1110 MHz base clock and a 1545 MHz boost clock, the Max-Q variant will offer a 780 MHz base and 1245 MHz boost clock frequencies.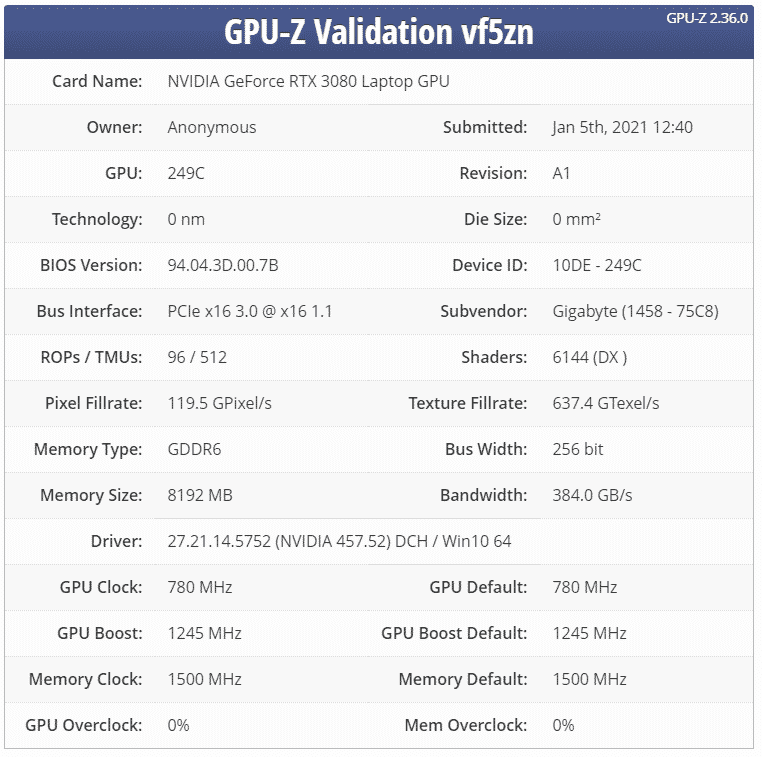 - Advertisement -
Obviously, laptop manufacturers can tweak the clock speeds according to their requirements and TGP. An info from TechPowerUP GPU-Z validation database, has shown a Max-Q variant used on Gigabyte's upcoming AORUS or AERO gaming laptops to feature the Max-Q variant of the RTX 3080 with memory speed locked to 12 Gbps.
However, its unknown whether the Max-P variant of the RTX 3080 will have 14 Gbps memory like their predecessor. As for now, its also unknown whether NVIDIA will offer the GPU with 16GB or 8GB VRAM, well, it remains a point to be seen as NVIDIA's launch event is just five days from now.
via Videocardz
- Advertisement -