Manchester United are knocked out from another semi-final. They lost to Manchester City last night in the Carabao Cup semi-final.
Manchester City was missing some of their key players following the increasing positive COVID-19 cases inside the squad. On the other hand, Manchester United was missing their Uruguayan striker Edinson Cavani who was suspended for three games by FA breaching the rules against racism.
Both teams were in a good form recently. The match was thoroughly entertaining. In the first half, both the teams have created enough chances but failed to put it in the net.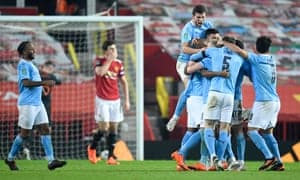 In the 50th minute of the game, Manchester City defender John Stone broke the deadlock from a cross in the box from a freekick. In the 83rd minute, Manchester City captain Fernandinho doubled the lead for the Citizens. Manchester United failed to respond and City won the game by 2-0.
After the match, Manchester United boss Ole Gunnar Solskjaer said, "We played against a very good Manchester City team, they played well."
"When they play well you have to play very well to beat them. We were just lacking that little bit."- he added.
"We're getting closer. This is a much better version of United than a year ago in those semis. It's not psychological [losing in four semi-finals]. Sometimes you meet good teams in the semis. We met, at the moment, City is probably the best team in England."- Ole said in response to 4th consecutive semi-final defeat.
Manchester City boss Pep Guardiola dedicated this win to City legend Colin Bell, who died on Tuesday.
"The team is ready and it was an outstanding performance."- he said after the match.