Antutu usually comes up with its monthly Top 10 charts. They have posted the same about the last month as well. The timeline of this chart stands from December 1 to December 31. Unsurprisingly, Xiaomi Mi 11 has topped the charts with a benchmark score of 708425. This is because the smartphone is run by Qualcomm's latest SoC called Snapdragon 888. Last week, Xiaomi Mi 11 became the first smartphone in the world to be powered by Snapdragon 888 SoC. Currently, it is the most powerful Android chipset available in the market. It is the only smartphone in the world that is run by this latest SoC but soon we are expecting to see a huge influx of smartphones with Qualcomm's new chipset. You can view the chart in the image below.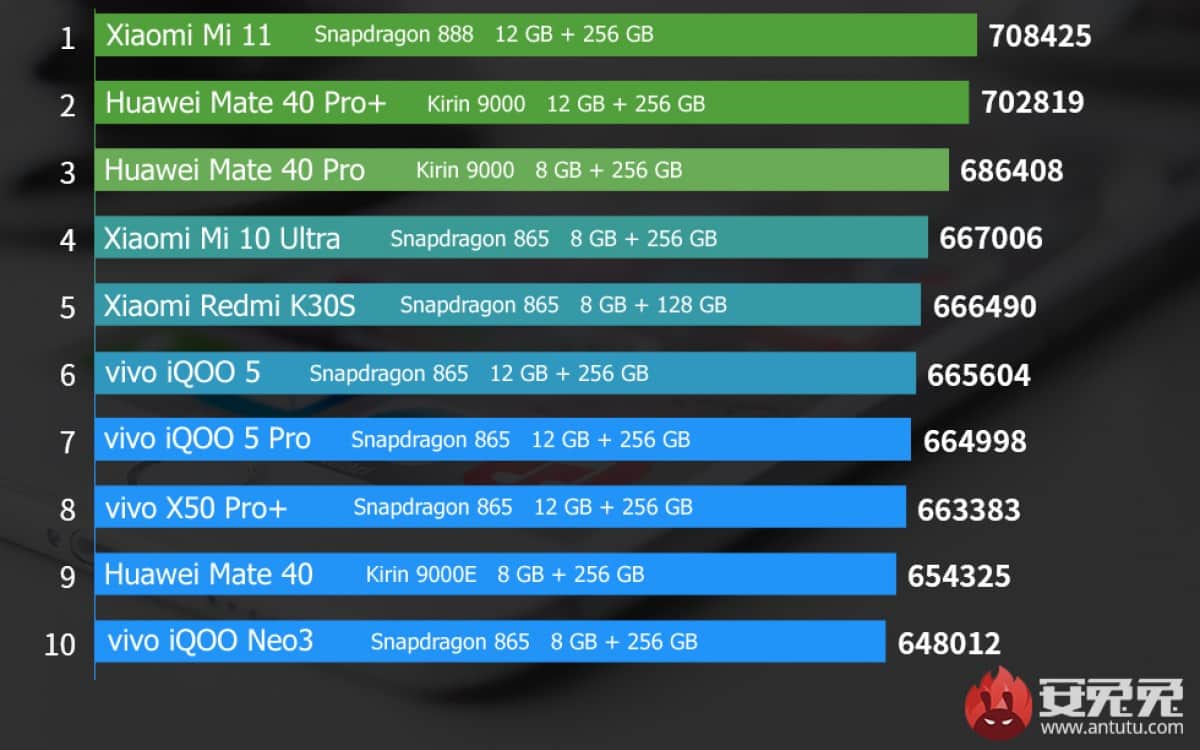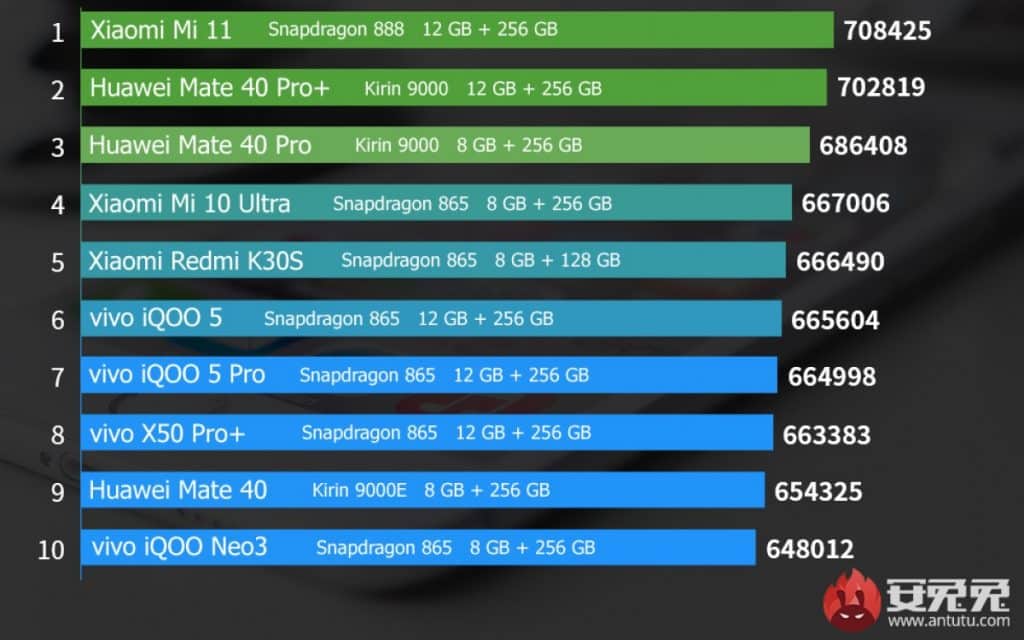 Xiaomi Mi 11 is closely followed up by Huawei Mate 40 Pro+ and Huawei Mate 40 Pro smartphones. Both of these devices are powered by the Kirin 9000. Other devices that are in the top 10 are run by Snapdragon 865, the predecessor of Snapdragon 888. Huawei Mate 40, which takes the 9th spot, is run by Kirin 9000E.
Also Read: Cheapest 5G Smartphones in India | January 2021
None of the smartphones which is run by Exynos has featured in this list. This shows that Exynos is a bit weaker when compared to other SoCs like Snapdragon 865. The top 10 list is entirely dominated by three Chinese OEMs, that are, Xiaomi, Huawei, and Vivo. The Top 10 list for mid-range smartphones is also dominated by Xiaomi and Huawei. You can see in the image below. 8 of the top 10 spots are the brands of these two OEMs. The 9th spot and 10th spot are captured by Oppo and Realme respectively.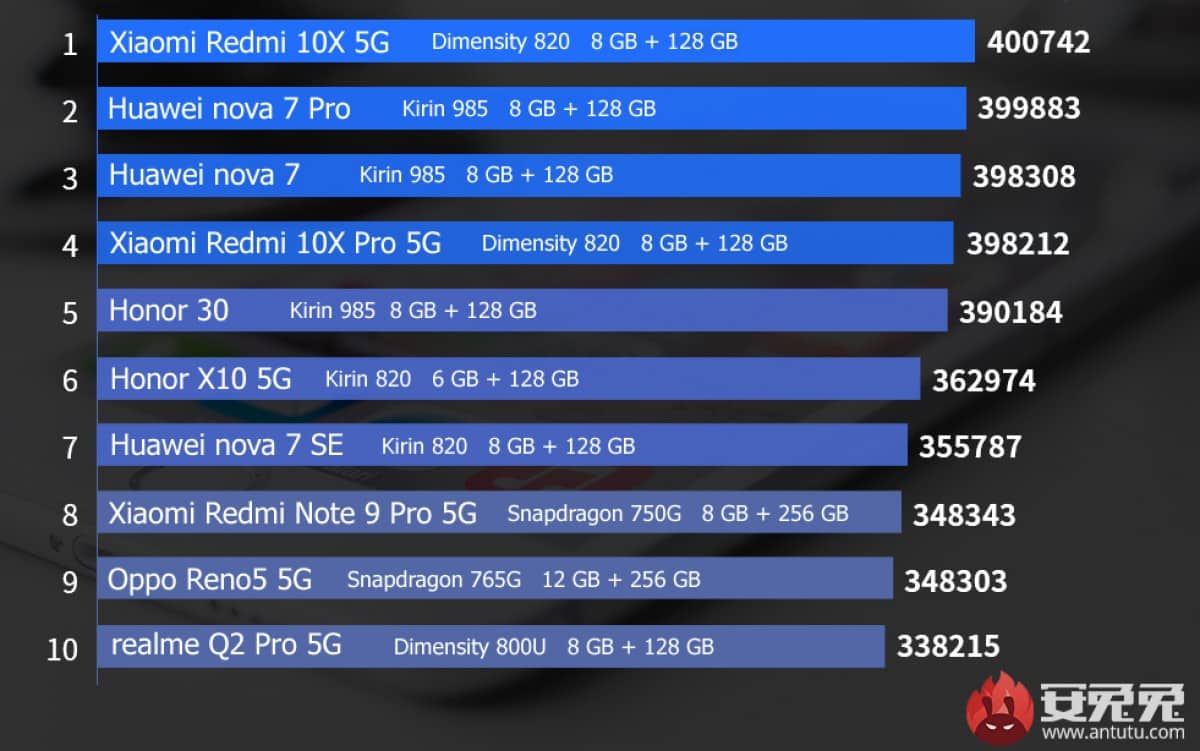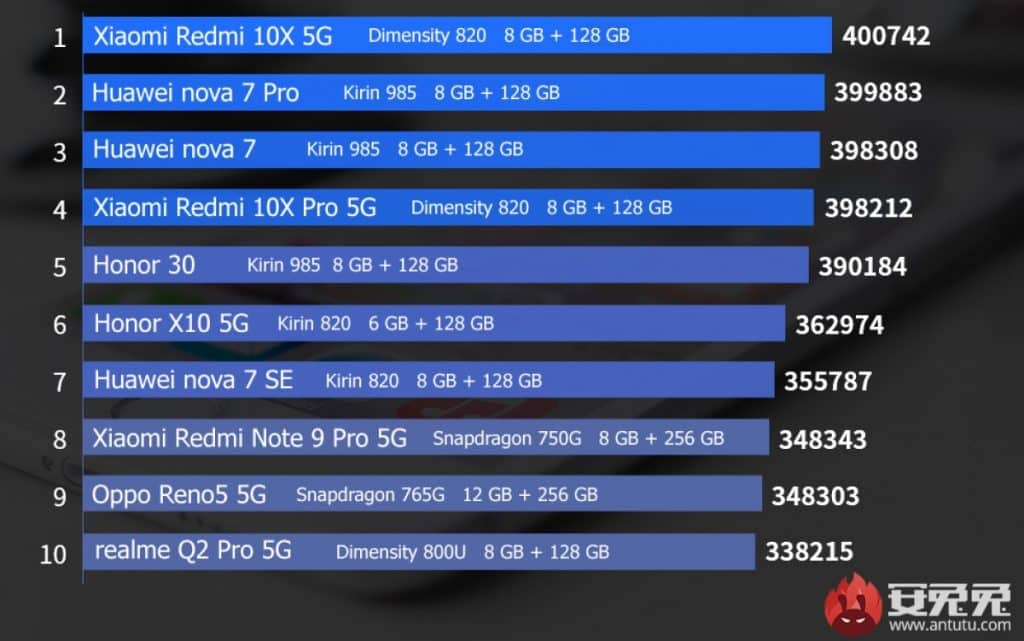 Both of these lists are going to change in January and we might see a few smartphones with new chipsets altogether.