- Advertisement -
The year 2020 was an important year for the gamers as Microsoft and Sony both launched their next-gen consoles, Xbox Series S and X and PlayStation 5, respectively.
PS5 was globally released in November 2020 but due to some unfortunate trademark reason, it failed to show up in the Indian market. But as we stepped into 2021, Sony has finally been able to hit the Indian shores with their new PS5.
- Advertisement -
Sony will be launching the new PlayStation 5 on 2nd February in India but you can start pre-ordering from 12 pm on 12th January.
How to pre-order the PS5 from 12pm, 12th January onwards
You can pre-order Sony's next-gen console, PlayStation 5 from any of the retailers listed below:
- Advertisement -
*Pre-order will be available until stocks last at respective retailers
Also Read: Top 10 games for PS5 of 2020
Price of PlayStation 5 and Accessories in India
The PlayStation 5 is going to launch in the Indian market with a price tag of Rs. 49,990. But if you are ready to consider the game discs and can exchange them with friends then you have an affordable option – PS5 Digital Edition. This version has been priced at Rs. 39,990 in India.
For the DualSense controller, you have to pay Rs. 5,990 in the Indian market. The clean white aesthetic look gives a premium feel. Also, it features a built-in microphone, a USB Type-C for charging, and a new adaptive L2 and R2 trigger system. Check out the price list attached below: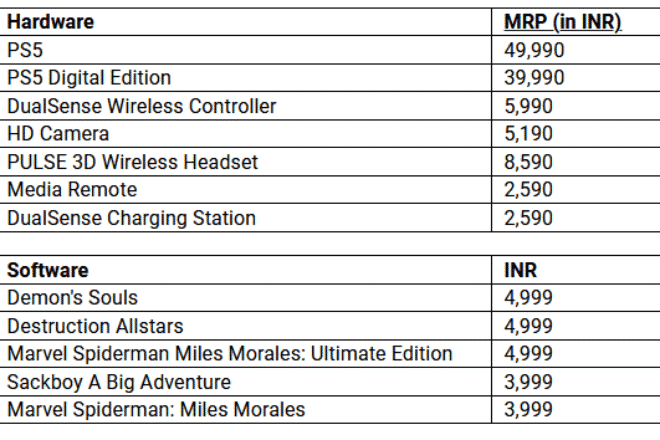 The stock for the PS5 will be pretty lower than the demand, assuming based on the worldwide scenario. So if you really want to buy the PS5, you need to quickly pre-order on the very first date.
Also Read: Top 10 cheapest countries to buy a PS5