Innovation has become a very important word in the smartphone world in recent days. Every smartphone manufacturer in this world always wants to do something innovative which will be totally different from others. Days after days, years after years technologies are improving so as to are advancing. So, smartphone manufacturers are using the newest technologies to make something totally different and innovative.
Keypad phones to touch phones, touch phones got upgraded as the latest Android phones, then comes the flexible and foldable ones, everything is a blessing of innovation. So, in this post, we will talk about the five most innovative smartphones to date all over the world. There are so many others to get launched in the upcoming days. So, we'll talk about those five innovative smartphones, those that have already been launched and yet to get launched for their users.
Here is the list of five most innovative smartphones in the world to date.
1. LG Wing
The LG Wing offers a swivel screen by which you can turn this phone into a T-shaped smartphone with two screens. So, if you want a stylish mechanical smartphone that will give you the ultimate pleasure of using two screens at the same time, then this gadget is definitely for you.
This phone runs on the Android 10 OS and is powered by an octa-core Qualcomm Snapdragon 765G chipset. This phone offers a 6.8-inch Full HD+ POLED (1080 x 2440 Pixels) display with a 20.5:9 aspect ratio.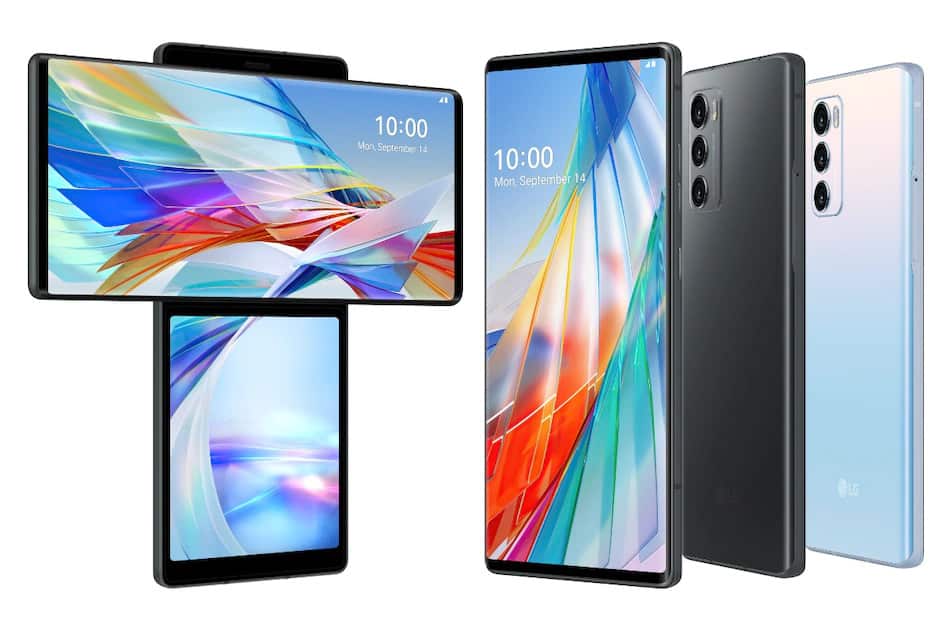 The SD 765G SoC of this phone is paired with 8GB of RAM and 128GB/256GB of internal storage. Coming to the camera section, this phone offers a triple rear camera setup which includes a 64 MP f/1.8, Wide Angle Primary Camera, 13 MP f/1.9, Wide Angle, Ultra-Wide Angle Camera, 12 MP f/2.2, Wide Angle, Ultra-Wide Angle Camera. For the selfies, this phone sports a 32MP selfie snapper at the front. This phone has an in-display fingerprint scanner.
Now coming to the battery section, the LG Wing is fueled up by a decent 4,000mAH battery. This phone has everything, such as WiFi, Bluetooth, GPS, Volte, NFC, and more regarding connectivity. In terms of weight and dimension, the LG Wing measures 169.5 mm x 74.5 mm x 10.9 mm and weighs 260 grams.
Coming to the pricing and availability, the 8GB/128GB variant carries a price tag of Rs 69,990, and the 8GB/256GB variant's availability is unknown. The LG Wing comes in two different color variants: Aurora Gray, Illusion Sky.
Also read: Top 5 Best Foldable Smartphones in India
2. DooGee S88 Pro
If you want a rugged smartphone with a gigantic battery backup, then you should go for the DooGee S88 Pro. This phone is fueled up by a monstrous 10,000mAH battery with 10W of wireless charging support. The company claims that this huge battery is more than enough for a month of standby or you could play 3D games for 19 hours straight. If you moderately use your device with no high-end gaming, this battery will last 7-8 days maximum. As it has a 10,000mAH battery, you can use it as your power bank as well with 5W reverse wireless charging. This big thing is available in three different color textures: Fire Orange, Army Green, and Mineral Black.
Coming to its rigidity, this phone is IP69K rated which means you can spend 2 hours with it at 1.5m depth or up to a full day at 1m. This phone carries higher protection against high pressure as well as high-temperature water sprays. Whether it is the scorching sun or extreme cold (-55°C for 4 hours) or even high humidity and acidic atmosphere it can be used effortlessly, credit goes to its tightly-sealed, shock-proof frame.
Let's talk about its other specifications. The DooGee S88 Pro runs on the Android 10 OS and is powered by the MediaTek Helio P70 chipset (12 nm, four A73 cores, Mali-G72 MP3 GPU). This phone features a 6.3-inch 1080p panel with Gorilla Glass protection. This phone features a side-mounted fingerprint reader along with customizable buttons. This phone has NFC support and it has bright notification lights as well.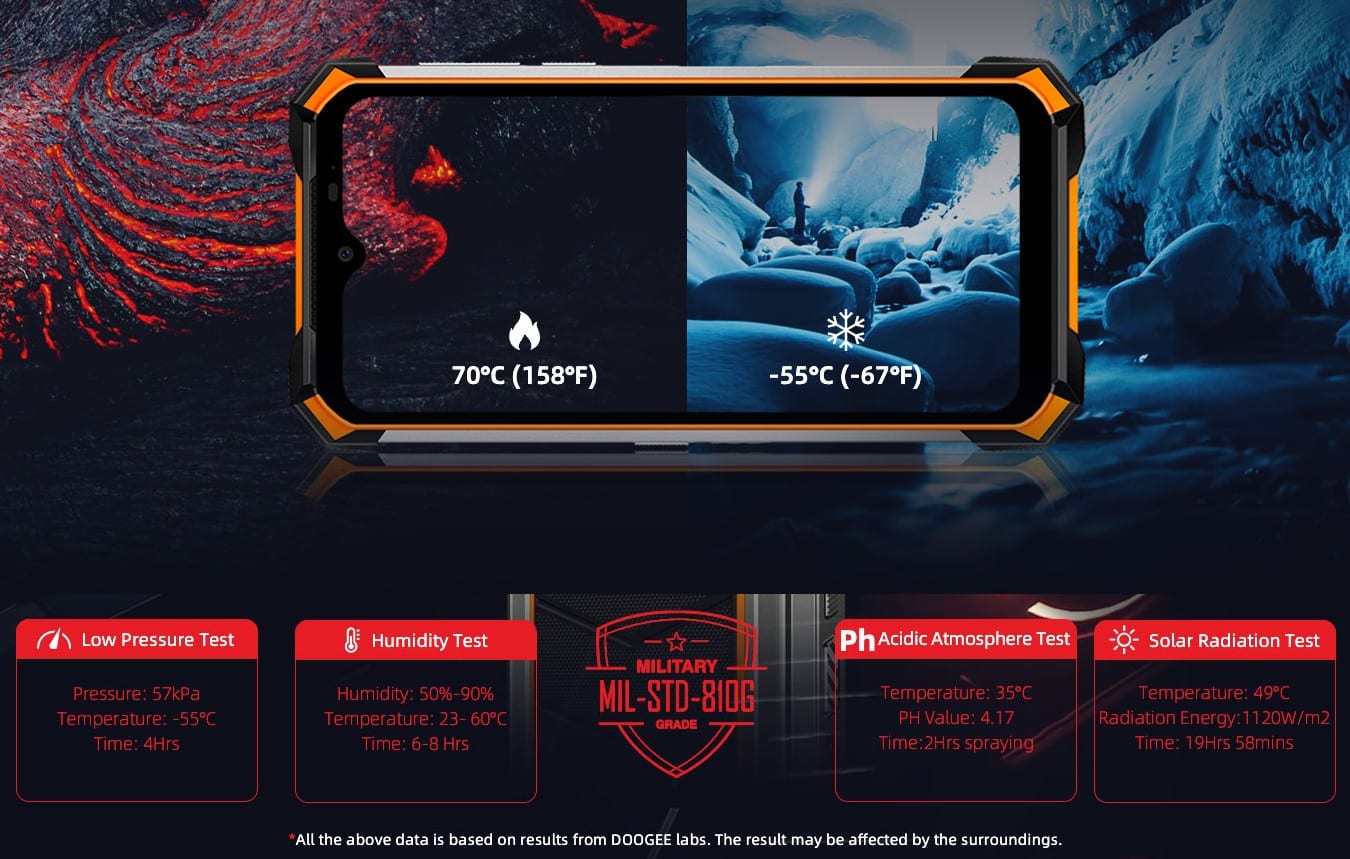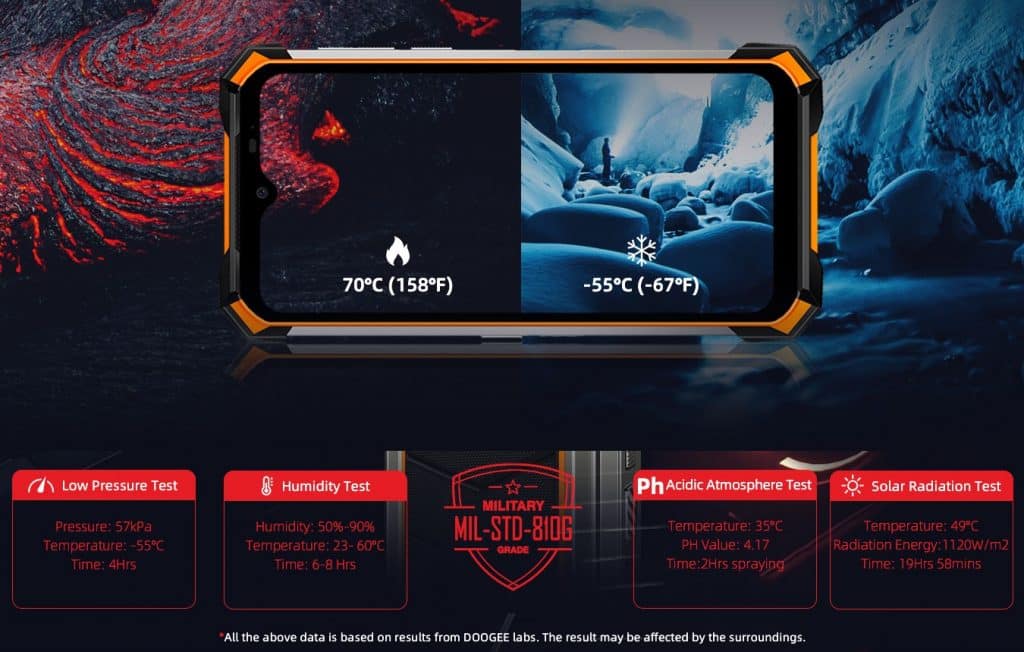 The SoC of this phone is paired with 6GB of RAM and 128GB of internal storage (expandable via a microSD card). Coming to the camera section, this phone features a triple rear camera setup that includes a 21MP primary sensor along with an 8MP 130° ultrawide-angle sensor, and an 8MP depth sensor. For selfies, it has a 16MP selfie snapper at the front.
Also read: Why Indians should focus on buying 5G smartphones in 2021?
3. Mi MIX Alpha
If you are a display lover and want a smartphone that is truly meant for its display, which means there will be no physical buttons or bezels as well, then you should go for the Mi MIX Alpha. It is a 5G surrounded display smartphone launched by Xiaomi in the year 2019. This smartphone has no physical buttons on its whole body. There is a space or camera at the back of the smartphone where there is no screen wrapped. It looks like an island on the whole device and has a 180.6% screen to body ratio.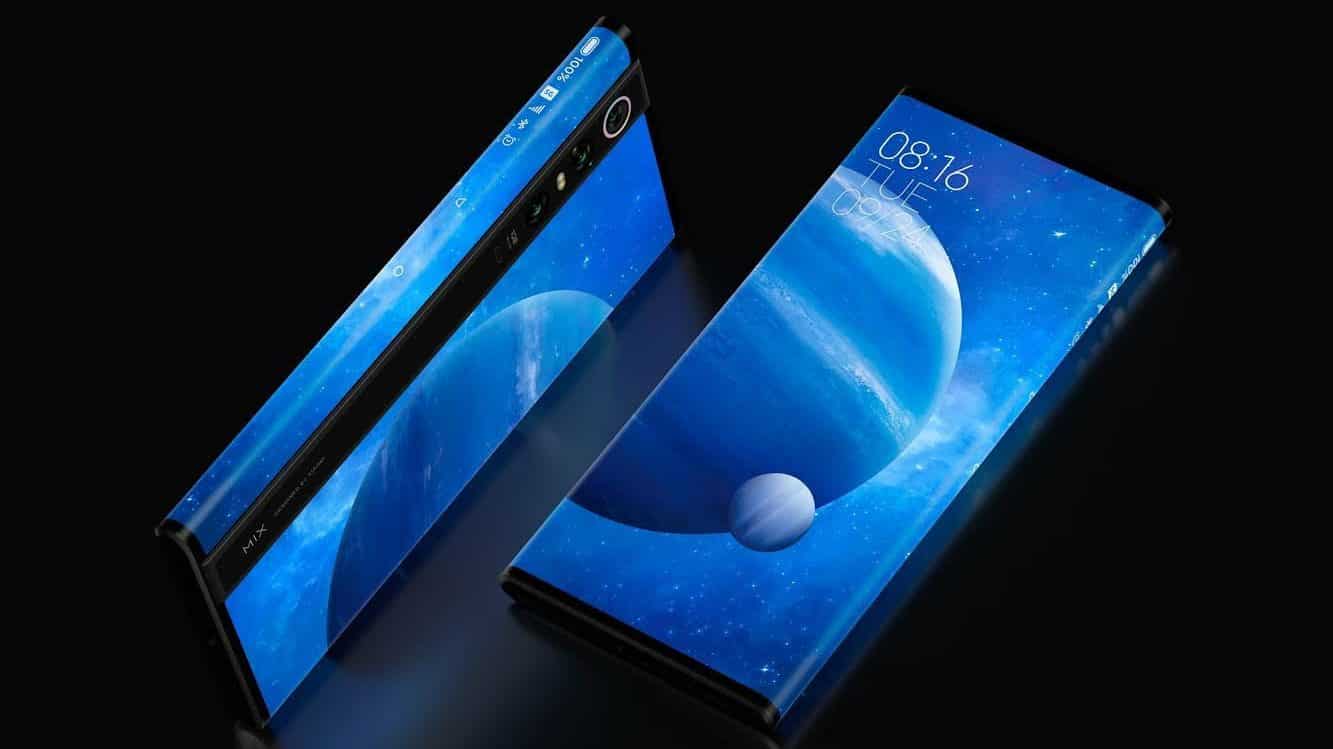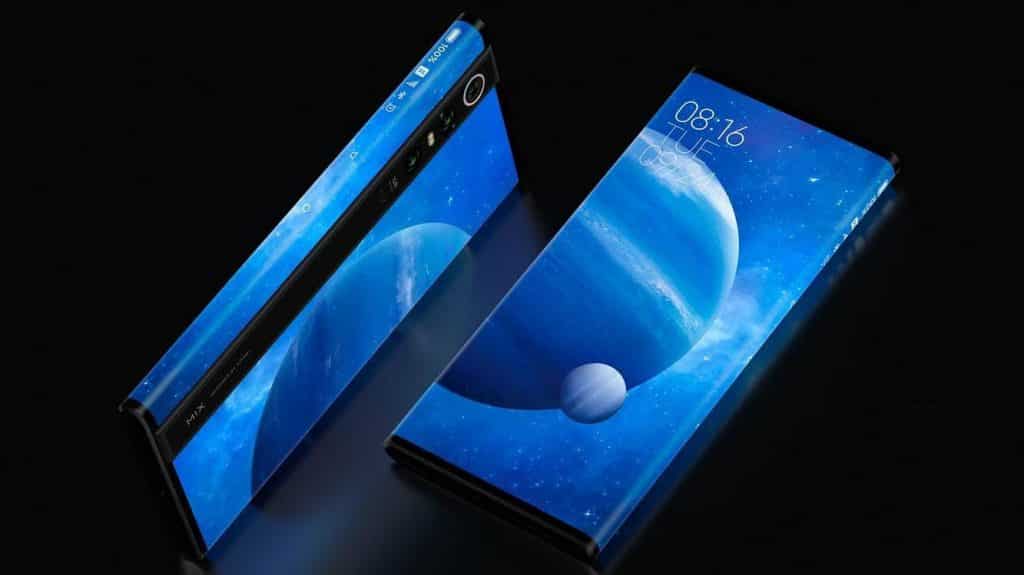 The dual-SIM (Nano) Mi Mix Alpha runs on the company's customer MIUI Alpha operating system and features a 7.92-inch flexible OLED screen with 2088×2250 pixels resolution. It is powered by Qualcomm Snapdragon 855+ SoC, paired with 12GB of RAM and 512GB of internal storage. This phone is fueled up by a 4,050mAh battery with 40W fast charging support.


Among other specifications, there is a triple rear camera setup on board that includes a 108-megapixel camera with a Samsung HMX sensor, a 20-megapixel wide-angle camera, and a 12-megapixel camera for portraits. Additionally, you will get 512GB of onboard storage, an in-display fingerprint sensor, 5G support.
Also read: Top 10 Best Premium Flagship Smartphones of 2020 in India
4. Oppo X 2021 (Upcoming)
This is an upcoming smartphone from Oppo and it is said to be a rollable device. That means you can curl it to make its display widened or shortened. As per the patents, Oppo will launch this phone in 2021. As per the concept, this phone will have curved sides in place of the flat ones. There will be a certain button to expand the display wider. If you press the button, the display will get widened. The display size can be varied from 6.7-inch to 7.4-inch and it will be an OLED panel. The most beautiful thing is the conversion from 6.7-inch to 7.4-inch is so smooth and this thing makes this rollable phone more premium.
Oppo has recently done a number of durability tests on its upcoming Oppo X. As it will be the first-ever rollable smartphone from Oppo, the company has to check it in all aspects. After the test, the company has found that it is working quite well. During the unveiling event of the Oppo X, Jin Xiang (Oppo's hardware structural engineer) has shown some exciting images of the Oppo X 2021. He also stated that this upcoming smartphone has been tested multiple times and it performed really well.
In terms of testing, Jin Xiang has stated that the Oppo X 2021 withstood 100,000 curls without any dispute or damage. It is a kind of a durability test in which the display of the device has been expanded and retracted continuously 100,000 times. The main thing is, 100,000 is not even the limit. So, this phone will be durable in the true sense.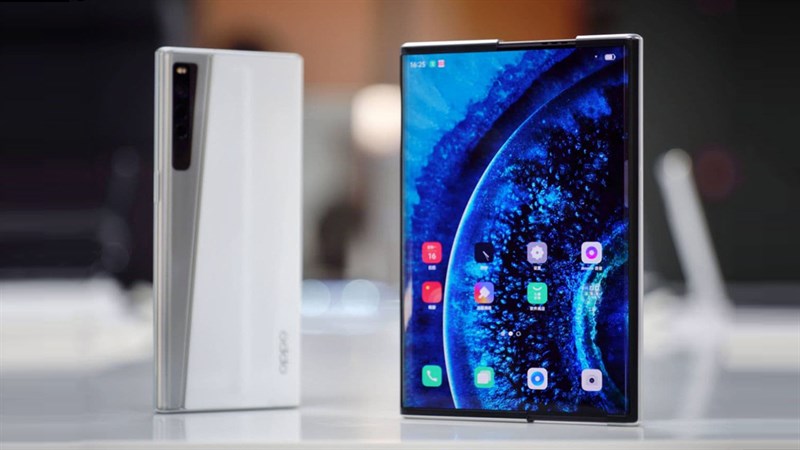 But Oppo is further working more on the display to make it almost errorless. So, to make the display finer, the launch of this phone is expected to be extended till 2022. A few tipsters have also pointed out that this phone may not be ready for retail in 2021. That's why Oppo needs some more time to fully complete the work behind this phone and make it available in 2022.
Also Read: Top 10 Best Budget Smartphones under Rs.13,000 in India
5. Nubia Alpha
Nubia Alpha is a device that is like a hybrid version of a smartphone and a smartwatch, which means it has designed like a smartwatch, but you can do everything in it that you do on a smartphone.  It has all the elements of a smartphone including a small screen, camera, and battery into the wearable form factor. So, you can just wear it as a wristwatch and use it as a smartphone, which looks quite a great innovation from nubia.
The Nubia Alpha packs in a 4-inch flexible OLED screen, with a 960×192 pixels display resolution. Though might look odd at first, you can easily watch videos in an ultra-wide view on this device. The device runs on Nubia's custom-made AlphaOS, which equips almost every app you can think of, including a gallery as well as a video app.
Nubia also has tried to incorporate something unique using their own – Air Interaction Mechanism or A.I.M. This ensures that even without touching the screen you can control the device. The device includes a complete dialer app, speaker as well as a microphone for calling on the move – that also in a private mode. You can also do a quick video call or take a selfie with the 5MP camera on the Nubia Alpha.
Also read: Top 10 Best Smartphones under Rs.14,000 in India
Talking about sensors and stuff the Nubia Alpha packs all kinds of necessary sensors for sports tracking, heart rate monitoring, sleep monitoring, and a lot more. This wearable smartphone is powered by the Snapdragon Wear 2100 chipset and is coupled with 1GB of RAM and 8GB of internal storage.
Nubia Alpha is juiced by a 500mAh battery, which Nubia states can easily last you up to 2 days on regular use. The smartwatch even provides you with up to 14 hours of music playback and up to 5 hours of voice calling over the eSIM (10 hours on Bluetooth).