- Advertisement -
When Apple launched the iPhone 12 series we were eager to see what it does with the charger in the box because rumors were floating everywhere claiming that the brand will exclude the charger from the box this time. This came as a reality when the brand officially announced that for the sake of the environment they have decided to exclude the charger from the boxes of the whole iPhone 12 lineup.
In the meanwhile, Apple's rival Samsung took the chance to mock this step by making a mockery post on social media claiming they will include a charger in the box in their devices.
If you are unaware of the original post, Samsung had shared a picture of a power adapter on its official Facebook page stating that "your #Galaxy does give you what you are looking for. From the most basic as a charger, to the best camera, battery, performance, memory, and even 120Hz screen on a smartphone".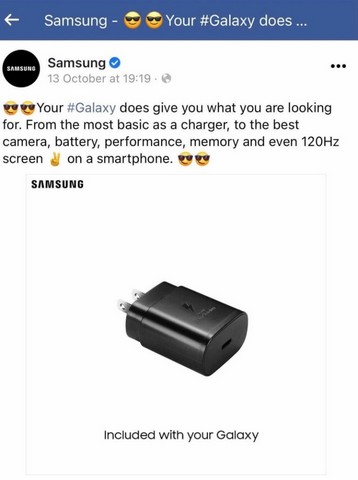 - Advertisement -
Now an interesting thing happened. We all know that Samsung is launching the galaxy S21 lineup in 2021 and it is nearing soon. Now the interesting part, if you go to check out the post now, you will get the "content not available" message from Facebook. Samsung has silently removed this post from their official page and this indicates only one thing. The company is also planning to follow the steps of Apple by removing the power adapter from its boxes.
Last time also the same thing happened with the headphone jack removal step taken by Apple. Then also Samsung did the same thing, later removed the mocking post and itself followed the steps of Apple. Do you think Samsung is doing a great job by following Apple?
- Advertisement -