Intel launched its 10th gen processors in the 2nd quarter of 2020. It has been almost 6-9 months since its launch, I know it's quite late, but fortunately, I have got my hands on the 10th gen Intel core i7-10700K recently. The average price for which it is being sold in India is around Rs 30,000.
Specifications
Product Collection: 10th Generation Intel® Core™ i7 Processors
Code Name: Products formerly Comet Lake
Vertical Segment: Desktop
Processor Number: i7-10700K
Launch Date: Q2'20
Lithography: 14 nm
CPU Specifications
No of Cores: 8
No of Threads: 16
Processor Base Frequency: 3.80 GHz
Max Turbo Frequency: 5.10 GHz
Cache: 16 MB Intel® Smart Cache
Bus Speed: 8 GT/s
Intel® Turbo Boost Max Technology 3.0 Frequency: 5.10 GHz
Intel® Turbo Boost Technology 2.0 Frequency: 5.00 GHz
TDP: 125 W
Configurable TDP-down Frequency: 3.50 GHz
Configurable TDP-down: 95 W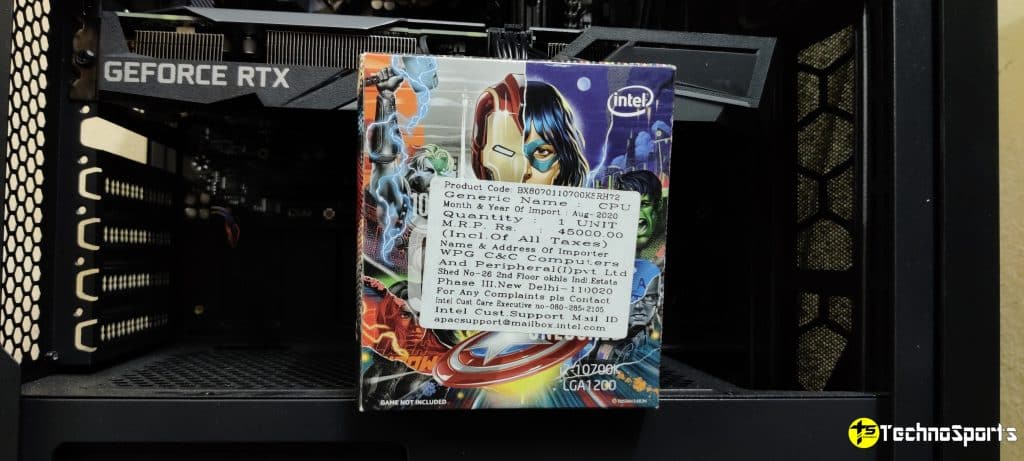 Memory Specifications
Max Memory Size (dependent on memory type): 128 GB
Memory Types: DDR4-2933
Max no of Memory Channels: 2
Max Memory Bandwidth: 45.8 GB/s
ECC Memory Supported: No
Processor Graphics
Processor Graphics: Intel® UHD Graphics 630
Graphics Base Frequency: 350 MHz
Graphics Max Dynamic Frequency: 1.20 GHz
Graphics Video Max Memory: 64 GB
4K Support: Yes, at 60Hz
Max Resolution (HDMI): 4096 x [email protected]
Max Resolution (DP): 4096 x [email protected]
Max Resolution (eDP – Integrated Flat Panel): 4096 x [email protected]
DirectX Support: 12
OpenGL Support: 4.5
Intel® Quick Sync Video: Yes
Intel® InTru™ 3D Technology: Yes
Intel® Clear Video HD Technology: Yes
Intel® Clear Video Technology: Yes
No of Displays Supported: 3
Device ID: 0x9BC5
System Specs
Motherboard: Gigabyte Z490m
CPU: Intel Core i7-10700k
RAM: 16GB 3000MHz
SSD: 240GB WD Sn550
Power Supply: Cooler Master 750W
GPU: Gigabyte NVIDIA Geforce RTX 3060 Ti Gaming OC 8G (reviewed separately here)
CPU Cooler: Cooler Master H410R
Monitor: LG 27″ 4k gaming monitor – 27UL650
Cabinet: MSI Mag Vampiric 100R
So, now lets dive into the real life performance of the core i7-10700K. To start off, for everyday work it performs just as smooth as butter. You won't notice any lags, thanks to the 8 cores and 16 threads of the processor which can handle almost every task you throw at it with ease.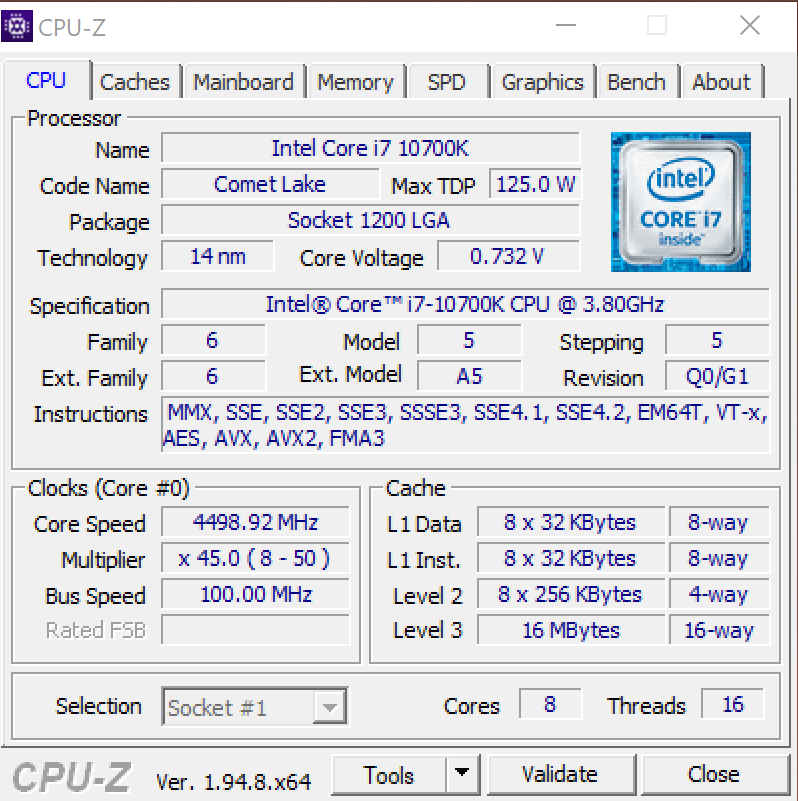 For, everyday normal work the CPU utilization is around 15%, so you can guess how much work it can handle altogether. I wanted to see the CPU utilization at max so I started the CPU-Z benchmark and looked up at the Task Manager. You can find below that the CPU reached 100% with the clock speed going up to 4.66 GHz when the benchmark process was running.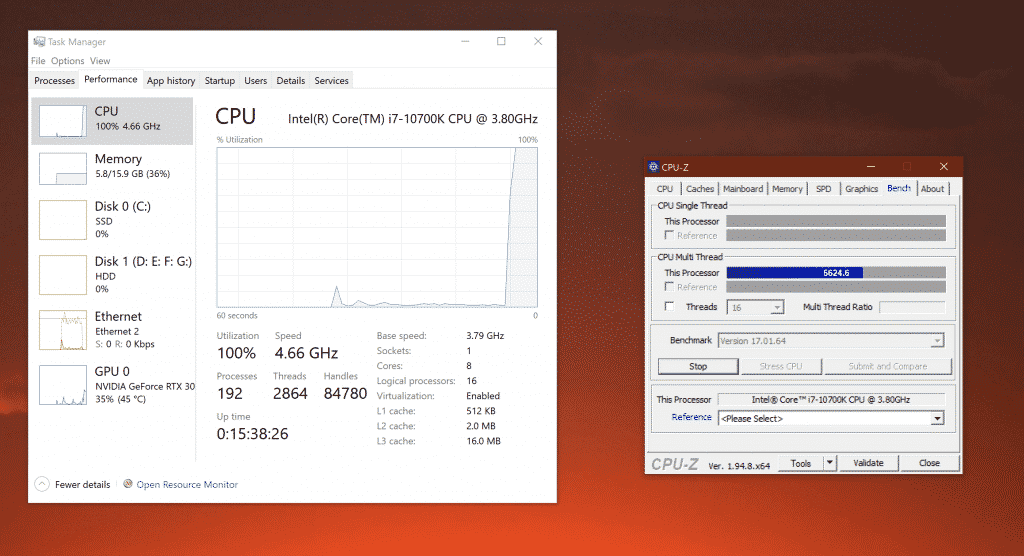 Performance benchmarks
So finally, we're here. The most important part for getting a detailed view about the CPU. We have taken the scores from almost all the leading performance benchmarks and the results are as below.
Geekbench 5
The core i7-10700k scores an impressive 1339 in single score and 6679 in multi core performance. The single core performance has increased a little bit from its predecessor i7-9700k but the same cannot be said about the multi core score.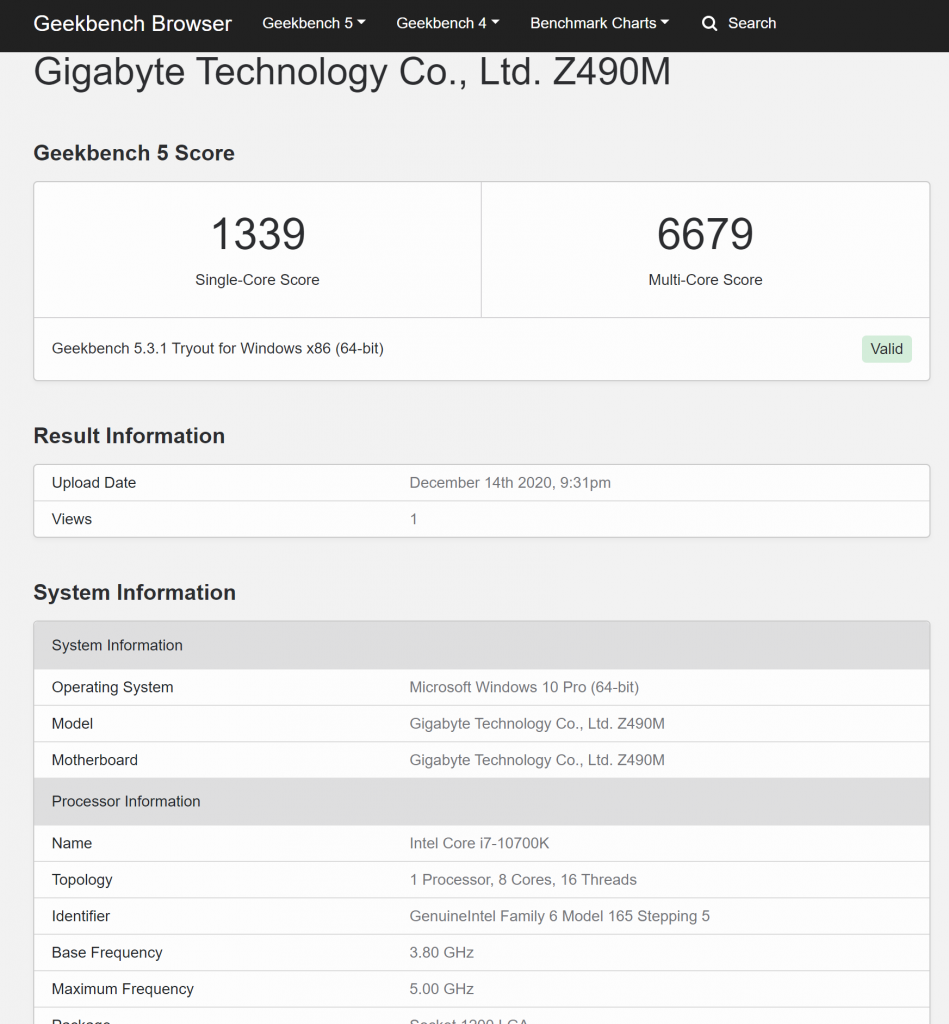 Cinebench R15
The Cinebench R15 score of 2029 is also very good!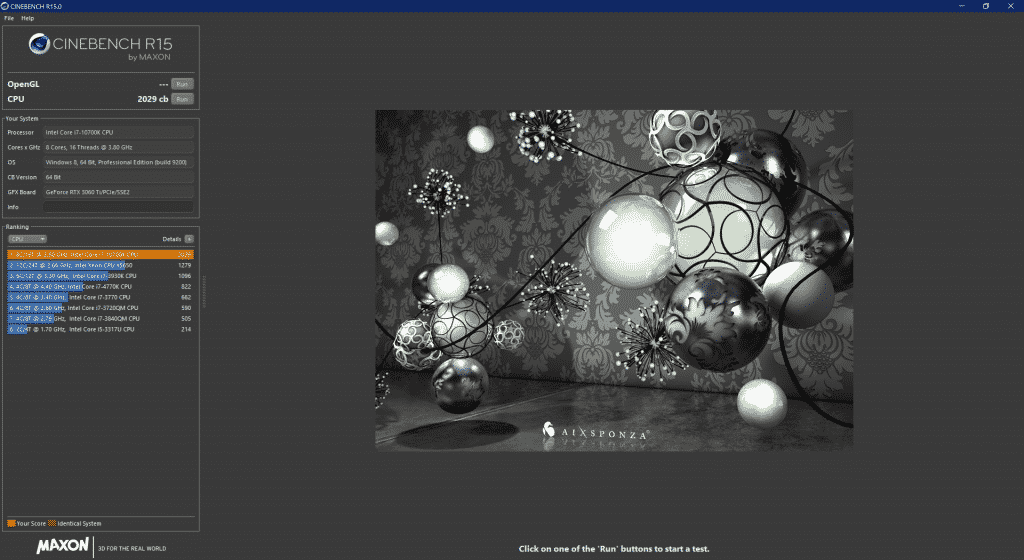 Cinebench R20
The 10th gen Intel core i7-10700k scores 4893 in Cinebench R20. It beats AMD Ryzen 7 3800XT according to this database.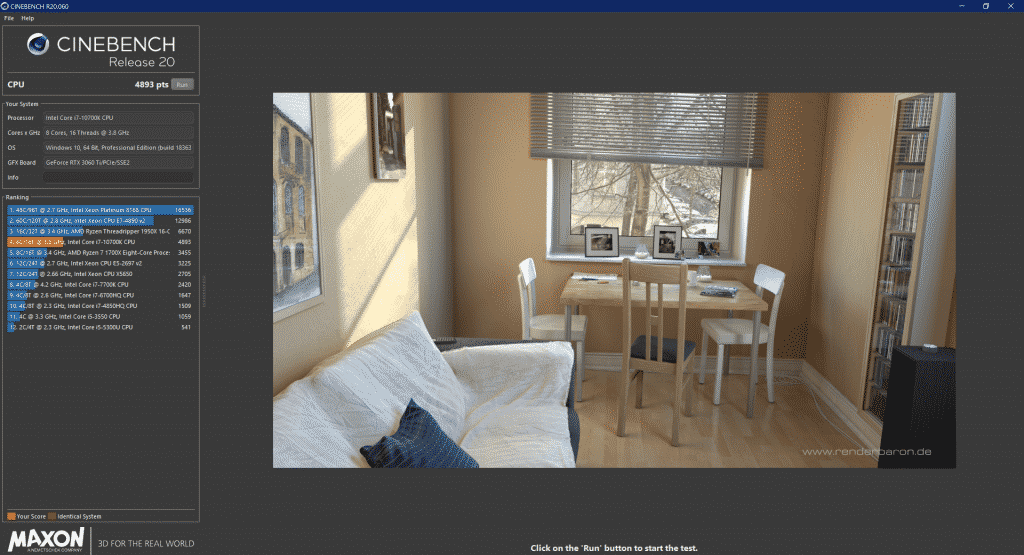 Cinebench R23
It scores an impressive 1306 pts in single core and an even more impressive score of 12569 in multi core with an MP Ratio of 9.62x. This beats Intel core i9-9880H CPU.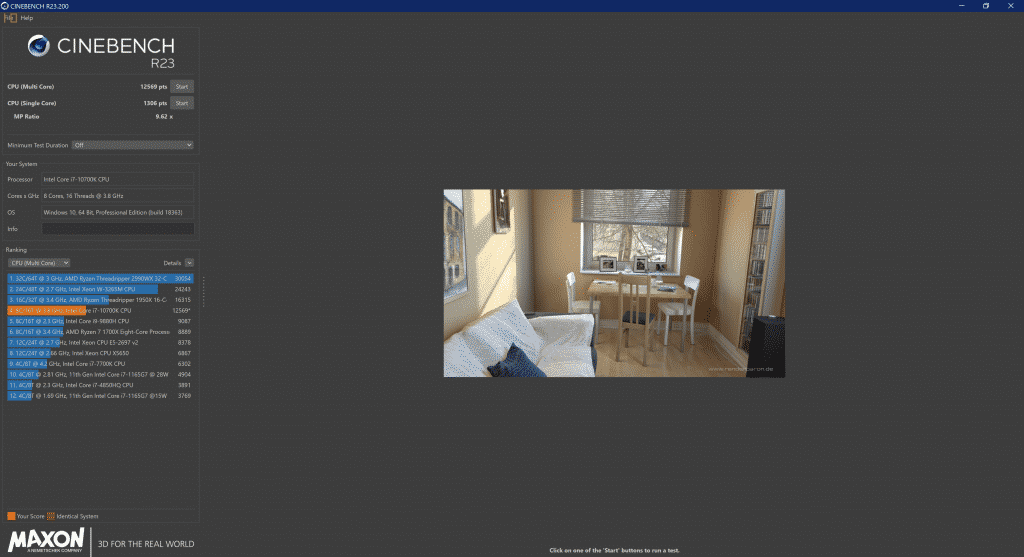 UserBenchmark
We also performed benchmark test by UserBenchmark and the results are quite astounding. The CPU got the benchmark of 103% which is outstanding.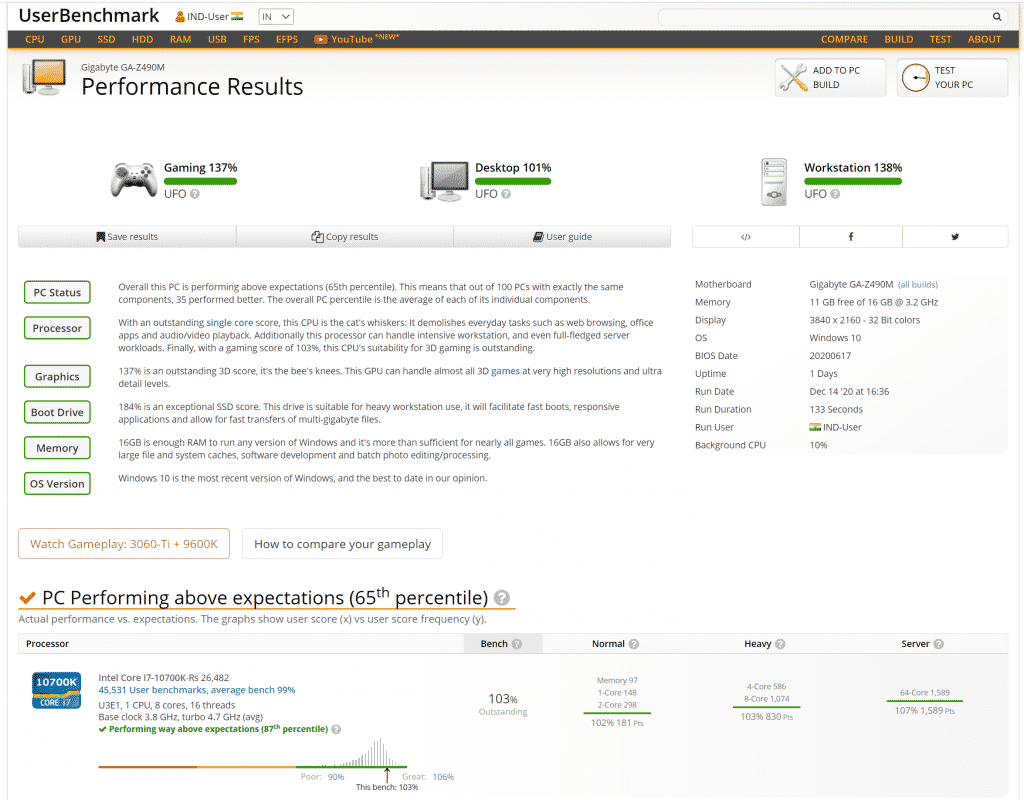 Fire Strike Ultra
In 3D Mark Fire Strike Ultra, we got a score of 7335 with a graphics score of 7176 and whopping physics score of 24501, which means this CPU can handle almost all the games and is one of the best gaming CPUs in this range.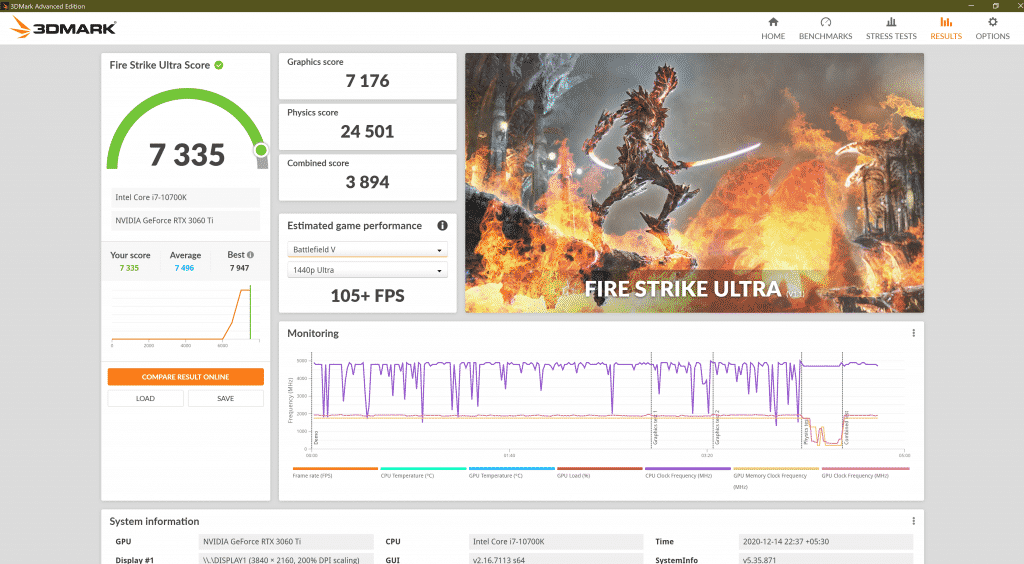 CPU-Z
You can see the comparison of scores between the core i7-10700K and the Ryzen 7 2700X.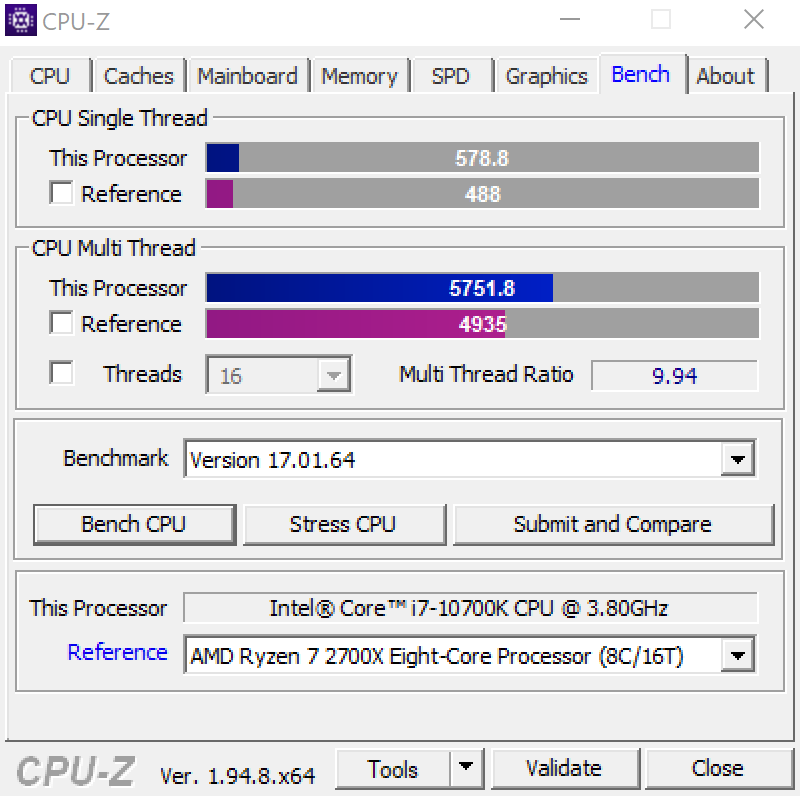 PC Mark 10
The PC Mark 10 score of 7066 clearly shows how productive you can be with this processor paired with a NVIDIA Geforce RTX 3060ti. It has a great digital content creating score of 10,283.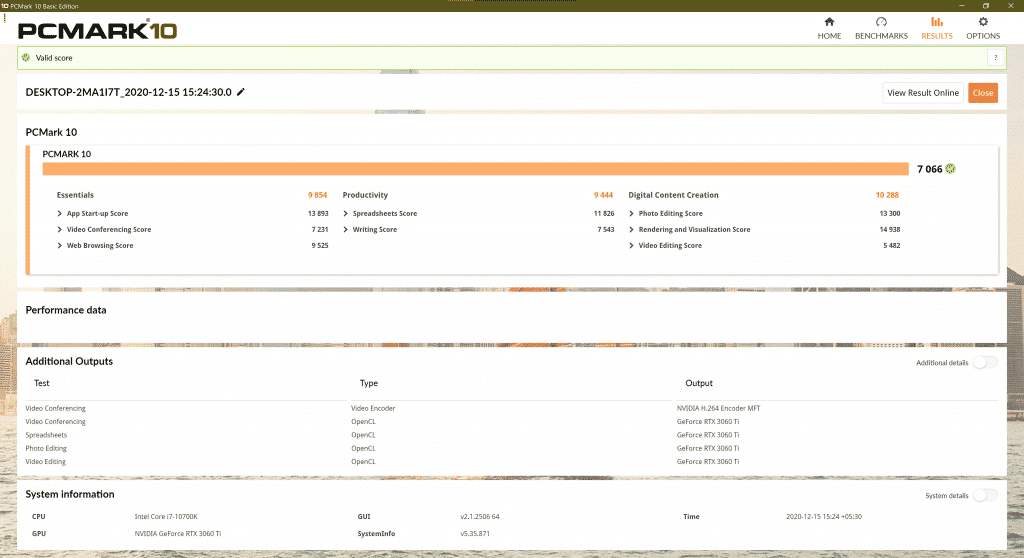 SiSoftware Sandra
Here you can find the SiSoftware Sandra score compared with 4 other CPUs. The Intel core i7-10700K does quite well in the test.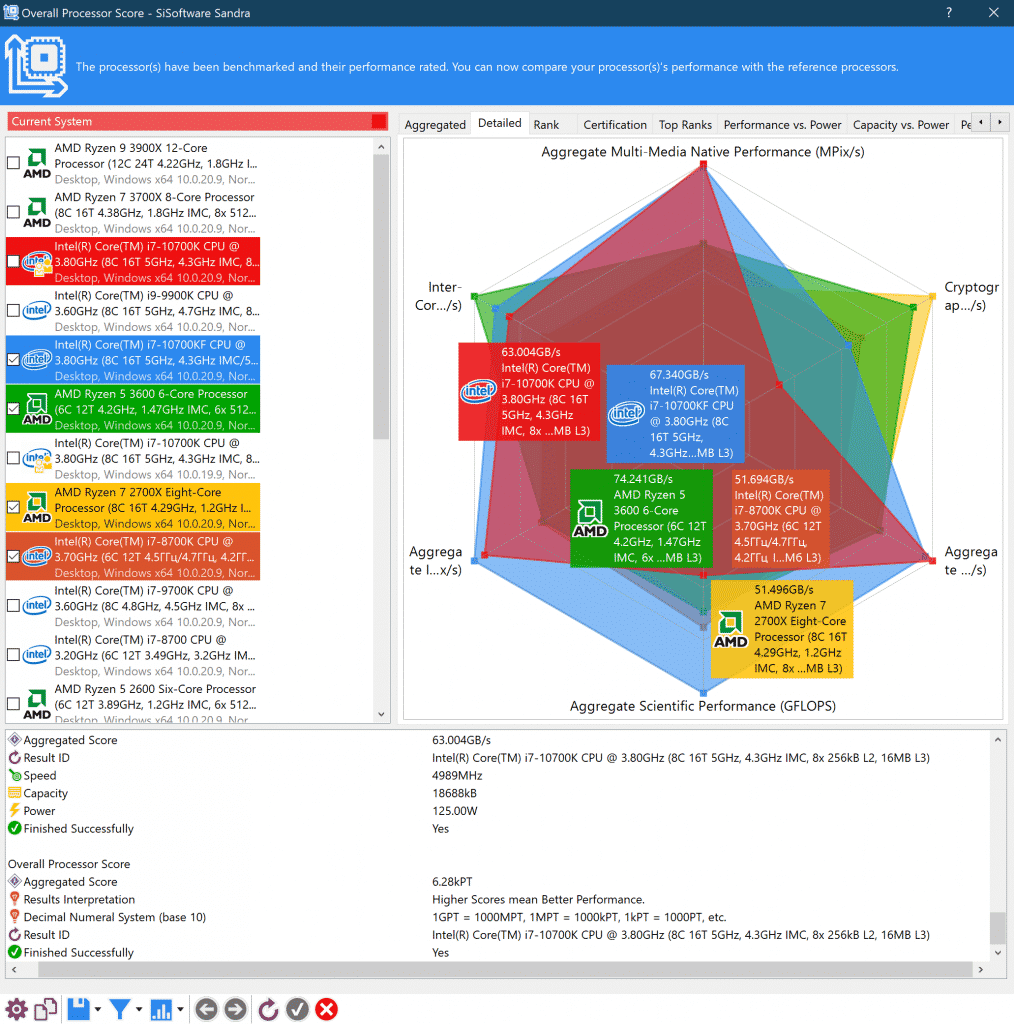 Why does it make sense to buy the Intel Core i7-10700K now?
The 10th gen Intel Core i7-10700K is one of the best gaming CPUs, which can also handle all your everyday tasks with ease. As the next-gen Rocket Lake CPUs are coming from Intel, their performance improvement is around 5-10%, so getting a low price 10th Gen CPU makes a lot more sense. You can easily get your hands on one of them from Amazon at around Rs.33k and Rs.31k in offline stores.
Amazon link: https://amzn.to/2WkukJh
Soon, we will be bringing gaming benchmarks paired with latest RTX 30-series GPUs, so stay tuned…😁