- Advertisement -
We are in the middle of some exciting technological revolution. Yesterday, we reported how Samsung is thinking to bring 'foldable' smartphones to attract customers. Today, the reports suggest that Oppo is coming with an innovation of their own. They have filed for a patent which surfaced online. The patent suggests that the Chinese OEM might be thinking to launch smartphones with an astonishing detachable camera module.
This detachable camera module will help you to place it a few feet away. Then, your smartphone will be to operate as a remote control to click pictures or record videos. This can be done via the already-installed camera app on the smartphone. Imagine, how useful a fully detachable camera can be while capturing images remotely.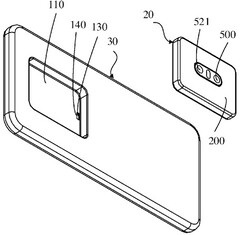 Oppo is already known for quite a few innovations. The Oppo N1 launched back in 2013 came with a rotating camera module. Later, Oppo N3 arrived in the market with a more advanced motorized camera hub. Asus, the Taiwanese multinational company, tried to launch similar smartphones with the Asus ZenFone 6 and Asus ZenFone 7 Pro.
- Advertisement -
As this new design involves the separation of the camera from the main smartphone body, the camera module has a battery pack of its own. This separate battery makes the camera to operate when it is not with the smartphone body. The camera module comes with a USB connector. This connector can be plug into the smartphone's USB port. Thus, giving an option to take a selfie and do video calls. Another feature of this USB plug is that it can be bend 90-degree. This helps in avoiding any hindrance from the connector when the camera module is put back.
Let's not forget that they have filed for just a patent. That means this is very much in the initial concept phase. This detachable camera might not become a reality eventually but what we can infer is that Oppo is looking at new ways to disrupt the smartphone market. This is very important for any company to survive in today's competitive market.
- Advertisement -