- Advertisement -
Team India leads by 1-0 in the T20 against Australia series as India defeated Australia in the first of three T20s at the Manuka Oval in Canberra.
The toss was won by Australian captain Aaron Finch and opted to ball first. The visitors scored a total run of 161 runs with a loss of seven wickets.KL Rahul was the highest scorer with 51 runs off 40 balls, adding his 12th T20 half century to the record.
The second highest score was of Ravindra Jadeja with 44 runs off 23 balls. But during his speedy knock, Jadeja picked up a hamstring injury and looked uncomfortable, however, the medical team checked upon him. Later on, he was hit on the helmet by a ball while missing Mitchell Starc's bouncer and seemed very uncomfortable and limping in the final over for bowling. However, there is controversy over Jadeja's injury, in case if it's a concussion. But later on, BCCI announced that Jadeja suffered a concussion. Jadeja was later on replaced by Yuzvendra Chahal. Sanju Samson's 23 runs off 15 balls also helped India to increase the total run chase.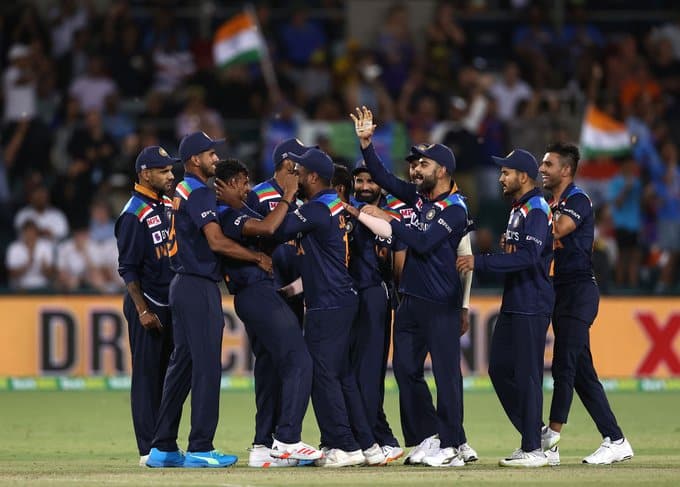 - Advertisement -
Australia's chase started with Finch attacking and smashing the balls in all corners. However, Australian skipper, Aaron Finch's dismissal helped India to comeback. Adding to that Steve Smith and M. Wade's dismissal by Chahal was decisive. D.Short and Glenn Maxwell's wicket by T. Natarajan also proved decisive in India's win with Hardik Pandya's catch of D. Short and Aaron Finch.
This T20 win over Australia definitely helped in boosting India's confidence for rest of the series. Though Ravindra Jadeja's injury could show some impact but with a good bowling lineup lead by Yuzvendra Chahal, adding a helping hand of T. Natarajan and Bumrah.
- Advertisement -