- Advertisement -
Virat Kohli and new records are always related to each other. He has reached a new record in the third ODI against Australia on Wednesday.
Indian skipper Virat Kohli put a new feather in his cap. The 32-year-old achieved the feat in the third ODI against Australia at the Manuka Oval yesterday.
He became the fastest player to score 12000 runs in ODI cricket. He also broke the record of Sachin Tendulkar to reach the feat. Earlier, Sachin Tendulkar has reached the milestone of 300 innings. Virat Kohli has done it in just 242 innings.
- Advertisement -
Virat Kohli also became the 7th batsman to reach the landmark. One of them is Sachin Tendulkar. Others are Ricky Ponting (314 innings), Kumar Sangakkara (336 innings), Sanath Jayasuriya (379 innings), Mahela Jayawardene (399 innings).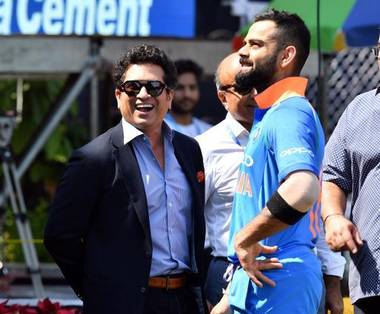 Virat Kohli started his ODI career in 2008 against Sri Lanka. He has played 251 ODI matches for India till now. Virat Kohli was just 23 runs away from reaching the milestone before yesterday's match. He has played 63 runs knock as India set a target of 302 runs for the Aussies. Finally, India beat Australia by 13 runs and won the first game in the series after losing the first 2.
After the match, Virat Kohli said, "We were put under the pump in the first and second half of Australia's innings. Look I think the pitch was much better here in terms of helping the bowlers and that's why I think the bowlers did well here. We were clinical with the ball and in the field. Hopefully, we take the momentum forward. I would have liked to go on for a bit longer, but it was a great partnership between Pandya and Jadeja. The team needed that kind of a boost. You need those kind of moments, especially when you play against a team like Australia."
- Advertisement -