- Advertisement -
AMD has finally launched its Radeon RX 6800 XT graphics card, and it seems that the card has already scored a significant win in the 3DMark benchmark. According to sources, the renowned overclocker, Lucky_Noob, aka Alva Jonathan, has achieved a world record with Radeon RX 6800 XT graphics card on-air and even beating several RTX 3090 Liquid Nitrogen cooled graphics cards.
We already know that the new AMD Big Navi GPU offers surprisingly high clock speeds. And the overclocker was able to take full advantage of the clock speeds offered by the card. The testing platform was made with AMD Ryzen 9 5950X overclocked to 5.42 GHz on LN2 and an MSI MEG X570 GODLIKE motherboard. It was further supported by the 16 GB of DDR4 memory running at 4000 MHz and a Corsair 1200W power supply.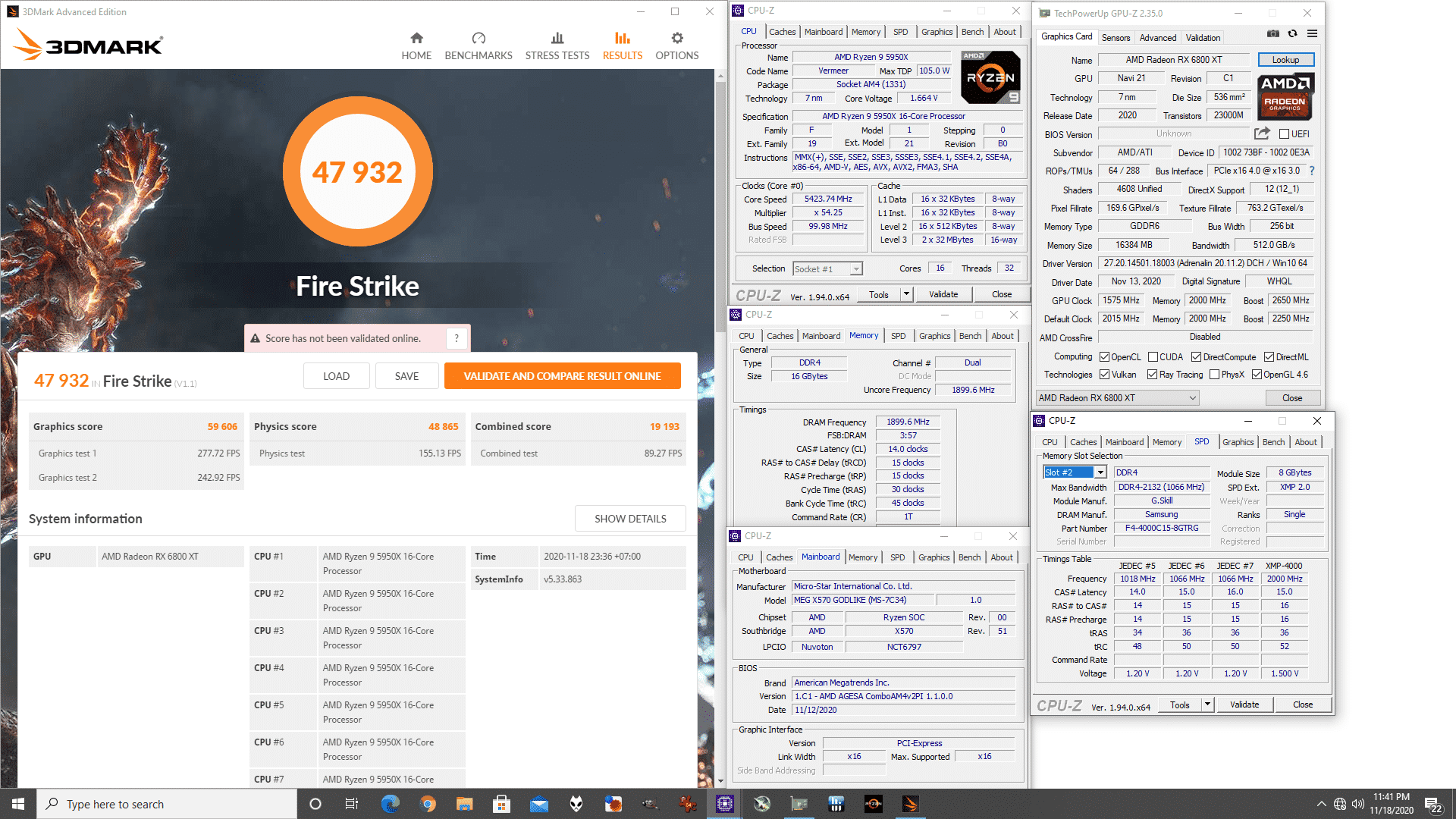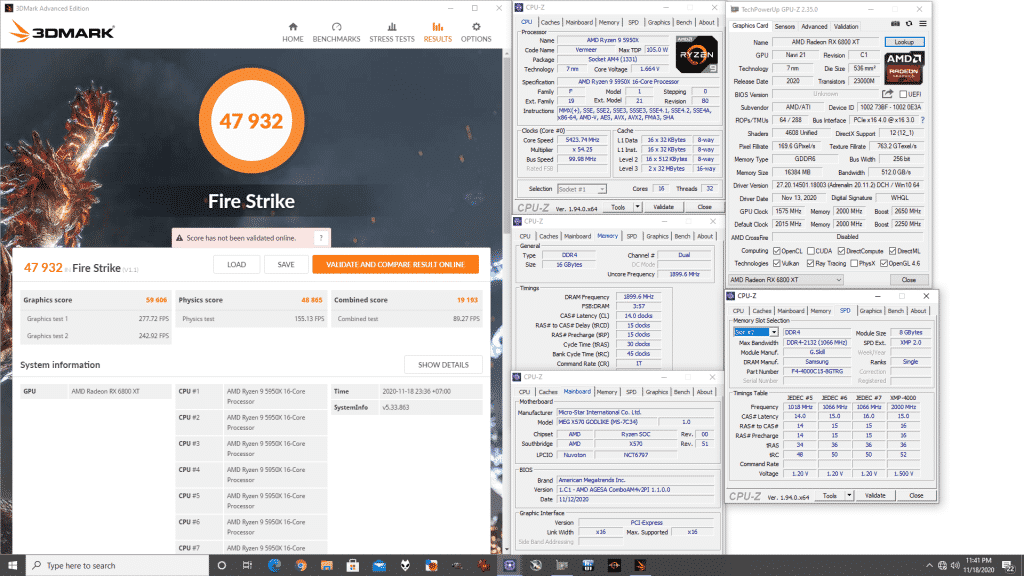 The AMD Radeon RX 6800 XT at 2.65 GHz on air scored 47932 points in 3D Mark Fire Strike. It is currently the world record for any single-GPU graphics card, really their excellent work AMD. On the other hand, the GeForce RTX 3090, when overclocked to 2.385 GHz on LN2 cooling, can only achieve a score of 47725 points.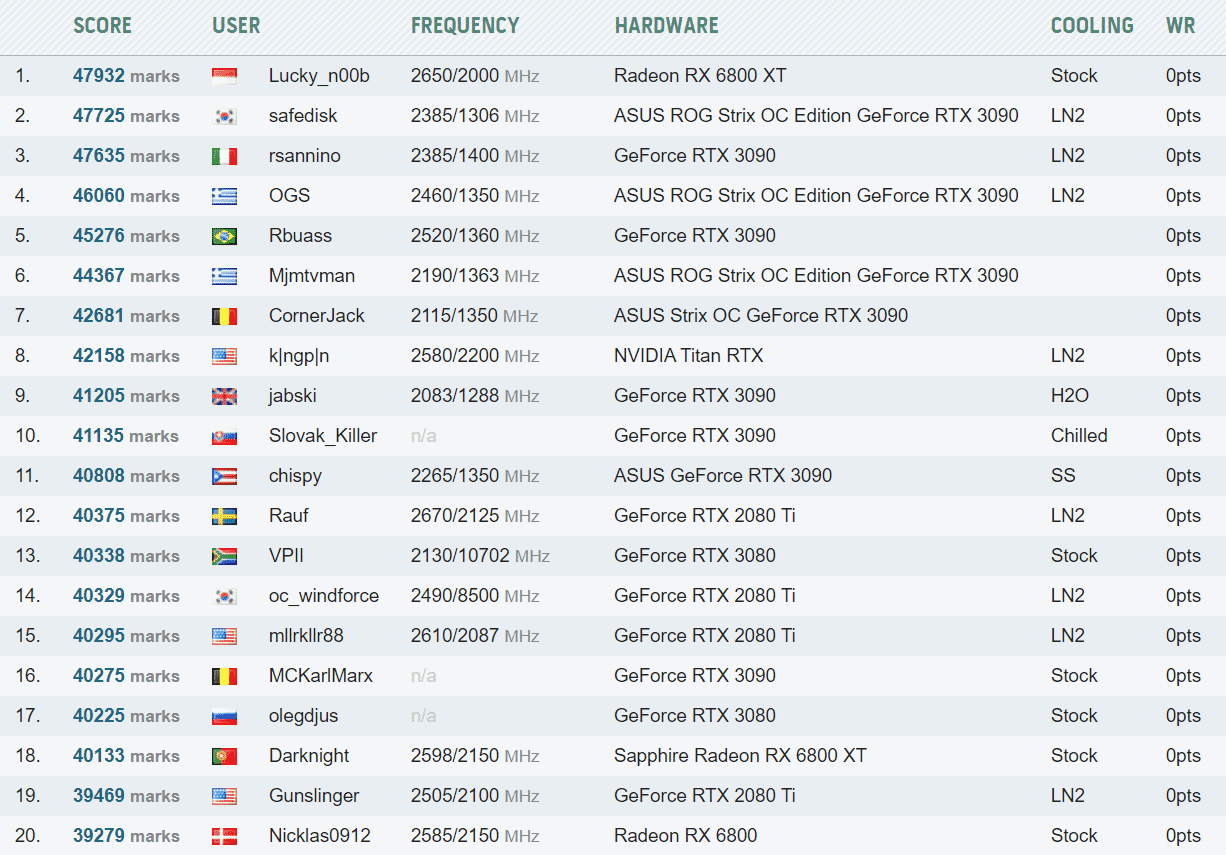 - Advertisement -
The lead is less, but Air cooling vs. LN2 cooling makes a huge difference and makes AMD the clear winner. Because the Radeon RX 6800 XT isn't even the top AMD GPU this year because the real beast is the Radeon RX 6900 XT is coming out next month shook the benchmark results to its core.
The Known specification of the upcoming AMD Radeon series is as follows:
| | | | | | |
| --- | --- | --- | --- | --- | --- |
| Graphics Card | AMD Radeon RX 6700 | AMD Radeon RX 6700 XT | AMD Radeon RX 6800 | AMD Radeon RX 6800 XT | AMD Radeon RX 6900 XT |
| GPU | Navi 22 (XL?) | Navi 22 (XT?) | Navi 21 XL | Navi 21 XT | Navi 21 XTX |
| Process Node | 7nm | 7nm | 7nm | 7nm | 7nm |
| Transistors | TBA | TBA | 26.8 Billion | 26.8 Billion | 26.8 Billion |
| Compute Units | TBA | 40 | 60 | 72 | 80 |
| Stream Processors | TBA | 2560 | 3840 | 4608 | 5120 |
| TMUs/ROPs | TBA | TBA | 240 / 96 | 288 / 128 | 320 / 128 |
| Game Clock | TBA | TBA | 1815 MHz | 2015 MHz | 2015 MHz |
| Boost Clock | TBA | TBA | 2105 MHz | 2250 MHz | 2250 MHz |
| FP32 TFLOPs | TBA | TBA | 16.17 TFLOPs | 20.74 TFLOPs | 23.04 TFLOPs |
| Memory Size | 12 GB GDDR6 | 12 GB GDDR6 | 16 GB GDDR6 +128 MB Infinity Cache | 16 GB GDDR6 +128 MB Infinity Cache | 16 GB GDDR6 +128 MB Infinity Cache |
| Memory Bus | 192-bit | 192-bit | 256-bit | 256-bit | 256-bit |
| Memory Clock | 14 Gbps? | 16 Gbps? | 16 Gbps | 16 Gbps | 16 Gbps |
| Bandwidth | 320 GB/s | 384 GB/s | 512 GB/s | 512 GB/s | 512 GB/s |
| TDP | TBA | TBA | 250W | 300W | 300W |
| Price | TBA | TBA | $579 US | $649 US | $999 US |
- Advertisement -