- Advertisement -
The Red team is always looking for its next-gen processors and trying to improve it over time, also; we as users expect a lot from AMD's upcoming CPUs or APUs. Undoubtedly, AMD Ryzen 4000U processors were a hit, and as CES 2021 approaches, we look forward to AMD's upcoming Ryzen 5000 series APUs.
We already have seen multiple leaks of these upcoming Ryzen 5000U processors and laptops sporting them as well. To add to this, the upcoming AMD Ryzen 5 5500U also has been spotted apart from the usual AMD Ryzen 7 5700U "Lucienne" APU, which we have seen quite a few times now.
These upcoming Ryzen 5000U series APUs will be launching at the start of 2021, most probably CES 2021, and it will be a mix of Zen 2 based Lucienne APUs and Zen 3 based Cezanne APUs as per leaks till now. Both the Ryzen 7 5700U and the new Ryzen 5 5500U look to be based on Zen 2 cores rather than Zen 3.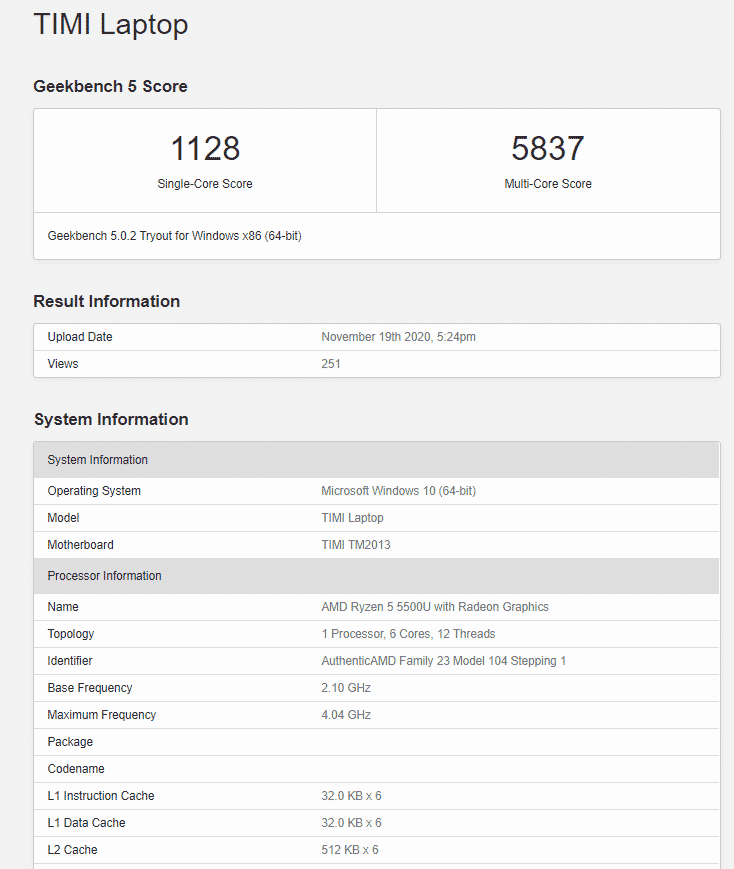 - Advertisement -
The AMD Ryzen 5 5500U sports 6 cores & 12 threads; gone are the days of no SMT, and so multi-threading performance would be great on these APUs. As GeekBench reveals, the upcoming APU clock speeds turn out to be 2.1 GHz base and a boost clock of 4.04 GHz with 3 MB of L2 cache and 8 MB of L3 cache.
Enabling SMT on the new Ryzen 5 5500U makes it a 30% better performer than the 6 threaded Ryzen 5 4500U. Also, you cannot expect something huge on the iGPU front of these Lucienne APUs, and if the graphic core remains constant, you can expect higher iGPU clock speeds.
Well, AMD will eventually mix its lineup to offer more options and the Zen 3 cores on Cezanne APUs like Ryzen 3 5400U, Ryzen 5 5600U, and Ryzen 7 5800U; it will be interesting to see how the company delivers its new laptop APUs at CES 2021.
- Advertisement -