Pepper Jobs launched a new portable monitor, XtendTouch Pro XT1610UO, which is one of the first with an AMOLED panel. This monitor is offering a long list of features which is not available on most other portable monitors. As we all know the advantages of AMOLED technology over the standard IPS and an AMOLED panel has a faster response time, deeper colors, and higher contrast ratios.
XtendTouch Pro weighs 850g without its faux leather cover, which is pretty light compared to other monitors and 1.3 Kg with the cover on. On the front, there is glass finishing and a matte plastic finishing on the back.
We can see decent portability of the monitor having multiple USB-C ports and a mini-HDMI port. A USB-A and HDMI port combination is said to be more user-friendly, which is present in the C-Force CF011C monitor. But if you buy an XtendTouch Pro, you have to rely on USB-C and mini-HDMI.
This monitor has the best On Screen Display compared to the other portable monitors. It features enough customizable options, easy to understand the UI, texts, and controls are large.
An AMOLED display offers deep black levels and very accurate colors. But, here in the XtendTouch Pro, the AMOLED panel has not been properly calibrated during the manufacturing time. If a user wants to experience the maximum service of the XtendTouch Pro, then he has to calibrate the display himself. This output could change when the XtendTouch Pro will go for the final mass production.
The company claimed in the advertisement that it features a maximum brightness of 650 nits, but, during testing, it produced 216 nits at 0 percent and 389 nits at 100 percent.
Coming to response time, the reading says black-white and gray-gray response times of under 2 ms, which is much faster than any IPS panel. XtendTouch Pro features full AdobeRGB and DCI-P3 coverage, which we can not see in the other portable displays. Many IPS panels are now able to produce a refresh rate of 144 Hz or more for gaming purposes but, the XtendTouch Pro is limited to 60 Hz.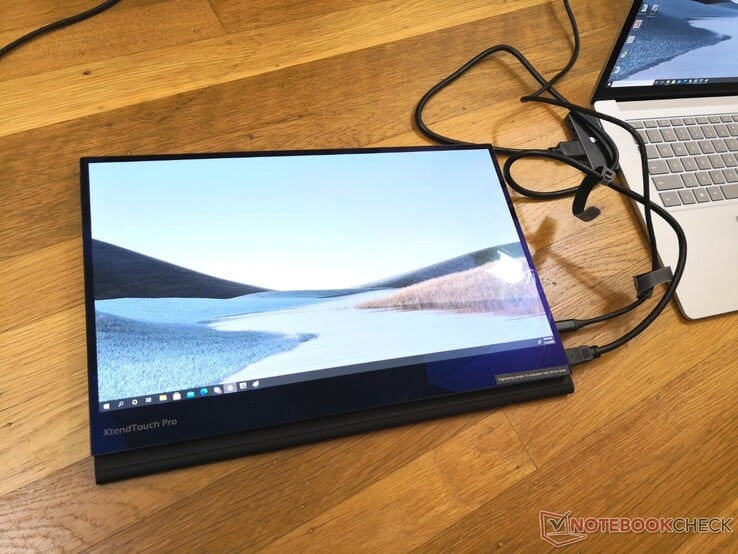 The XtendTouch Pro XT1610UO is favorable from the first look but still, there is room for some improvements. We can expect much more from an AMOLED display. You can have an XtendTouch Pro XT1610UO by paying $700.
Do check out: