Huawei has officially announced on Tuesday to sell its subsidiary of Honor to the China-based, Shenzhen Zhixin New Information Technology Co Ltd. Founded in 2013, Honor was a part of the dual-brand strategy of the Huawei Consumer Business Group. Honor got the facilities of Huawei's accumulated expertise in ICT fields.
Now the new owner of Honor is Zhixin New Information Technology Co. Ltd. This Chinese company was a subsidiary of Le.com. Later, Sunac China bought a part of its share and Huaxia Life Insurance was also an investor at that time.
According to a joint statement, the present owner of the Honor brand was built from a group of 30 agents and dealers of the Honor brand and Shenzhen Smart City Development Group Co. Ltd.
Shenzhen Smart City Development Group is a subsidiary of Shenzhen SASAC, which holds 98.6% of the shares and 1.4% of the share is of Shenzhen state-owned Assets Cooperative Development Private Equity Partnership.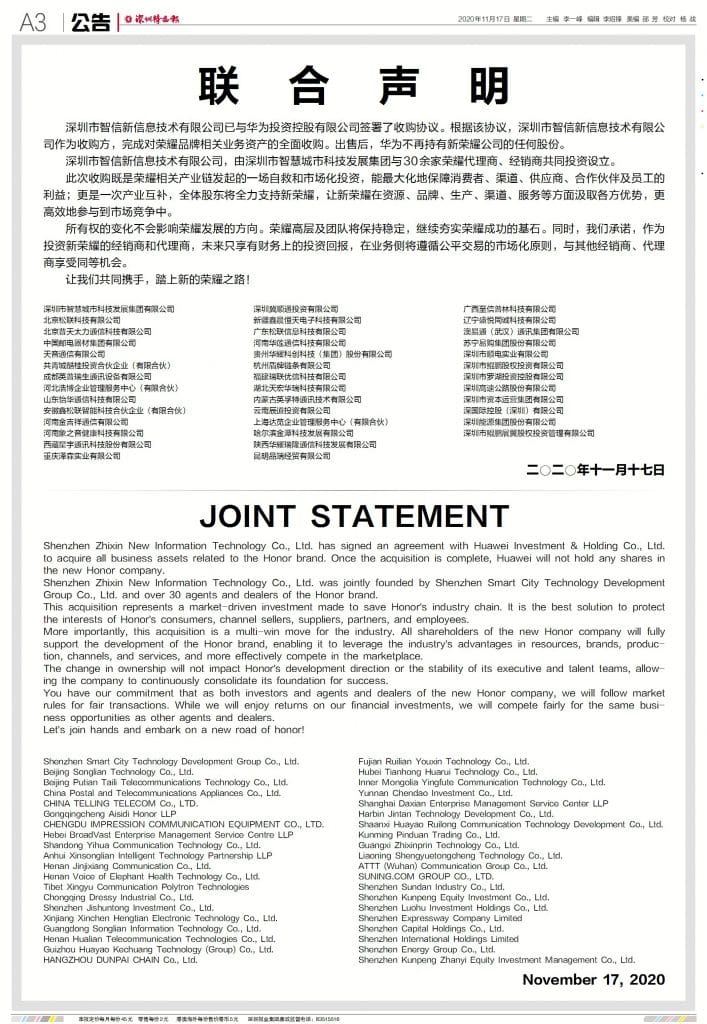 In the statement, the company said that "Once the sale is complete, Huawei will not hold any shares or be involved in any business management or decision-making activities in the new Honor company."
"Huawei's consumer business has been under tremendous pressure as of late. This has been due to persistent unavailability of technical elements needed for our mobile phone business." Added the company.
Recently in India, Huawei set foot in the laptop market, and it already has a nice portfolio of wearables in the country. Huawei said, "This move has been made by Honor's industry chain to ensure its own survival."
This decision from Huawei is taken to save the brand value. We can assume that the change in ownership will not affect Honor's development and talent teams from the joint statement.
Do check out: