- Advertisement -
Back in July this year, Samsung has filed a 70-page patent document that describes a smartphone with surround displays and a sliding rear camera setup. Finally, after two and a half months, the patent got approved and published on October 29. This report is clearly giving an indication that Samsung might be working on a new smartphone which will be included in the Samsung Z foldable series in the future. A surround display and a sliding rear camera will be the two main highlights of this phone.
As per the patent documentation, a surrounding display is nothing but a display on all the sides of the phone, including the edges. That means. it is quite obvious that there will be a curved display. The edges are lateral and they feature smaller flexible screens. The rear panel of this phone features a normal flat screen. Normally, all those screens are separate, but they work together to form a large wrap-around display. So, this is mainly a fancy display setup with exciting functionalities. We can adjust the resolution dynamically as well to reduce power consumption.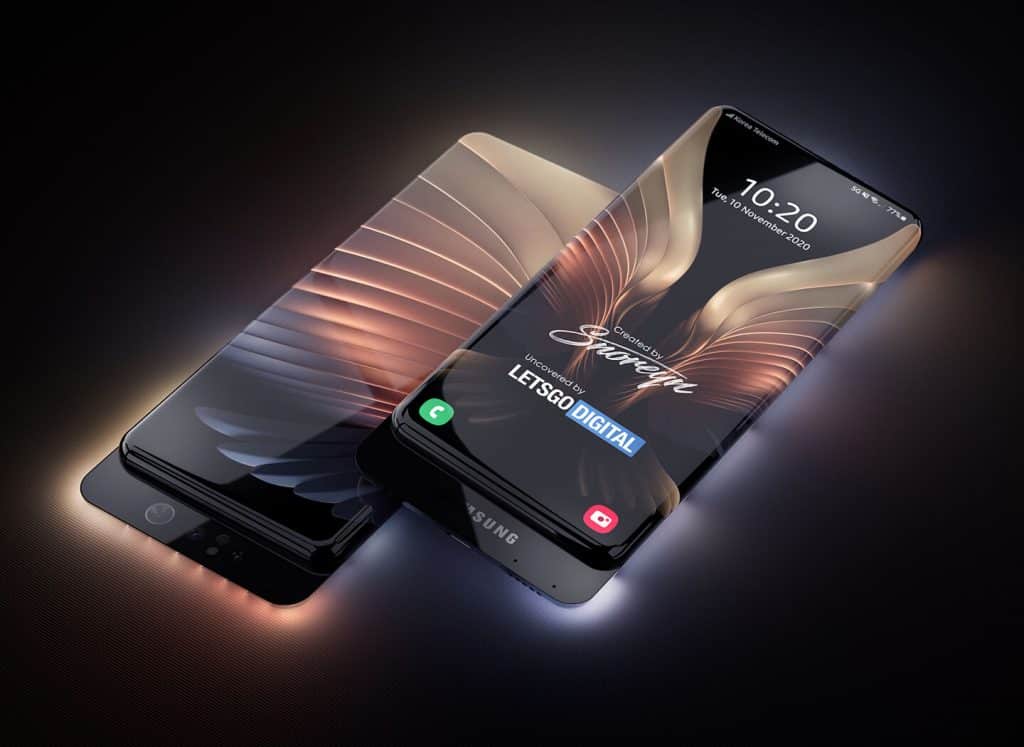 Apart from it, the surrounding display comes with a transparent case. There will be no physical buttons. Regarding the built quality, the case is made of acrylic or transparent polymer materials. In place of any physical buttons, the company uses a piezoelectric sensor inside it, by which it can measure the pressure. Whenever this sensor will sense a certain amount of pressure, it will generate an electric pulse that turns on the screen. A wireless charging facility will also be there. Not only this but also this phone is about to come with a built-in electronic SIM, an in-display selfie camera, and an in-display fingerprint reader.
- Advertisement -
In terms of the rear camera module, there will be a sliding mechanism. This phone features two different slices. That means, the main camera can be activated by sliding the back slice downwards. Users can also take selfies from the rear camera, credit goes to the rear panel display. AN in-display selfie camera is also there. This phone will determine which is display is been using more by its users, it will turn off the other display in order to conserve energy.
As per the pricing, nothing is confirmed yet by the company. But is quite obvious that this phone will carry a gigantic price range as it is carrying almost every modern technology in it.
- Advertisement -