- Advertisement -
The Red team has been quite frank about telling the performance of their upcoming Radeon RX 6000 series GPUs based on their revolutionary RDNA 2 architecture. They have already shown some benchmarks where they clearly beat or edged NVIDIA RTX 30 series GPUs.
Now, to keep a full transperacy in this regard, AMD has made a dedicated page where they have published detailed comparison of gaming benchmarks against the competition at various resolutions and quality.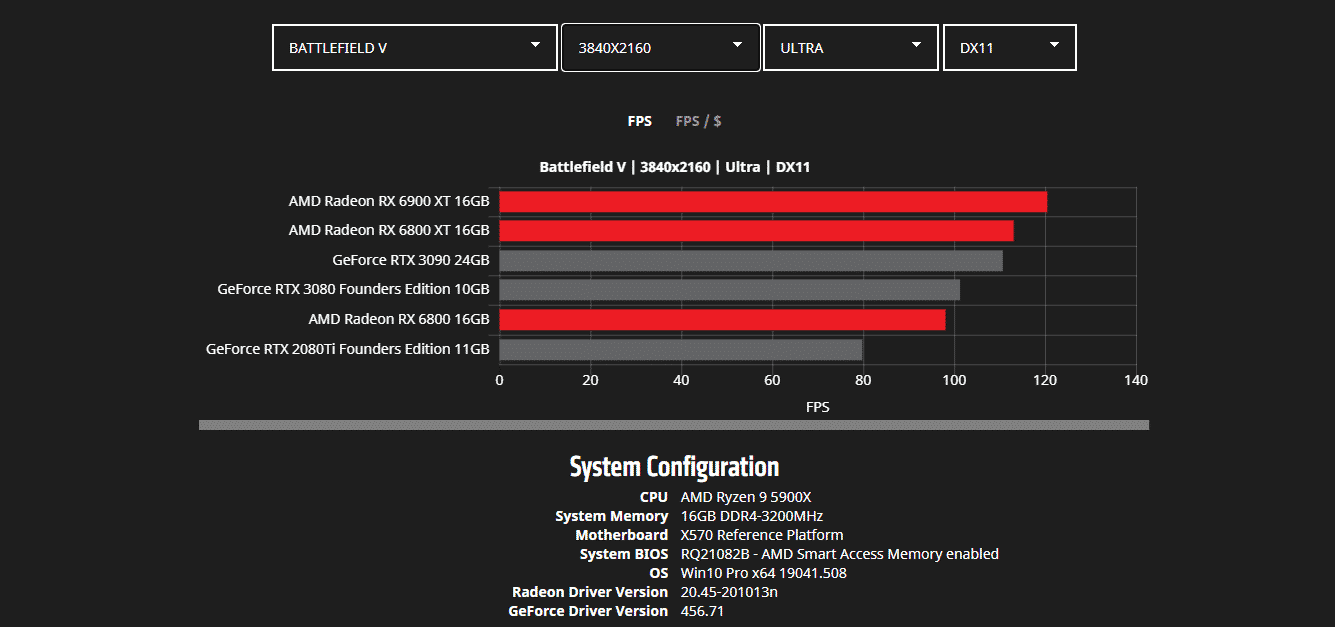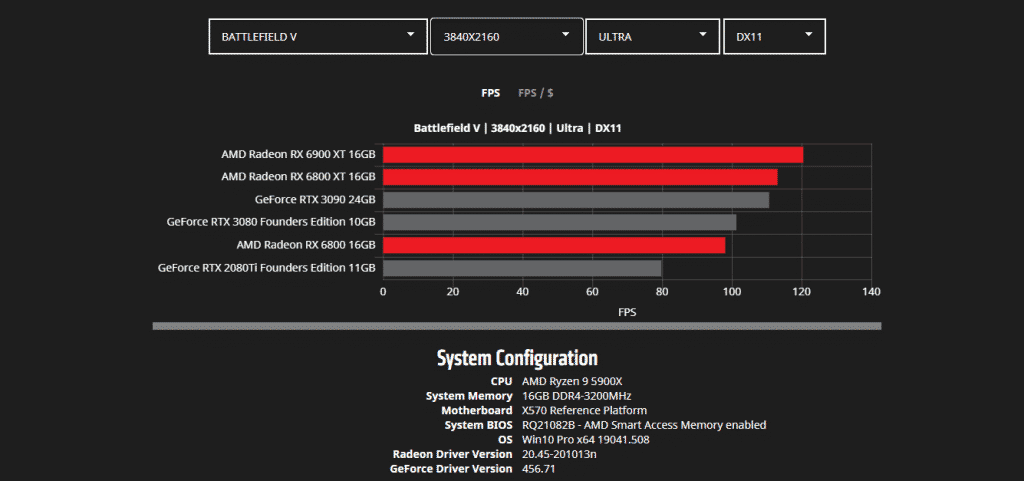 I even like the fact that AMD has even specified the test bench and the software version details rather than throwing some numbers into the air. Starting off, in Battlefield V we see both Radeon RX 6800 XT and RX 6900 XT beating NVIDIA's top-of-the-line RTX 3090 as well as RTX 3080 Founder's Edition at 4K Ultra settings.
- Advertisement -
The RX 6800 was even better than RTX 2080 Ti with some healthy numbers whereas attaining that 120 FPS mark at 4K on any GPU is a great achievement by the Red team. The GPU was paired with a Ryzen 9 5900X and 16GB RAM, which means AMD also enabled their new Smart Access Memory on a X570 motherboard.
AMD has benchmarked quite lot of games at the highest settings possible at 4K and 1440p, in almost all of them AMD has made some handsome improvements. It goes head-to-head against NVIDIA's top-of-the-line GPUs and in some NVIDIA favoring titles, AMD fails to catch up, still AMD has shown the real numbers.
Whereas, in games like Gears 5, Borderlands 3, Battlefield V, Call of Duty Modern Warfare and Forza Horizon 4, AMD comes as the outright winner a 4K. Whereas in some NVIDIA favoring titles like Shadow of the Tomb Raider, Resident Evil 3, DOOM Eternal and The Division 2, AMD beats NVIDIA at 1440p gaming.
- Advertisement -
Both the RX 6800 XT and RX 6900 XT have come out on the top even with 16GB of VRAM only and consuming less board power than NVIDIA. Whereas the entry-level 4K gaming buddy i.e. the Radeon RX 6800 beats the last year's flagship GPU RTX 2080 Ti in all games meaning, it can actually beat the new RTX 3070 even though costing $80 more.
In a nutshell, things seem all positive for AMD as both their new CPUs and GPUs looks to be awesome and forget Intel + NVIDIA combo as you can now opt for all AMD to get the best gaming experience possible at affordable prices!
Do check out:
- Advertisement -
😎TechnoSports-stay UPDATED😎
- Advertisement -