Mercedes' Lewis Hamilton overtook Michael Schumacher's existing record of most career race wins, to create his own new milestone. The British driver now has 92 wins with a victory percentage of close to 35%, having started his career with McLaren way back in 2007.
It has been exceptional with history rewritten right in front of our eyes, with many expecting Schumacher's record would be absolutely unreachable and quite tough to beat. And the best part is that Hamilton could possibly go on to make it 100 F1 wins if he extends his contract with Mercedes – which could happen before the year is out.
After taking pole position in the Portuguese Grand Prix, there were few doubts of whether he would continue to lead the race as well. But, teammate Valtteri Bottas after some laps into the race took the lead which saw Hamilton's win in slight danger.
However, that is what champions are made of and having covered the time gap between himself and Bottas, he overtook him in almost a known Lewis fashion. That Bottas' pit stop helped build the gap a little, only served to favour Hamilton in the race.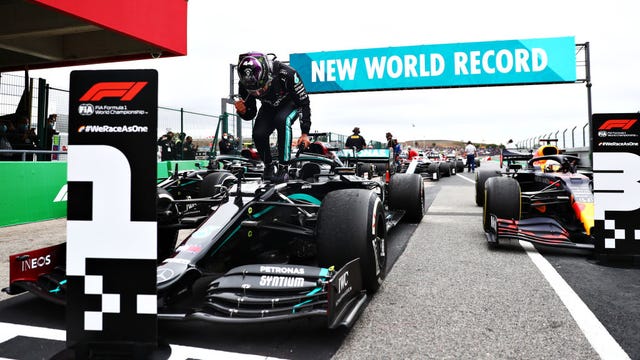 Lewis Hamilton is now just 2 victories away from sealing a record-equalling seventh World Drivers' Championship – a feat that Michael Schumacher also holds currently. Should the British driver manage to secure wins at Imola and Istanbul, it will see him crowned the winner yet again.
Such as has been the dominance of Lewis Hamilton over the years, that there is no longer a need to go to the final few races for a winner to be declared. One would not have ever imagined that a talented rookie would blitz the competition to achieve greatness. But then again, Hamilton is no ordinary driver either and his efforts and determination have seen him attain the dominance that he presently holds today.
Do check out: