In response to the Ansu Fati's racist comments' incident, journalist Salvador Sostres has issued a public apology to Ansu Fati through the news outlet ABC.
What is surprising, however, is the fact that he said sorry for the comments that saw many people take offence for, but not for the direct nature of the racist comments itself.
For some context, these statements were made by Sostres in his post-match preview of the Barcelona vs Ferencvaros in the UEFA Champions' League. Originally written in Spanish, the comments loosely translated to Fati reminding the reporter of "black street vendors who would run away when they saw police coming".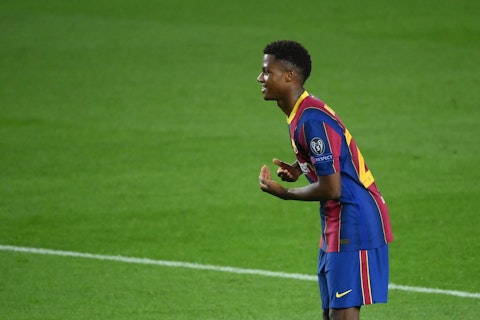 Ansu Fati was the star in that game, scoring 1 goal and setting up another for Coutinho. His trickery and dribbling ability saw him prove to be a constant headache for the Ferencvaros defence. It ensures that Barcelona made a winning start to their pursuit of the Champions' League, a competition they have not won for the last five seasons.
- Advertisement -
So to see a senior Barcelona squad member subjected to such racist treatment in this age and day is very disappointing to read. It only reiterates the need for education and awareness on such sensitive social topics, where footballers have been prone to similar incidents over the course of years playing this sport. 
Although it is unclear at this point in time, Barcelona may decide to persist with legal action against the news outlet. Racism is always something that is completely unacceptable, and crossing the limits should always see the necessary repercussions.
Regardless, Ansu Fati himself will want to put behind this incident and focus on the football that he is so particularly talented at. He recently signed a new five-year contract extension with the club and was assigned the No 22 jersey, making him a regular first-team member. After a breakout 2019/20 season, he will want to make a further impact for Barcelona and Spain.
Do check out: