- Advertisement -
Xiaomi launched an 80W wireless charger in China that can charge 0% to 100% of a 4,000mAh battery in just 19 minutes, whereas it can charge 50% within 8 minutes. The 50W wireless charger that was launched back in August compatible with Mi 10 and 10 Ultra, now this 80W wireless charger can charge your device in no time almost. Here is the video of the wireless charger, let's have a look at how fast the battery charges.
Back in the month of August Xiaomi had introduced the 50W wireless charging compatible with Xiaomi Mi 10 and Mi 10 Ultra. The type of wireless charging with such power was one of the best presents in the market. Now Xiaomi launched something way beyond our imagination, implementing 80W power in a wireless charger.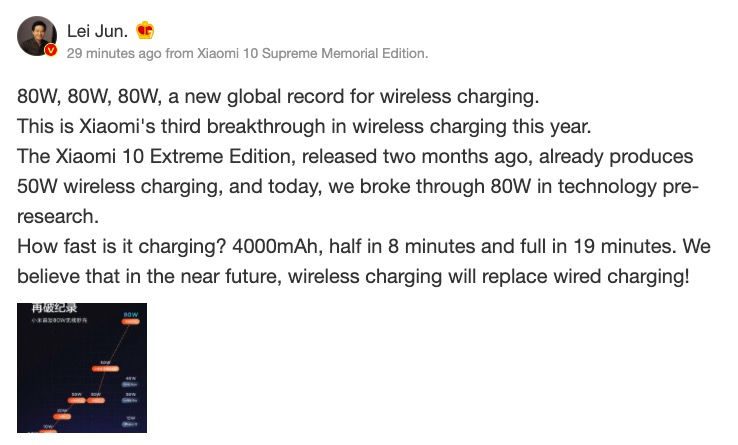 Lei Jun addressed on the launch, "80W, 80W, 80W, a new global record for wireless charging. This is Xiaomi's breakthrough in wireless charging this year. The Xiaomi Mi 10 Extreme Edition, released two months ago, already produces 50W wireless charging, and today, we broke through 80W in technology pre-research. How fast is it charging? 4,000mAh, half in 8 minutes and full in 19 minutes. We believe that in the near future, wireless charging will replace wired charging." (Machine Translated from Chinese)
- Advertisement -
This not clearly mentioned which device will be compatible with this wireless charger and moreover, no such Xiaomi devices have been released with such powerful charging capacity. Last time we saw Mi 10 Ultra was capable of charging 100% within 50 minutes in real life with the 50W wireless charging. So, we can expect a new Xiaomi device will be launched pretty soon supporting 80W wireless charging capability.
- Advertisement -