Sergio Romero wants to terminate his contract as soon as possible with Manchester United. He is in the last year of his contract with Manchester United. This season he has almost lost his place in the team to David De Gea and Dean Henderson.
Romero has also been left out of the 25 men Manchester United squad for UEFA Champions League.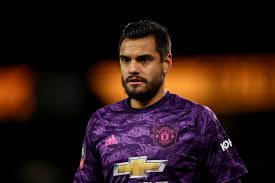 Everton was interested in Sergio Romero in the last transfer window on loan. They offered a £2 million fee and to cover the goalkeeper's £100,000-a-week salary in full. But United was demanding a permanent sale and Carlo Ancelotti's side ended up signing Robin Olsen on loan from Roma instead.
A few days back Sergio Romero's wife in her social media handle stated, "Sergio Romero worked hard for his club. Last trophy they won, they lifted it with him. He helped the team reach 4 finals and semi-finals and then he was left on the bench only to lose them all. It is time for them to return the opportunity and let him go. RESPECT FOR ONCE!!!!"
If Romero doesn't leave Manchester United then he will hardly play a match this season. So he wants to leave the club as soon as possible. He wants to terminate his contract soon. Romero is ready to waive off his £1.5m compensation fee in order to terminate his contract and to leave the club.
Romero joined United in 2015. He has won UEFA Europa League with Manchester United in 2017. He may now join an MLS club if he leaves Manchester United.
Do check out: