For working daily on computers, laptops, and even on a tablet, we require a separate keyboard. Still, we need keyboards that are versatile to support all devices and give you a great typing experience?
Keyboards and accessories have been Logitech's main USP for a long time now, and I was looking for one keyboard that can pair easily with my laptop, phone, and even my tablet, to provide me a good typing experience.
To my surprise, I found out the Logitech K480 Wireless Multi-Device Keyboard on Amazon as one of the best-sellers. Instantly, this unique keyboard struck into my mind, and I bought it as I am into typing a lot, and here's my review of it after using it around a month now: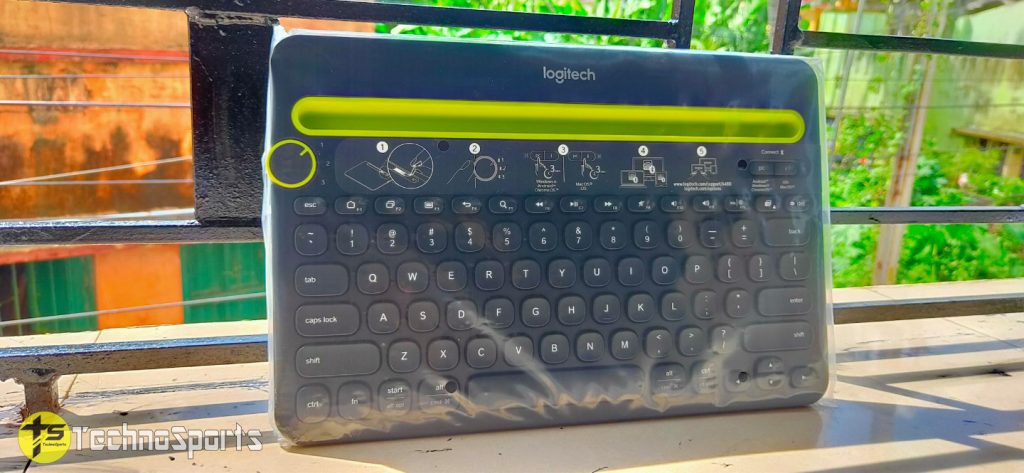 Specifications
WIRELESS BLUETOOTH MULTI-DEVICE KEYBOARD: A wireless desk keyboard for your computer, tablet, and smartphone
EASY-SWITCH DIAL: Just turn the dial of the Logitech K480 keyboard to switch typing between 3 connected Bluetooth wireless devices
A FAMILIAR KEYBOARD LAYOUT: You will find all the shortcut keys you use the most, whether you're typing on a PC or Mac computer or an Android smartphone or tablet or iPhone or iPad
INTEGRATED CRADLE: A cradle to hold your phone or tablet at just the right angle for you to read while you type. Fits most phones and tablets up to 10.5 mm (0.4 inches) thick and 258 mm (10 inches) wide
COMPATIBLE DEVICES – PC: Windows 7, Windows 8, Windows 10; Mac: Mac OS X or later; Chrome OS; iPad or iPhone: iOS 5 or later; Android tablet or smartphone: Android 3.2 or later
WARRANTY: 1 Year limited hardware warranty.

In the Box
Logitech K480 Wireless Multi-Device Keyboard, 2 AAA batteries (pre-installed), and some user documents
Design
Overall, the Logitech K480 Wireless Multi-Device Keyboard is very compact but heavy, weighing about 821 g. The major upgrade from the previous K380 is the inclusion of an easy-switch dial, overall the design, the keys are almost similar, but with the new integrated cradle, you can hold any tablet or phone to sync your device and start writing quickly.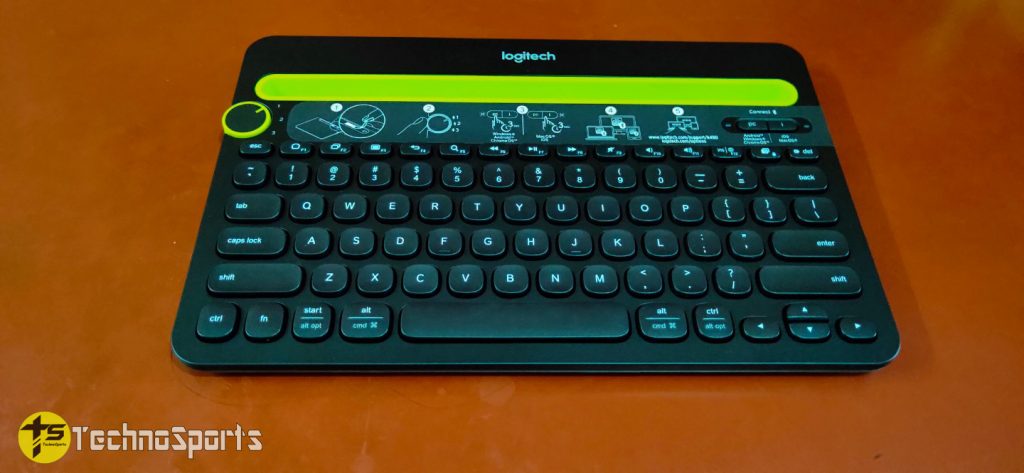 Most of the phones and tablets up to 10.5 mm thick and 258 mm wide will easily fit into the cradle. I used my tab or smartphones and quickly enjoyed writing on them with this fantastic keyboard. Overall, the comfortable design and layout make typing faster and convenient; it's easily portable and can be paired instantly with any device.
Switches & Easy-Switch dial
The switches are very comfortable and have enough key travel for easy & smooth typing experience, which is expected when buying a Logitech keyboard. The best thing about this keyboard is the Easy-Switch dial that easily lets you switch typing between three connected Bluetooth wireless devices.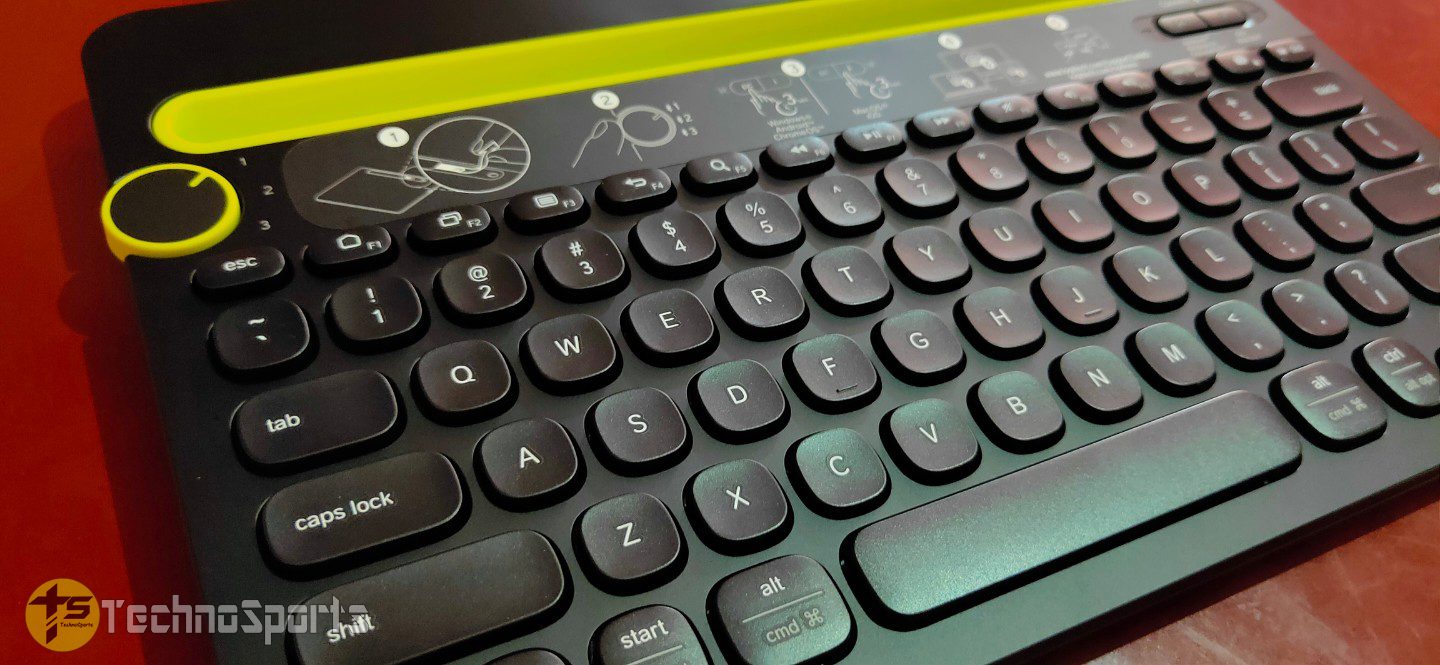 You'll find a familiar keyboard layout along with shortcut keys for all OS, including Windows, Mac, or Chrome OS, and there's even support for Android and iOS mobile devices. You can store up to 3 devices, and connect one at a time by rotating the dial, provided your device has Bluetooth support.
Connectivity
As this is a Bluetooth keyboard, connectivity is a big concern for many, so you will be pleased to know that this is the easiest thing for me by far. Yes, pairing with your device is very easy, turn on the keyboard, point the Easy-Switch dial, and you can choose if your device is Windows or Android, else if its Mac or iOS, you get two switches on the right.
Press the one, which is your device, and you can easily see the keyboard available on your Bluetooth pair list. Just tap on it, and you will get a code which you have to type on the keyboard and press enter; that's it, your keyboard is paired and saved for that 1, 2, or 3 dials, and you can set up to three devices at a time.
So, next time, just switch on the keyboard and rotate the dial, instantly the keyboard connects with your device. Obviously, your smartphone or tab has to be strong enough to give you a good typing experience, like budget centric smartphones with crappy SoCs and even old Bluetooth versions can actually hurt the seamless typing experience.
Battery Life & Overall experience
The keyboard comes with 2 AAA Duracell batteries pre-installed and is said to last about two years. Well, I cannot wait for that much to test; however, I faced no latency or pairing issues due to the battery, and like many other Logitech products, this one's quality also is excellent.
If I had to sum up my typing experience, then it would a seamless typing experience in a compact keyboard that I have never seen to be such handy. I have enjoyed typing with it on a smartphone, laptop, tablet, and any device that I have connected to this keyboard have worked great.
The essential travel and comfortable keycaps are a real treat on this budget keyboard. However, it is about 800 grams, makes it a bit heavy, but overall the Logitech K480 Wireless Multi-Device Keyboard is a must if you are looking for a versatile keyboard.
Pros & Cons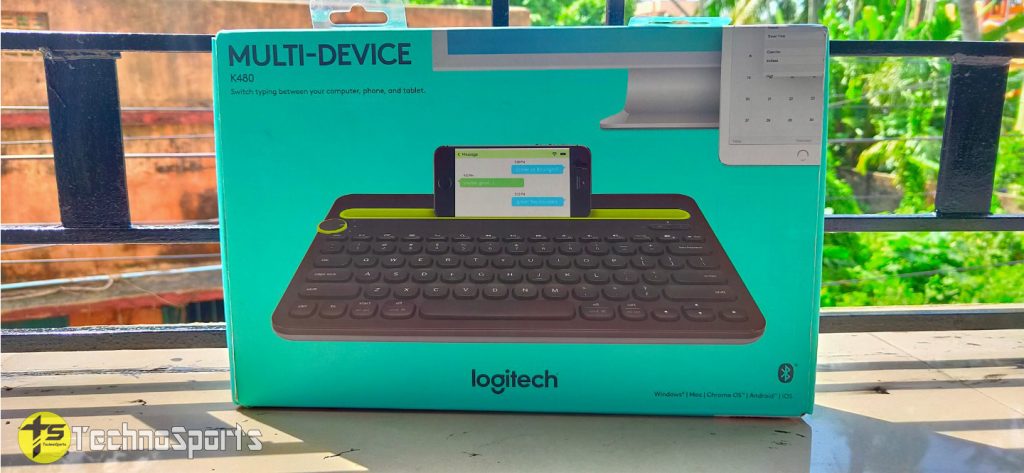 Pros
Comfortable typing experience
Cross compatible with any device
Easy pairing & no connectivity issues
Integrated cradle to house your smartphone or tablet
Long Battery life
Cons
Bit heavy on hands
Too compact, so num keys are missing
The Logitech K480 Wireless Multi-Device Keyboard is available on Amazon in two color variants: Black with green highlights and White with grey highlights.
Buy the Black variant from here, Buy the White variant from here.
Do check out:
😎TechnoSports-stay UPDATED😎