I had been looking for a multi-port charger for quite sometime but even though there are a lot of them in the market, most of them lack multi-port fast charge support. Also, the fact remains that these days we are getting used to charging both via micro-USB and Type-C ports, so getting both of them at once along with 18W fast charge support is tough.
Even if you get one, the quality and longevity remains a point of concern for many, also if you are an iPhone owner, the concerns of hurting your phone increases. So, you obviously need reliable stuff for your daily seamless charging experience.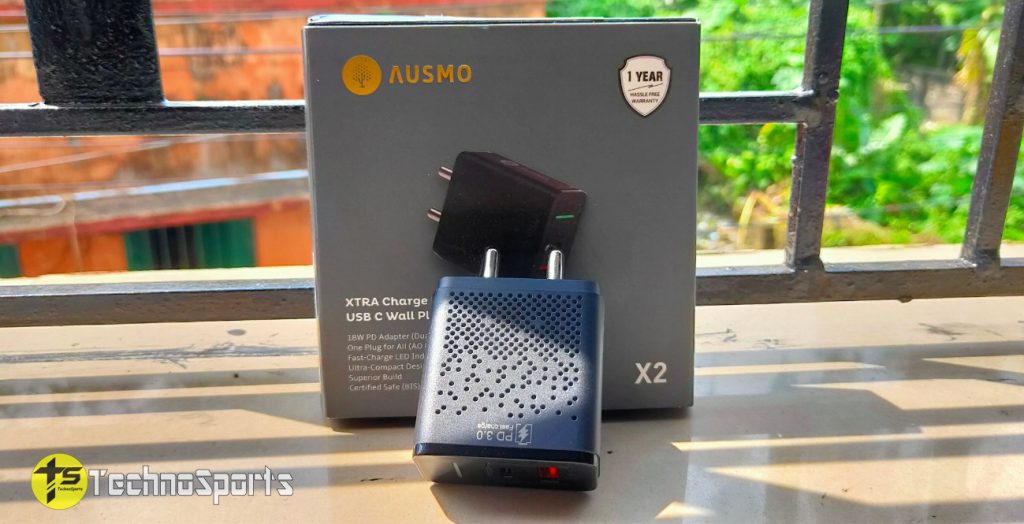 Luckily, Ausmo came up with their XTRA Charge PD (Two Port) charger, Ausmo is an Indian brand and I enjoyed using their product over a week now and here's my review of it:
Specifications
[Exclusive Technology] Ausmo's innovative technology guarantees the fastest possible charge to any compatible smartphone or tablet for Dash/Warp for One Plus or AFC for Samsung. (Does not support fast-charging for iPhone 8 and above but will charge at normal speed.)
[Fast-Charge LED Indication] Blue lets you know your device is plugged in and charging normally. Green means fast charging based on phone capabilities. Ex: 0-60% Charge in 30 Mins for OnePlus (Dash/Warp), 0-75% Charge in 30 Mins for Oppo (Vooc), 0-50% Charge in 40 Mins for Samsung (AFC).
[Ultra-Compact] 30% smaller than a stock OnePlus, Oppo, Vivo, or Moto charger. All this power comes installed in a pocket-friendly compact body, to go wherever the journey takes you.
[Superior Build] The smooth exterior, detailing around the port face, and cool LED provides an elite look and feel.
[Certified Safe] BIS certified wall charger with built-in charging protection to protect your device from over-voltage, over-heating, short-circuiting, etc.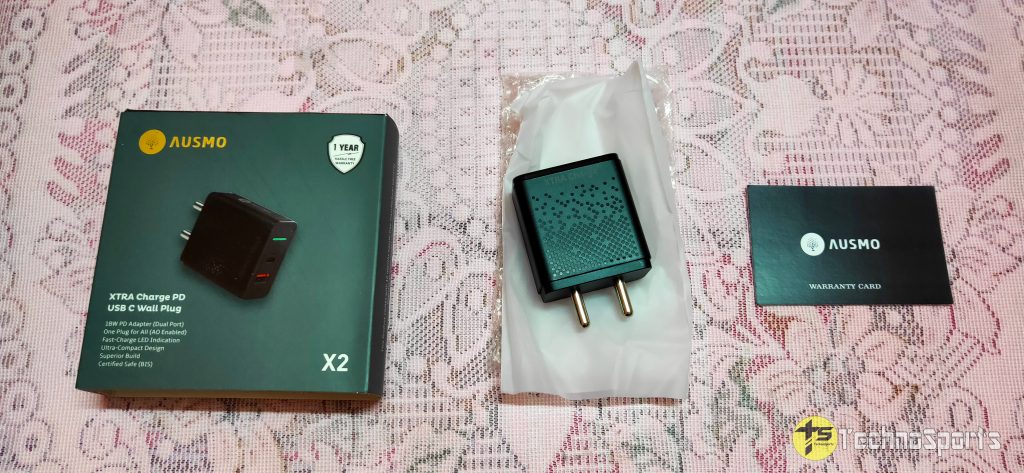 In the box
Simply you get the charger and a warranty card, but the overall packaging is certainly good and what you can expect from a premium charger.
Design & Quality
The charger is a compact one and doesn't look pathetic like most others in the market, also its light and can be well slipped into your pocket. Although it's light, it is sturdy enough to withstand falls and cool to carry it anywhere and charge anything from phones to tablets and even laptops as well.
Ports & LED
You have two ports – normal USB port and a Type-C port and both supports 18W fast charging at once, so you cannot get 18W fast charging when using both simultaneously.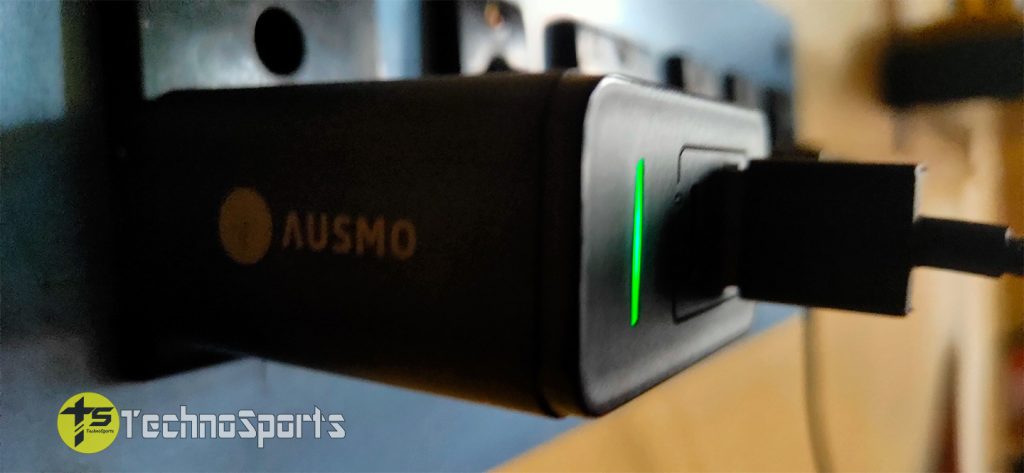 Then there's a cool looking LED baked into the charger that indicates the status of charging – turns blue during normal charging and turns green while fast charging.
Compatibility & Charging
It's main USP is the cross-compatibility, the charger support multiple smartphones that uses various types of charging technologies. Luckily, I have a lot of smartphones to try out and here's what the charger is compatible with:
| | |
| --- | --- |
| Brand | Fast Charging |
| Apple iPhones (iPhone 8 and above) | 0-50% Charge in 30 Mins |
| Oppo or Realme with VOOC | 0-75% Charge in 30 Mins |
| Samsung (AFC) | 0-50% Charge in 40 Mins |
| Xiaomi, Moto, LG, Vivo | 0-50% Charge in 30 Mins |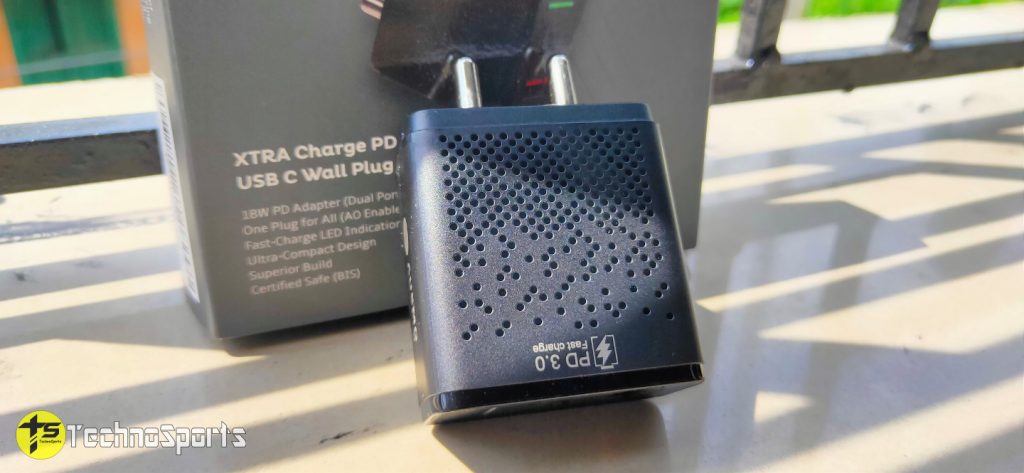 These are the official numbers provided by the company and I did test them on iPhones and it turned out to be true. I even tested on Mi A2, Realme 3 Pro, Samsung M21, Vivo U10, all of them supported fast charging with this charger.
The thing that amazed me is the amazing cross-compatibility with various types of smartphones with this charger. Obviously, the charging times may vary with the charging capacities and do note that it also supports 10W charging on those old devices as well, I tested on Oppo A83 and Alcatel Pop 4 tablet.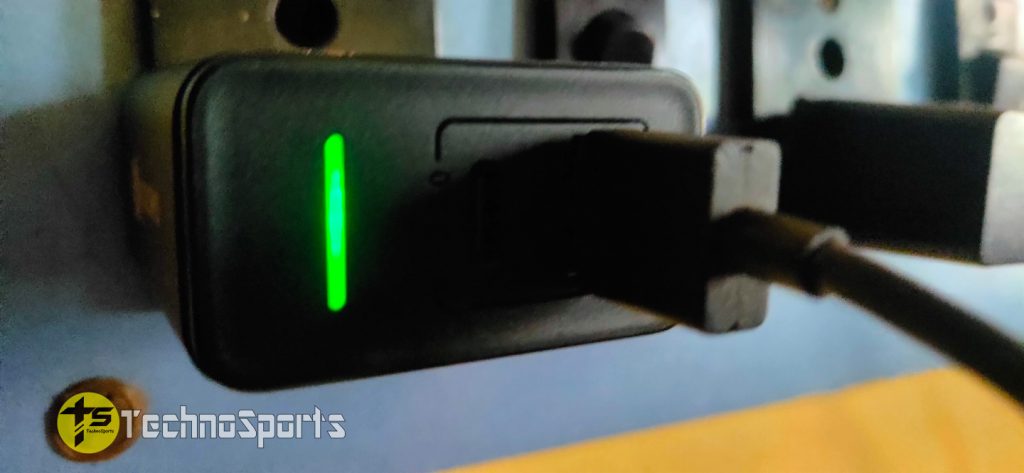 So, overall if you buy the charger you won't be compromised on the charging at all. The VOOC charging on Oppo/Realme devices works with a charm, charging a 4000mAh battery in about 60-70 minutes, a compatible Vivo device by 90 minutes with 5000mAh battery and a Xiaomi device within 60 minutes with 3000mAh battery.
You have support for fast-charging on a Samsung device, and obviously you can fast charge an iPhone, provided it's iPhone 8 and above although it can charge anything at standard rates. You can even charge a compatible laptop via USB Type-C cable as well and I did test out on my ASUS laptop.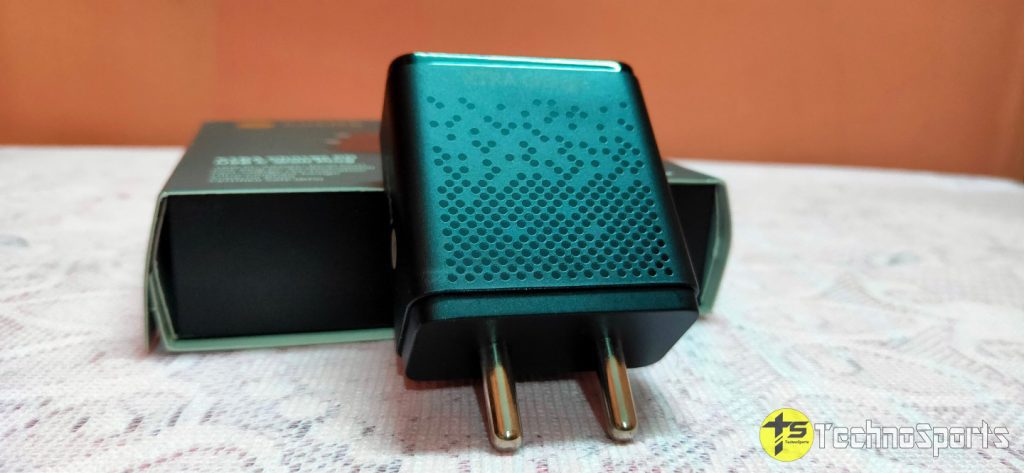 Safety & Warranty
Also, the charger doesn't turn too hot while charging as its BIS certified featuring built-in charging protection to protect your device from over-voltage, over-heating, short-circuiting, etc. I did test out and find that when your charge is complete the charger automatically gets discharged.
Another good thing for Ausmo XTRA Charge PD (Two Port) charger is the hassle-free 12-month warranty and a good customer support as well.
Pros & Cons
Pros:
Small & Compact
Cross-compatibility on a wide range of smartphones
Fast-Charging simplified
Durable & Secure
12 months warranty
Cons:
Cannot fast charge simultaneously
The cost is a bit high
The XTRA Charge PD (Two Port) charger by Ausmo retails at ₹ 1,499, available at both their own online store and Amazon. Overall, if you do need a premium fast charger with cross-compatibility and longevity, this a great choice for investment.
Do check out:
😎TechnoSports-stay UPDATED😎