The Barcelona board has come under heavy criticism in recent times. The relationship between club legend Lionel Messi and the board has been far from being perfect.
Messi sent a burofax to Barcelona wanting to activate the terminating clause in his contract. He didn't want to work under this board which has ruined the club. But after a lengthy discussion about the legal areas of the departure, Bartomeu claimed that Messi cannot terminate his contract and leave for free unless he or his new club pays 700 million euros. Messi didn't want to take Barcelona to the court out of his love for the club and decided to stay at least for this season.
But things at Barcelona have taken another bad turn. New coach, former Barcelona player Ronald Koeman was rumoured not to have Suarez in his plans and the club wanted the Uruguayan out of Camp Nou. Suarez, the third-highest goal scorer for Barcelona in their history was reluctant to leave and wanted to fight for his place at Barcelona. But the board has finally won as Suarez has been forced to join Atletico Madrid.
As Suarez is leaving the club and had his farewell, club captain Lionel Messi has now taken another dig at the Barcelona board. Messi was very close to Suarez. They formed the famous MSN trio along with Neymar.
Messi has now posted on Instagram a farewell message for Suarez. But the main surprising part of the message was this part, "not to get kicked out like they did. But the truth is that at this point nothing surprises me."
The full Instagram message read: "I had already been getting the idea but today I entered the locker room and the card really fell. How difficult it is going to be not to continue sharing the day to day with you, both on the courts and outside. We will miss them so much. It was many years, many mates, lunches, dinners … Many things that will never be forgotten, every day together."
"It will be rare to see you with another shirt and much more to face you. You deserved to be fired for what you are: one of the most important players in the club's history, achieving important things both as a group and individually. And not to get kicked out like they did. But the truth is that at this point nothing surprises me."
"I wish you all the best in this new challenge. I love you very much, I love you very much. See you soon friend."
This clearly shows that Messi is angry with how the Barcelona board has forced Suarez out of Camp Nou. Despite being injured Suarez scored 21 goals last season and provided 12 assists.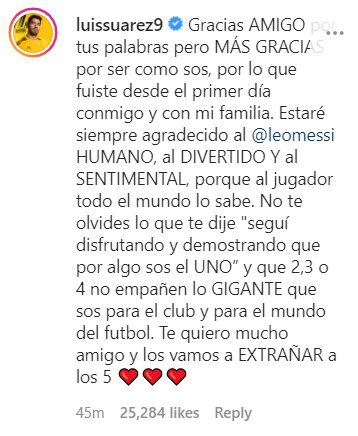 Luis Suarez replied on the Instagram post of Lionel Messi: "Thank you FRIEND … your words but MORE THANK YOU for being as you are, for what you were from the first day with me and my family. I will always be grateful to @leomessi HUMANO, at FUN AND at SENTIMENTAL, because everyone knows it to the player. Do not forget what I said to you "I continued enjoying and showing that you are the ONE for something" and that 2,3 or 4 do not affect how GIANT you are for the club and for the world of football. I love you a lot friend and we are going to EXTEND them at 5."

The third member of the formidable MSN trio, Neymar has also replied to the Instagram post. He wrote: "Incredible how they do things. (with a face palm emoji)."
The situation within Barcelona isn't looking good with Lionel Messi unhappy with the way the club is being run. When Messi is unhappy you can't get the best out of the Argentine and without Messi, Barcelona wouldn't have anyone to bail them out from tough situations.
If things continue to go in this direction the little magician would surely leave Camp Nou in the summer of 2021.
Do check out: