The new Apple A14 Bionic chip gives 40% better CPU performance & 30% better GPU performance than A12
Today, Apple made a lot of announcements including their new A14 Bionic chip which marks their first Silicon chip that will be the sole weapon that will power their most next-gen products including iPhone 12, iPad Air, MacBook and others.
So, getting to know about the performance of the industry's first 5nm based SoC is really important, and everyone is looking forward to it. Much expectedly, Apple has bragged the amount of performance gains it has achieved and compared to its last-gen A13 Bionic as well.
The major performance gains achieved by Apple are due to the TSMC's refined 5nm process that has helped make the new Apple A14 Bionic, smaller, powerful, and much more efficient than before. The new Apple Silicon packs a massive 11.8 billion transistors to lie the foundations for the chip being so powerful.

Apple's new A14 chip will be almost 40% faster than A12 in CPU performance while it still uses ARM cores for their architecture and in A14 they have used 6 cores wherein 2 of them are high-performing cores while the other 4 are high-efficiency cores to handle simpler tasks.
It is even 30% better in GPU performance than the A12 Bionic and this due to their new 4-core GPU with next-gen architecture. So, naturally, an A14 Bionic powered device won't require extra discrete GPU as well in a power-efficient package.
Apple promises its integrated GPU to give two times better performance any other bulky notebook. So, it's a new iPad Air that is the first device to sport the SoC is tremendously powerful even though it's smaller and lighter any other notebook in the market.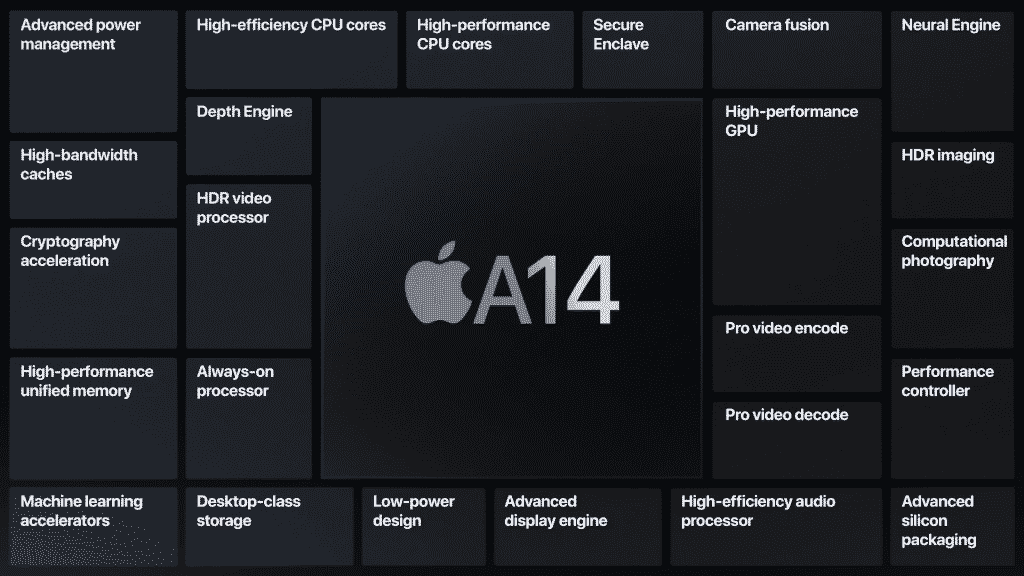 The new A14 chip is a combination of lot of innovations that has helped Apple to get this level of performance leap. It also sports HDR video and imaging along with better camera features, much secure cryptographic acceleration, high-bandwidth caches and high-performance unified memory.
Apple has always tried to stress on the AI performance of a chip and so the A14 will also feature faster neural engine with 16-core architecture that shall deliver 11 trillion operations per second, a huge leap in AI performance.
Apple even promises 2x faster Machine Learning performance with its A14 Bionic chip via its powerful ML accelerators. This helps to deliver almost 10x faster ML computational performance than last-gen.
Various devs can use these set of hardware to make better AI enhanced apps that will be optimized for Apple's OS and ecosystem of apps. The application of this powerful hardware is endless and with such generational leap in performance you can expect next-gen computing at your hands with high power-efficiency.
All in all the new Apple A14 Bionic based on the 5nm process is amazing and Apple has lived up to the expectation to deliver the industry-leading performance in a small form factor. To get such amount performance in iPads, iPhones, Macs will be a breakthrough that Apple promises via its own set of software which is already world-class. Apple Silicon is indeed a generational leap Apple has taken in 2020!
Do check out:
😎TechnoSports-stay UPDATED😎