The Indian Premier League 2020 is less than two weeks away. Today we take a closer look at one of the most mysterious yet unpredictable sides of the entire IPL, Royal Challengers Bangalore.
The fact that the Virat Kohli led men haven't been able to translate their potential to the points table, is just baffling. Today we'll analyze what the Challengers will have to do to possibly rectify those past errors.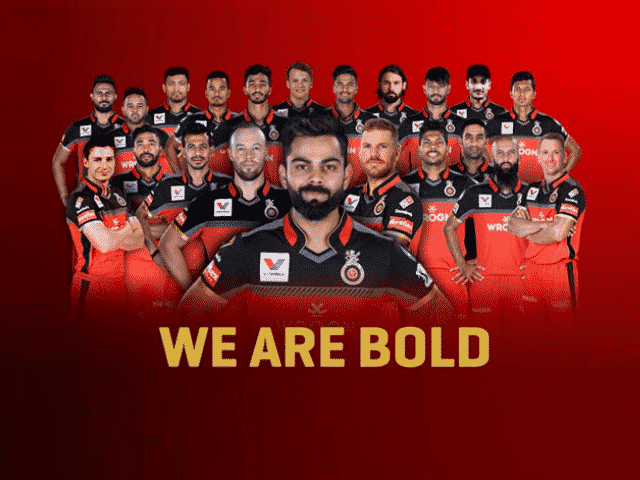 History
Contrary to their recent performances, the franchise started extremely strong. The Challengers made playoffs for consecutive three years between 2009-2011 where they even made the finals twice. They went on to again qualify for the playoffs in 2015 and 2016. However, unfortunately, it has been a landslide for them ever since.
2008: 7th place
2009: 2nd place
2010: 3rd place
2011: 2nd place
2012: 5th place
2013: 5th place
2014: 7th place
2015: 3rd place
2016: 2nd place
2017: 8th place
2018: 6th place
2019: 8th place
Squad for IPL 2020
Virat Kohli (captain), AB de Villiers, Aaron Finch, Gurkeerat Singh, Devdutt Padikkal, Moeen Ali, Isuru Udana, Pawan Deshpande, Shivam Dube, Josh Phillipe, Parthiv Patel, Yuzvendra Chahal, Washington Sundar, Pawan Negi, Shahbaz Ahmed, Adam Zampa, Umesh Yadav, Navdeep Saini, Mohammed Siraj, Chris Morris, Kane Richardson and Dale Steyn.
How will they perform in IPL 2020?
BATTING – How can a team with Virat Kohli and AB de Villiers fail? However, with RCB, it has always been the players around these two. Starting with the positives, getting number 3 ranked T20 batsman Aaron Finch for a relatively low fee, was probably one of the best buys of the IPL 2020 Auction.
RCB, however, still faces the same problem which they've always had with their batting order. The only keeping options they have are of Parthiv Patel and Josh Phillipe. Phillipe might not make the team due to the restriction of four foreign players. Patel, on the other hand, is fruitful only when used at the top order. This will have Patel opening with probably Finch and push Kohli and de Villiers down the order where they might not get many balls. They may have Kohli to open with Patel, de Villiers at 3. This will have Finch at 4 where he won't be relatively effective as well.
Moeen Ali has shown good potential in the middle order but will need the support of Shivam Dube, Gurkeerat Singh, and lower middle-order options like Chris Morris and Washington Sundar.
BOWLING – Bowling has always been the sinking factor for RCB, especially their pace bowlers. However, the basic structure of their pace bowling is still the same. They purchased Chris Morris for one of the highest bets of the auction. The bet surprised everybody keeping in mind Morris hasn't been actively playing in the South Africa national team.
He will have to justify this value and lead the bowling attack especially taking charge of death overs. Other pace bowlers like Umesh Yadav and Mohammed Siraj have struggled in death overs. Navdeep Saini has shown potential and will be the one to watch out for.
Spin bowling, on the other hand, looks balanced as always. Yuzvendra Chahal will be a key asset keeping in mind the pitches in UAE. He will be assisted by Washington Sundar and Pawan Negi.
RCB will have to sort out their batting order and death bowling issues, elsewhere it would be difficult for them to make the playoffs this time around as well.
Do check out