NVIDIA has recently announced its RTX 30-series GPUs based on their new Ampere architecture that gives massive performance leaps over the last generation. The new flagship RTX 3080 is said to be way faster than its predecessor RTX 2080 although coming in at the same prices, but how performance difference? Well, Digital Foundry has compared this new GPU with its predecessor to reveal that the new card is almost up to 80% faster in real-world games.
Although NVIDIA claimed an almost 100% boost in performance in its presentation, however, up to 80% is still decent as a single generation leap. The benchmarks from the Digital Foundry of the RTX 3080 were at 4K and maximum graphics settings that gave a result anywhere from 69.8% to 92.3% in the modern triple-A titles.
In games like Borderlands 3 & Doom Eternal we see almost +81.6% and +84.2% performance boost at 4K max settings while in other heavy titles like Shadow of the Tomb Raider and Control, the RTX 3080 performs considerably well over last-gen.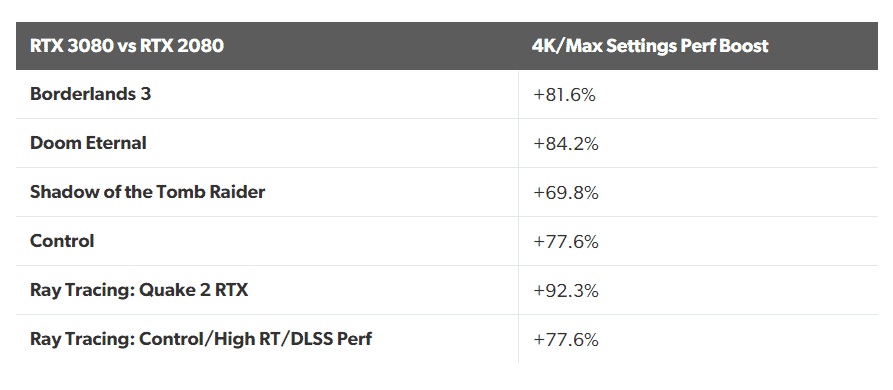 The most impressive fact about these new GPUs is that their ray tracing improvements are huge because of the extra shader and RT cores along with AI enhancements as well. In titles like Quake 2 and Control, getting 60FPS at 4K high preset with RTX on was very very difficult and you'd need a costly RTX 2080 Ti to achieve that, however, RTX 3080 with new DLSS 2.0 can deliver up to +92.3% better performance.
Finally, playing at high graphics setting with RTX turned on will not be a massacre as it used to be previously. In Metro Exodus too, with DLSS turned on, the game runs at 4K60 on ultra settings with ultra settings, this is an insane achieve provided how graphics power-hungry this game is.
To sum it up, at $699, the NVIDIA GeForce RTX 3080 is a great GPU that finally lets you play at high graphics and enjoy ray tracing at its fullest and NVIDIA, made the announcement just in time, to lure some gamers away from buying consoles.
via Eurogamer
Do check out:
😎TechnoSports-stay UPDATED😎