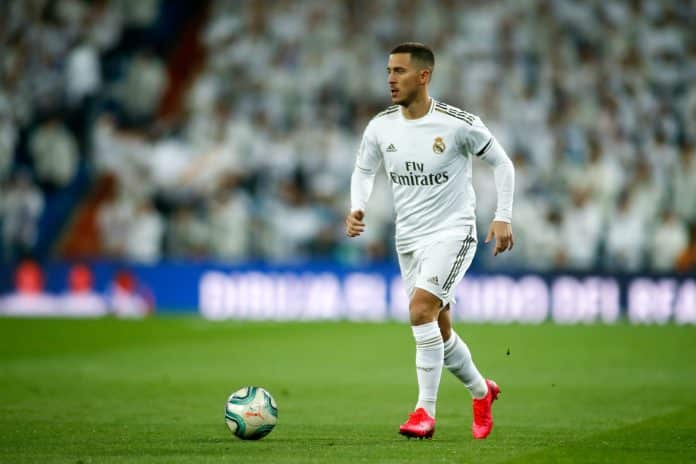 Real Madrid were always an admirer of Eden Hazard. The Belgium international has also revealed during the last stage of his Chelsea career that he wants to go to Real Madrid and play under Zinedine Zidane.
After a long transfer saga, the transfer was finally completed in the summer of 2019. It was reported that Real Madrid agreed on a €100m deal for Hazard with Chelsea.
Recent news has come up which claims that Real Madrid has to pay Chelsea €60m more than the initially reported fee. In total Chelsea will receive €160m from Real Madrid in an instalment spanning 3 years.
According to Belgian outlet HLN Sport, Real Madrid agreed to pay for the Belgian captain in three installments:
2019 – €40m
2020 – €56m
2021 – €64m
This knowledge has now surfaced after AFC Tuzibe (where Hazard began his career) revealed they were due to receive €800,000 from the transfer of Eden Hazard from Chelsea to Real Madrid.
An alleged fraud case around Eden Hazard's training compensation to former club Tubize has revealed the total fee (inc bonuses) that Real Madrid might have to pay to Chelsea: €160m (£143m).

To be paid in installments:
💰2019 €40m (£36m)
💰2020 €56m (£50m)
💰2021 €64m (£57m) https://t.co/2UODG5tIJ7

— Kristof Terreur 📰🎥 (@HLNinEngeland) September 4, 2020
Eden Hazard has endured the worst season of his career in his first season at Madrid. He has been constantly marred by injuries. He has scored just one goal in 22 appearances last season.
Luka Modric said about Hazard's last season to AFP: "Eden is a great guy and a special player, but he was playing with pain and when you're on the pitch, people always expect the best. They don't care if you have little problems,"
"I spoke to him and said, 'Eden maybe you need not to play now and recover because next season we need you at your best. This is a season where you're getting to know everything but next season you need to be 100 per cent because if not, it's going to be difficult'.
"Hopefully he comes back without any problems and then I'm sure he'll show his potential and why the club bought him because we will need him a lot.".
The Belgian had just 1 year left on his Chelsea contract which means he could have talked for free with Real Madrid after just six months and could have gone on a free transfer.
After the news came out, people have been thinking why did Real Madrid spend €160m on a 28-year-old who had just one year left on his contract. This is how Twitter reacted to the transfer fee amount:
Eden Hazard had a year left on his contract, could negotiate for free 6 months after he was sold.

Marina conned Perez and Real Madrid to pay £143m for him.

The greatest female figure in football.

— Man of Letters. (@Letter_to_Jack) September 4, 2020
Eden Hazard: £115 million (plus bonuses)

Kai Havertz + Timo Werner: £120 million (plus bonuses)

We replaced a 28 year old with 1 year left on his contract with two of Germany's best young players. That's how business is done. https://t.co/eRqQuiwdJX

— ExpectedChelsea (@ExpectedChelsea) September 4, 2020
🇧🇪 Eden Hazard – £143m
🇪🇸 Alvaro Morata – £48.5m

Total: £191.5m

🇩🇪 Timo Werner – £47m
🇲🇦 Hakim Ziyech – £36m
🇩🇪 Kai Havertz – £62m
🏴󠁧󠁢󠁥󠁮󠁧󠁿 Ben Chilwell – £50m
🇧🇷 Thiago Silva – Free
🇫🇷 Malang Sarr – Free

Total: £195m

Net total: -£3.5m

NOW THAT IS WHAT I CALL BUSINESS 😍 pic.twitter.com/lB6exbEcsx

— Uber Chelsea FC 🏆 (@UberCheIseaFC) September 4, 2020
Do check out: