Arm has recently announced the latest Cortex-R82, that implements Armv8-R AArch64-architecture. It is said to be its highest performance real-time processor.
The Cortex-R82 supports advanced Single Instruction Multiple Data (SIMD), under Arm's Neon technology. It can increase the speed of applications like machine learning while accelerating the signal processing algorithms and its functions.
Back in 2016, Arm proposed its R8 which was to be extensively used in 5G connectivity solutions. The R8 CPUs however had an addressing limit of 32-bit 4gb memory.
But modern products are making it necessary to incorporate larger memory addressing. With modern SSD's using up to 2 Gb of DRAM, it nearly comes close to addressing the limitations of the 32-bit R8 series.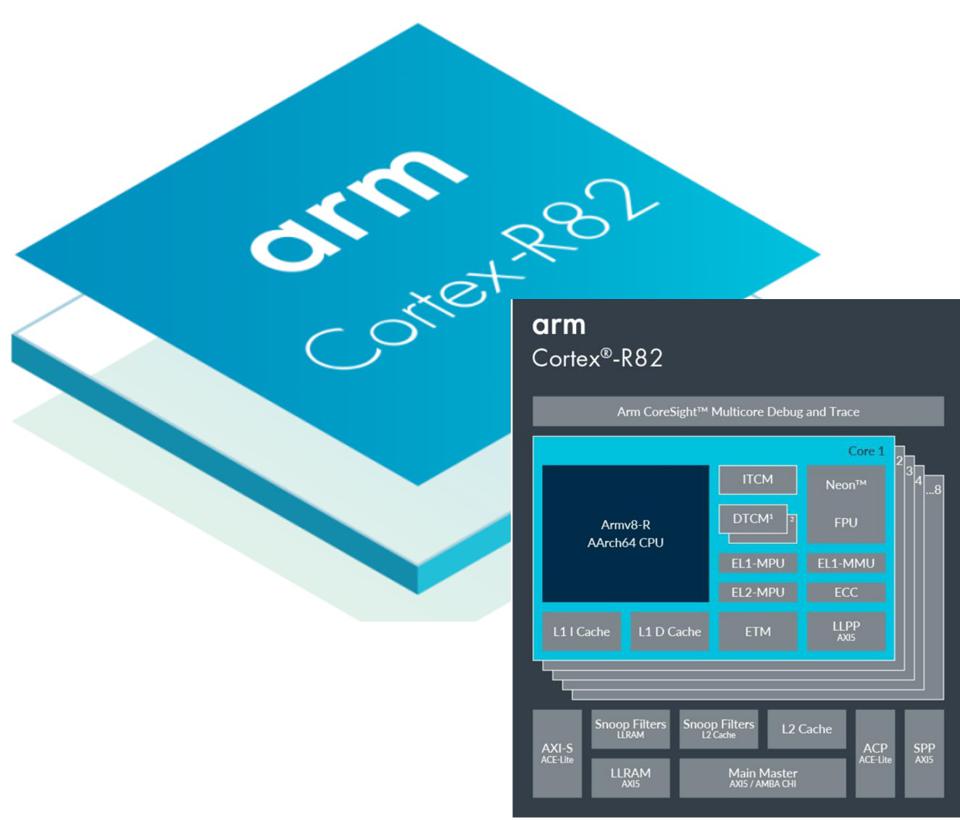 The Cortex-R82 is said to address this issue, by supporting memory addressing up to 1Tb DRAM and the new design is said to increase the performance by two folds over the R8 while using a wider address space of 1Tb.
The main focus in Arm's new release is the inclusion of neon technology for SIMD processing. The inclusion neon technology is said to allow SSD-controller designers more flexibility to their designs.
Features:
Cortex-R82 four-core cluster
5nm
Maximum clock frequency
Above 1.8GHz
Performance
3.41 / 4.32 / 8.67 DMIPS/MHz*
5.82 CoreMark/MHz**
Total area (including Cluster, Cores, RAM and routing)
From 2.0mm2***
Efficiency
From 30 DMIPS/mW***
The Cortex R82 is expected to deliver efficient parallel computation on data itself when implemented on SSD based on NVMe or NVMe-oF specifications or CXL architecture.
According to Arm, Cortex-R82 can implement up to 8 cores, and the extra computing power will allow it to support a complete Linux distro directly inside the storage drive.
Arm reports that Cortex-R is already supporting more than 85% of current storage solutions, so incorporating R822 will be a big boost in speed and performance.
Currently, not much details about the micro-architecture of R82 are known, but as it uses Armv8-R architecture, we can expect it to be a major and much-needed upgrade over the 32-bit R8 microprocessor.
Sources: ARM
Do check out: