For last couple of weeks, we have been receiving a mixed amount of leaks regarding AMD's upcoming CPUs and APUs that can get anyone confused. Obviously, we have got the leak of Cezanne APUs and yesterday, we got the leak of Van Gogh APUs as well, now that will surely make you confused about what AMD is up to, however, the leaked roadmap now makes some sense.
Next-gen Ryzen CPUs
As brought to our attention by Videocardz, the total CPU/APU roadmap for 2021-22 is revealed by their source @MebiuW. In fact, we see the mention of another CPU lineup that will be the successor to AMD's upcoming Vermeer CPUs based on Zen 3 architecture. Warhol seems to be familiar to Videocardz who had spotted a leak about it even before this roadmap came into existence.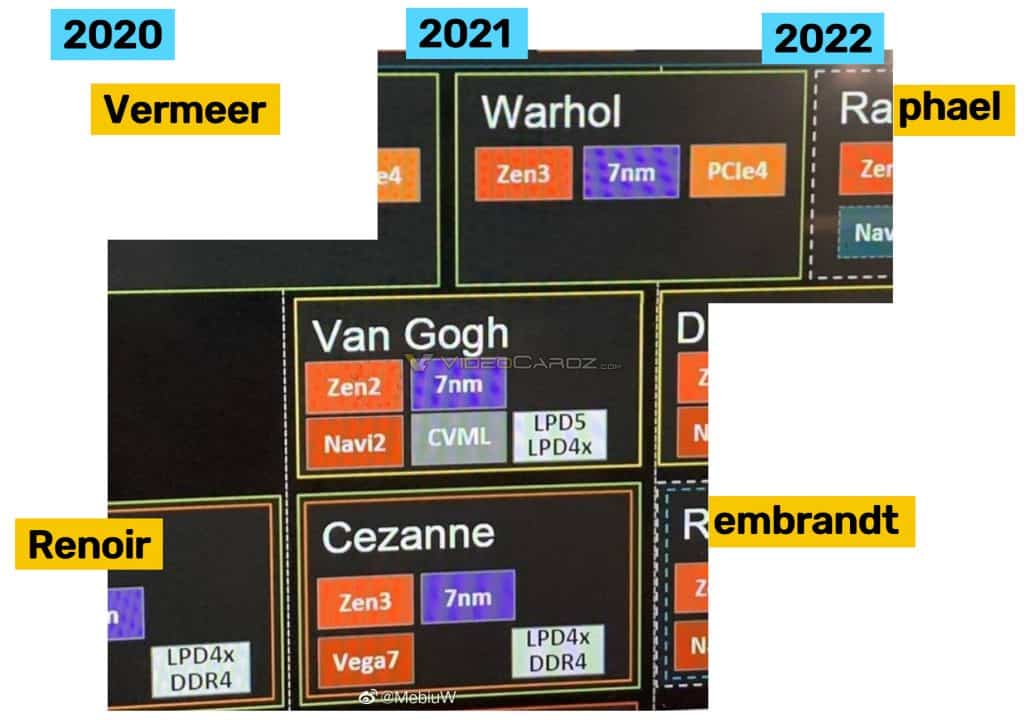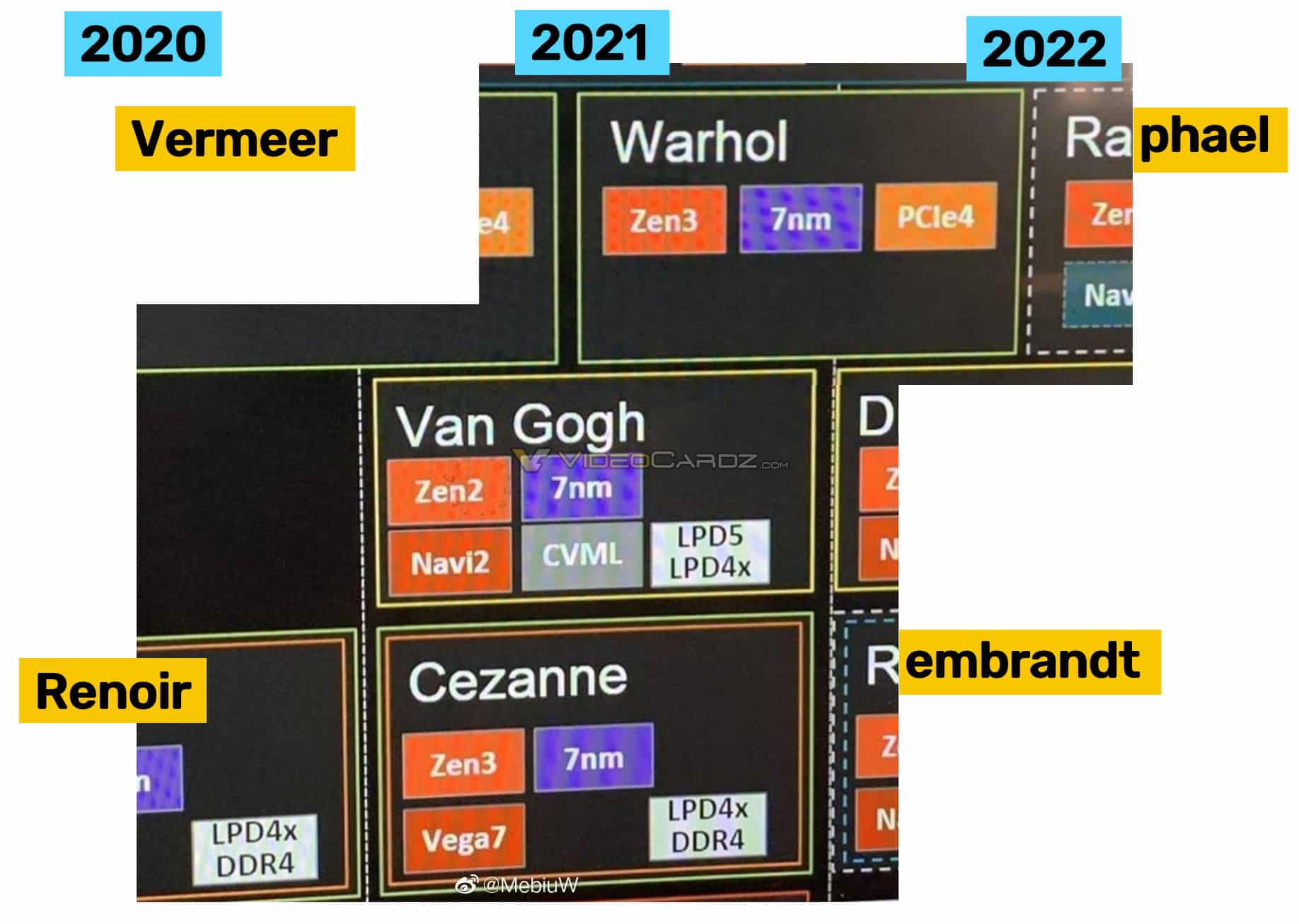 AMD's upcoming Warhol CPU lineup is supposed to be the Ryzen 5000 lineup based on the same Zen 3 architecture, maybe with some tweaks but will still be based on 7nm+. As per the roadmap, most probably, these CPUs will be launched in the middle of 2021 as a Vermeer refresh or as a new lineup with AM5 socket.
On the other hand, AMD Raphael (Ryzen 6000) will be succeeding Warhol and is currently associated with AMD Zen4 architecture but in the roadmap, it seems to have a mention Navi, which again raises the speculation whether these CPUs will come with built-in iGPU or there will some kind of interconnect between the Navi-based GPU and the Zen 4 based CPUs.
Next-gen Ryzen APUs
Cezanne APUs (Ryzen 5000 APUs) will be succeeding Renoir on both laptops and desktops featuring Zen 3 CPU cores and Vega graphics, this is more natural, however, it would be great if it would feature RDNA 2 graphics. Worry not, the newly speculated, Van Gogh APUs seem to be powerful on the GPU front with RDNA 2 graphics, and with multiple leaks, Van Gogh is certainly real.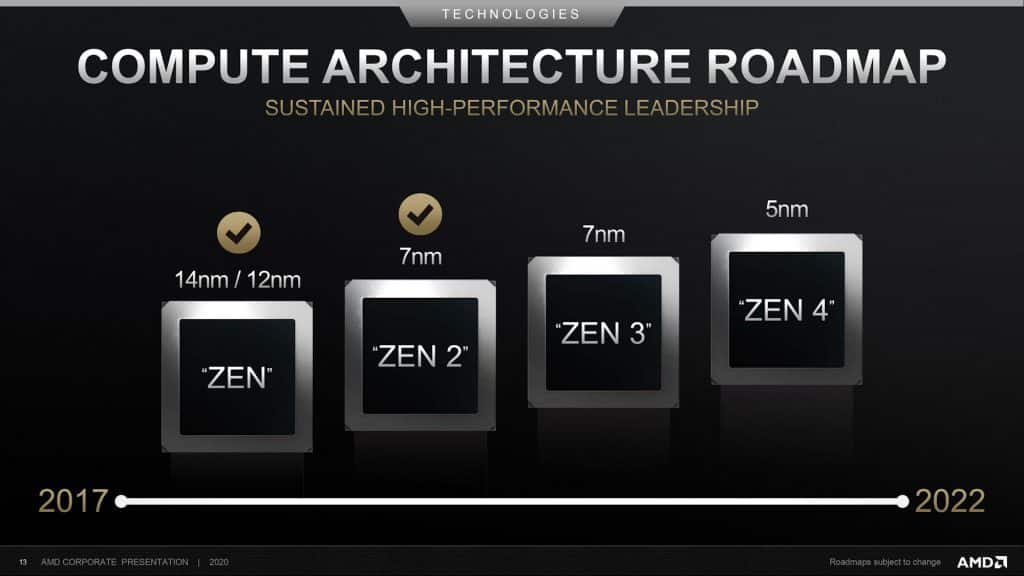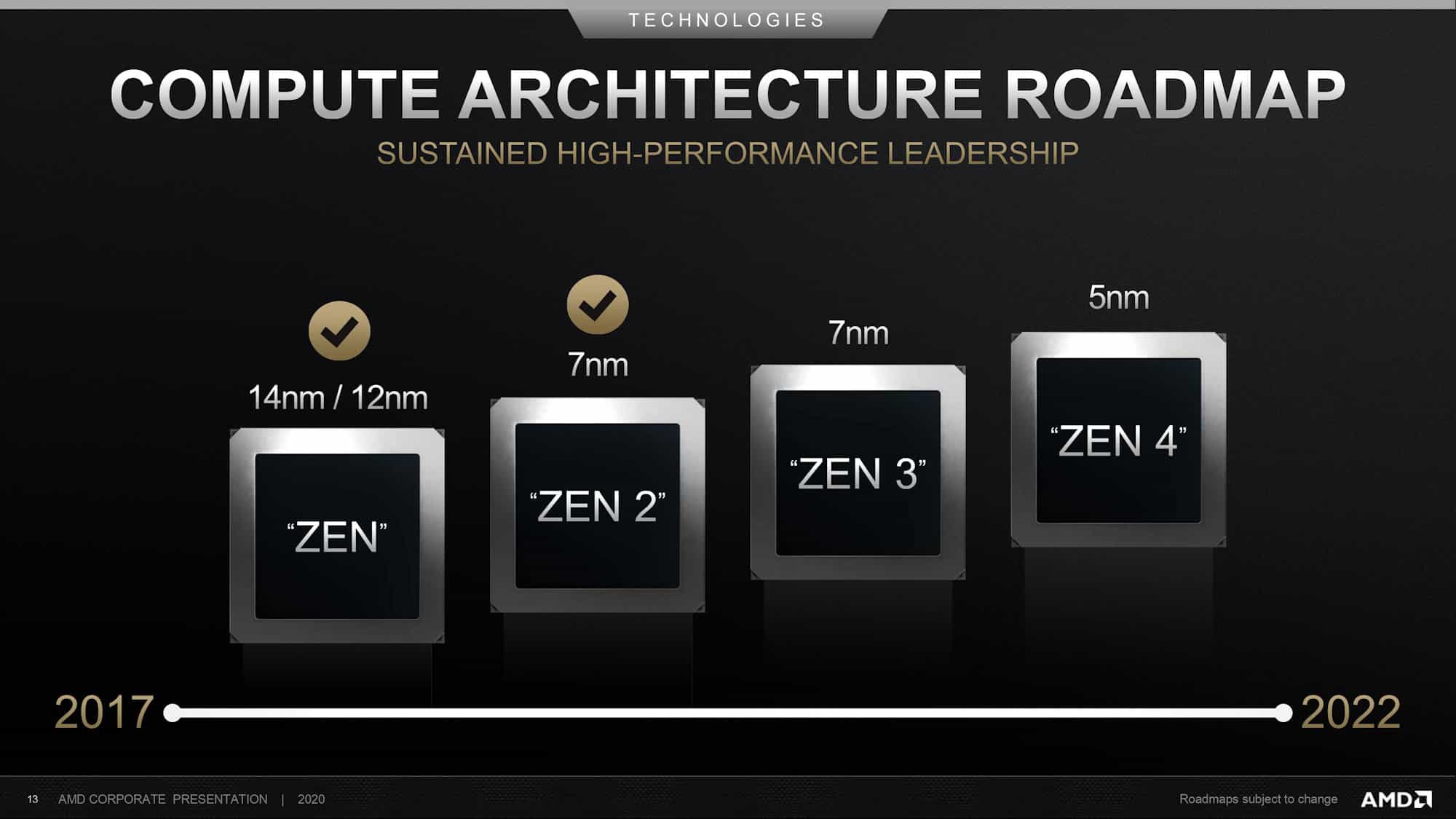 Van Gogh has been labeled with 'CVML' that probably means 'Computer Vision and Machine Learning', making it totally unique from AMD's traditional CPUs and APUs. These Navi2-based APUs will feature Zen 2 CPU cores, however, it seems both Cezanne and Van Gogh APUs will be launched parallelly but meant for different purposes.
This is exciting because Van Gogh will be the first APU series featuring Navi graphics and as we see in the roadmap, the lineup will be continuing and will still have Navi GPUs. The naming scheme has also changed as AMD will now be borrowing architecture names from famous painters, Van Gogh's successor too will have the name starting with D.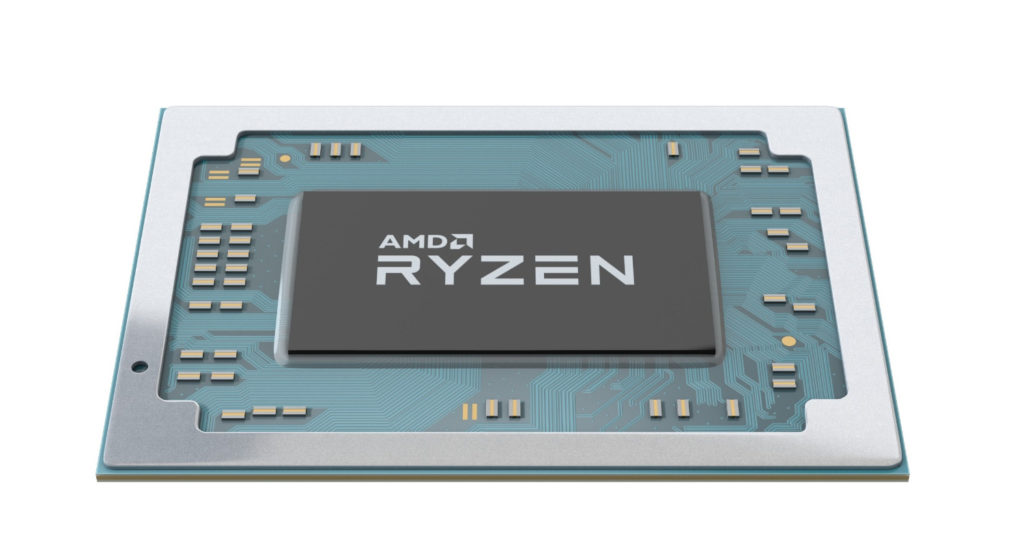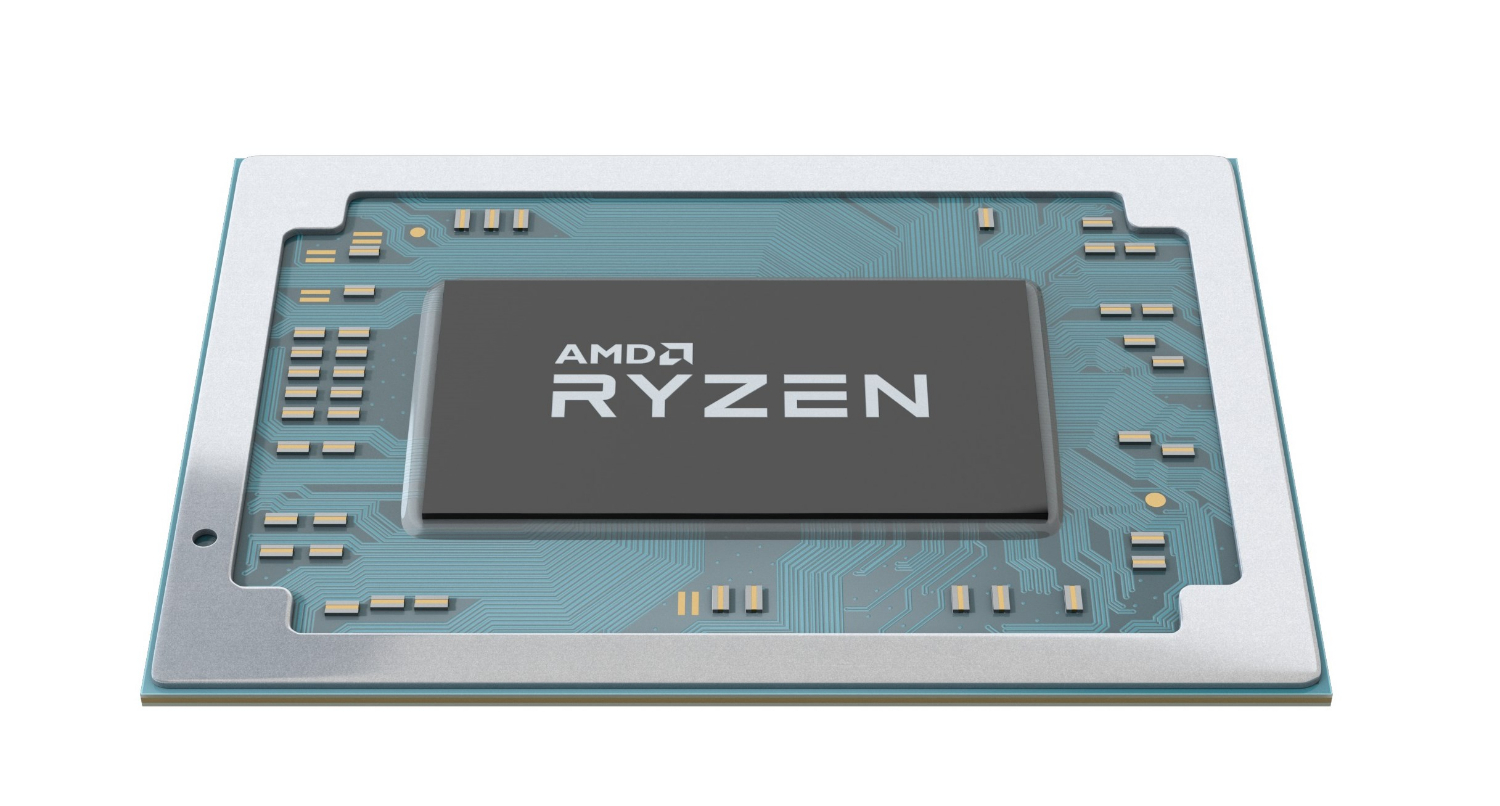 To me, Van Gogh isn't surprising because AMD is implementing the same combo of Zen 2 + Navi 2 APU on upcoming gaming consoles including both PS5 and Xbox. Obviously these console APUs too use Computer Vision and Machine Learning for the advanced gaming experience, now in 2021, we might see AMD bringing this tech commercially under Van Gogh lineup and even making it better over time as laptop gaming will never fade, but the demand will be increasing over time.
To all of these, my fingers remain crossed, because if my predictions go right, all of these Warhol, Van Gogh & Cezanne processors will rock the 2021 and among all of these, Van Gogh APU lineup is the most exciting one for gamers to keep an eye upon in the coming year. As for now, these are rumors but cannot be ruled out totally because they seem to make some sense.
Do check out:
😎TechnoSports-stay UPDATED😎