Crucial which is Micron's sub-brand will be launching their new wide range of gaming memory in India on Amazon's Prime Day Sale, starting from tomorrow. Apart from launching their cheaper Crucial P2 and P5 PCIe Gen4 NVMe SSDs, the company also looks forward to providing the best DRAMs for its Indian consumers and their Ballistix gaming memory range has a lot of RAMs to talk about.

CRUCIAL BALLISTIX
As the company describes – Crucial Ballistix gaming memory is designed for high-performance overclocking and is ideal for gamers and performance enthusiasts looking to push beyond standard limits. So, ideally, these DDR4 RAMs are design gamers and overclockers who want to push the performance to max level, coming in with speeds of 2400MT/s, 2666MT/s, 3000MT/s, 3200MT/s, 3600MT/s.
Also, the RAMs have both Intel and AMD motherboards support along with latencies of CL15, CL16 operating at 1.35V and you will get kits of 16GB (8GBx2), 32GB (16GBx2), 64GB (32GBx2) memory. It features an anodized aluminum heat spreader in black, white, or red and XMP 2.0 support for automatic overclocking. These RAMs have a low-profile form factor that is ideal for smaller or space-limited rigs.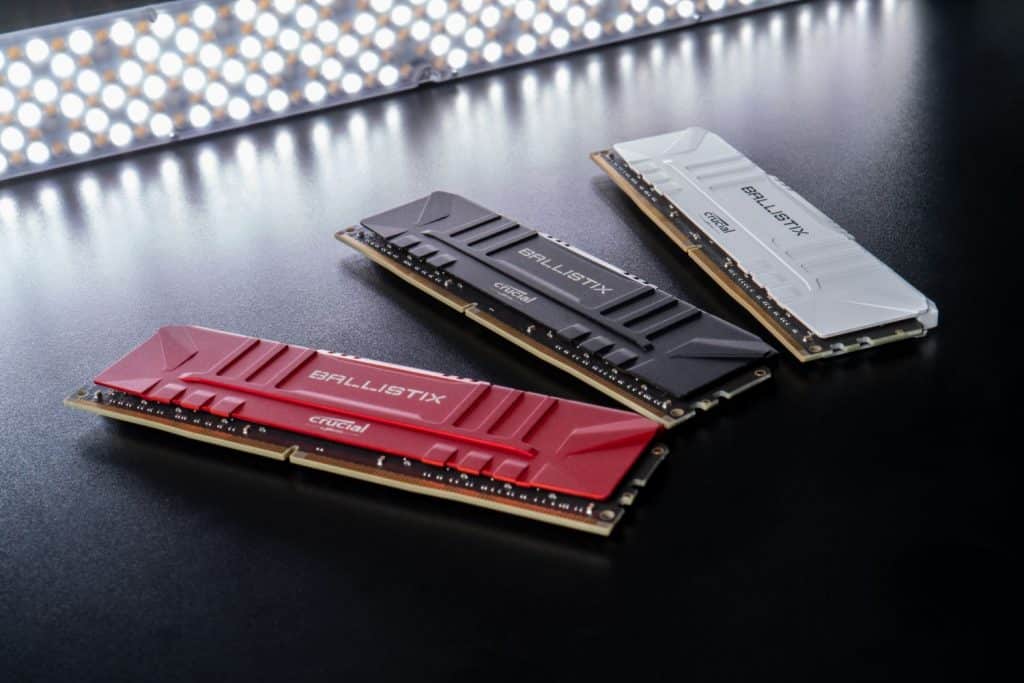 CRUCIAL BALLISTIX RGB
Almost the same memory as the base model but with RGB support and the 16 RGB LEDs are customizable with OEM software on each Crucial Ballistix RGB module. They come at speeds of 3000MT/s, 3200MT/s, 3600MT/s while all of the other specs remain the same. All of these RAMs come with Limited Lifetime warranty from Crucial.
CRUCIAL BALLISTIX SODIMM
If you need a fast laptop memory for gaming, Crucial's Crucial Ballistix SODIMM memory is ideal for laptop gamers and performance enthusiasts. Aluminum heat spreader comes included for thermal management in a compact space.
The DDR4 RAM comes in CL16 latency only along with speeds of 2666MT/s, 3200MT/s and color variants of Black/Silver. Apart from these changes other specs almost remain to be the same.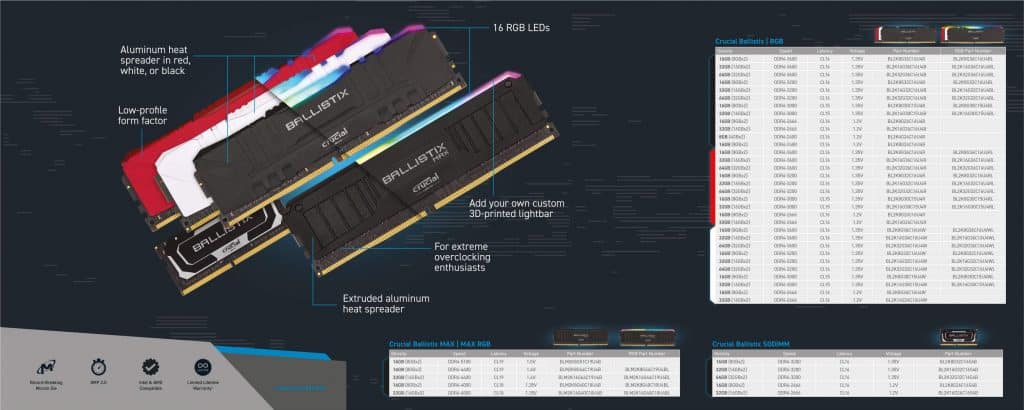 CRUCIAL BALLISTIX MAX
If you are a gamer or professional and need a high-speed memory at any cost, then the new Crucial Ballistix MAX gaming memory is the perfect choice for you. It has been designed for extreme overclocking and engineered for the latest AMD and Intel platforms. It comes with a high-quality black extruded aluminum heat spreader that provides maximum heat dissipation.
Whereas, an on-DIMM sensor allows for real-time temperature monitoring. These RAMs are available at speeds of 4000MT/s, 4400MT/s, currently supported by AMD Ryzen CPUs and on X570 and B550 motherboards, so pairing these RAMs on your PC can fasten up your gaming performance drastically. Also, the RAMs have lower latencies of CL18, CL19 but still operate at 1.35V with options for 16GB (8GBx2), 32GB (16GBx2) kits.
CRUCIAL BALLISTIX MAX RGB
It performs exactly similar to the Crucial Ballistix MAX gaming memory but the cherry on top is the 16 RGB LEDs, customizable with OEM software on each of the modules. The RAM has black color only with the RGB LEDs being programmable, so you can create your own custom light bar with a 3D printer and provided 3D files. You can even control light patterns and brightness via software utilities. 
All of these RAMs will be launching on Amazon tomorrow, as for now the price remains unrevealed but once gets updated, we will update this article. Head out Amazon page to know more: https://amzn.to/3idNiKF
Do check out:
😎TechnoSports-stay UPDATED😎