The Indian government is taken some major decisions recently, from banning apps to imposing restrictions on Chinese equipment in the telecom sector. To boost the Indian smartphone production, the government has introduced the improvised PLI scheme that has attracted major smartphone giants as well.
Now the Directorate General of Foreign Trade (DGFT) has imposed restrictions on import of color TVs in India and marked the import policy from "free" to "restricted" which is indeed the step to maximize production of color TVs in the country.
So all of the TVs with HS codes 8528 7211 to 8528 7219 will have to be made in the country whether its a small 24-inch one or a 65-inch one: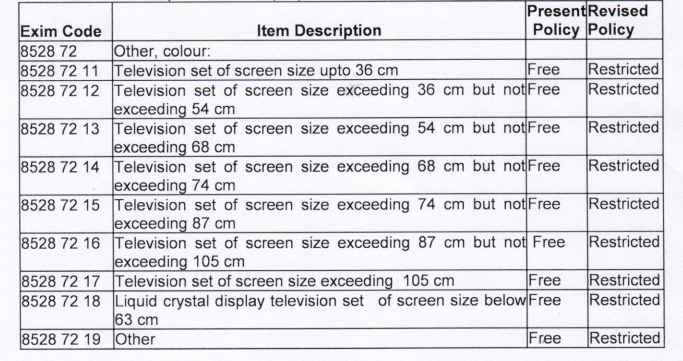 This is mostly due to the fact that 35% of color TV sets sold in the country are imported, as of the year ending 31 March 2020, India has imported color TVs worth $781 million. Among that total, $400 million worth of imported TVs were came from Vietnam while $300 million worth of TVs getting imported from China.
In India there are hardly any company who makes display panels in the country expect the likes of giants like Samsung, Sony. This will force companies to invest more in making displays in the country rather than importing and actually bring employment, might cost a bit more for TVs but its still better than importing stuff.
In India, off late more and more Smart TV brands like Thomson, TCL, Vu, Kodak, Daiwa and others are bringing cheaper models to the country to help grow the economy. It would be great to see all of the companies making products in India eventually making display panels for various other electronics like smartphones, laptops, monitors, and others in the near future.
Do check out:
😎TechnoSports-stay UPDATED😎