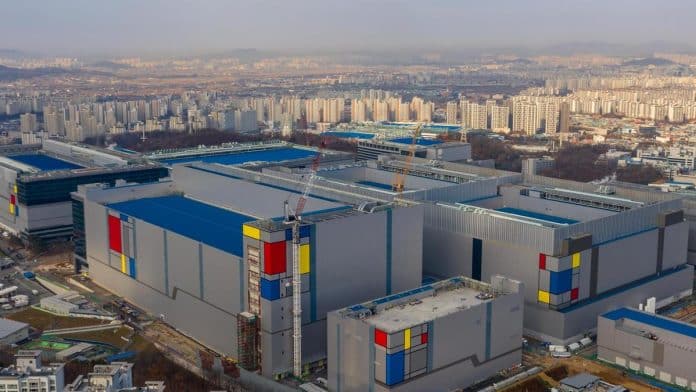 Samsung, known for its variety of electronics products does spend time manufacturing silicon which powers these devices as well. It is only among the few to do so and actually own various silicon fabrication process factories.
The South Korean giant is trying hard to catch up with TMSC's pace and trying ramp it's production to attract as many new customers it can. Samsung totally develops it's 7nm process chips and now it has begun the mass production of the upcoming 5nm chip production.
Recently Samsung confirmed this while announcing its Q2 2020 performance. The company also revealed that it has also started working on 4nm chipsets which previous rumors said that it won't be making 4nm skip directly on to 3nm.
As TSMC will be delivering the N4 fabrication process, Samsung will also 4nm chipsets may be in 2022 or the end of 2021. The transition to a newer manufacturing process is going on a tremendous scale in the past few years, ultimately giving us an unbelievable amount of performance gain each year.
In spite of the pandemic, the development of 5nm is in line with Samsung's vision of starting the mass production of 5nm chipset by the end of Q2 2020 itself. The company even revealed that it will expand its 5nm production by starting investments in production lines in the Pyeongtaek complex, which they already announced this year.
Samsung plans to invest around KRW 10 trillion ($8.1 billion) in this facility which will be responsible for making AI-powered high-end smartphones, and HPC (high-performing computing) chips. Samsung's plan is to diversify applications into HPC and consumer products to improve profitability.
Samsung plans to use the 5nm process in developing it's upcoming Exynos 1000 SoC for the upcoming Galaxy S-series flagship smartphones and has partnered with AMD to make graphics as well. Samsung has also reportedly got the orders for mass production of upcoming Qualcomm chips like Snapdragon 875G and Snapdragon 735G based on the 5nm process.
Do check out:
😎TechnoSports-stay UPDATED😎