These days we tend to go for a proper soundbar for our homes, maybe for everyday music sessions or to boost your TV volume. As soundbars are now more affordable and better, we have a lot of options in the market as well but which should you be going for? So, I was looking for one and got to Amazon to check out some of the best sellers and this soundbar from iBall came to my attention.
For a quite long time, the soundbar was the best seller on Amazon and so I thought of going for it as its an Indian along, and the specs it offers at the pricing is just amazing. I ordered the Grey variant for just Rs. 1,520 and at that price it is a steal because the value it offers at that price is just crazy, so here's my complete review of the iBall Musi Bar Soundbar:
Specifications
Total Output: 10 W RMS (5 W x 2)
Speaker Driver: 5.2 cm x 2
Frequency Response: 100 Hz ~ 20 KHz
Impedance: 4 Ohms
S.P.L: 82 ± 3 dB
Playback Time: Upto 15 hours
Dimensions: 6.5 cm (H) x 38.3 cm (W) x 5.8 cm (D)
Weight: 625 g
Cords won't bother you anymore as Musi Bar has multiple playback options like BT | USB | MicroSD |AUX | FM
Acoustically optimized design that reduces vibrations and increases audio fidelity
Colors: Black, Grey, and White
In the box: Speaker – 1 N, Remote Control – 1 N, Charging Cable – 1 N, User Manual – 1 N
Design & Build quality
Generally, at its pricing, people expect any soundbar to look cheap and sub-par but however, here's not the case, the soundbar looks great and the design on the front mesh just enhances its beauty. The 4-star ratings on Amazon are genuine because the soundbar has a good build quality and feels sturdy & heavy as well. On the front, you have the iBall branding which doesn't look bad and the overall color scheme looks charming.
One thing to notice that, even though it is made up of plastic, the finishing on it makes it look good although there are compromises made on the back of the soundbar, as there's nothing special in terms of design. But if you would notice that it has an optimized design that reduces vibrations and increases audio fidelity, and it actually works.

There are four buttons on the top and those are of low quality, however, I get this is a budget soundbar but what impresses me is how compact the soundbar is, has a width of just 38 cm, it is easier to fit in and easier to carry weighing just 625 g. The remote is almost a gimmick only works if you use a USB drive or an SD card to listen to songs which these days are rare, still good for a lot of people who like that approach and if you love using FM.
Connectivity
The soundbar has 3 main modes including Bluetooth, Line-in, and FM mode, personally I used the first two modes mainly because the FM mode isn't that great as it doesn't catch the stations that accurate enough. For Bluetooth, I couldn't figure out what actual version it is, not even on the iBall site but as it shows battery percentage, it is most probably Bluetooth 4.2 and also you cannot connect two devices to the soundbar at the same time.
In reality the Bluetooth mode works like a charm and connects very fast, and you can easily plug-in an AUX cable to use it with your TV or PC, anything you want. However, one thing I noticed is that the soundbar has better audio quality when used with Bluetooth mode rather than the Line-in mode.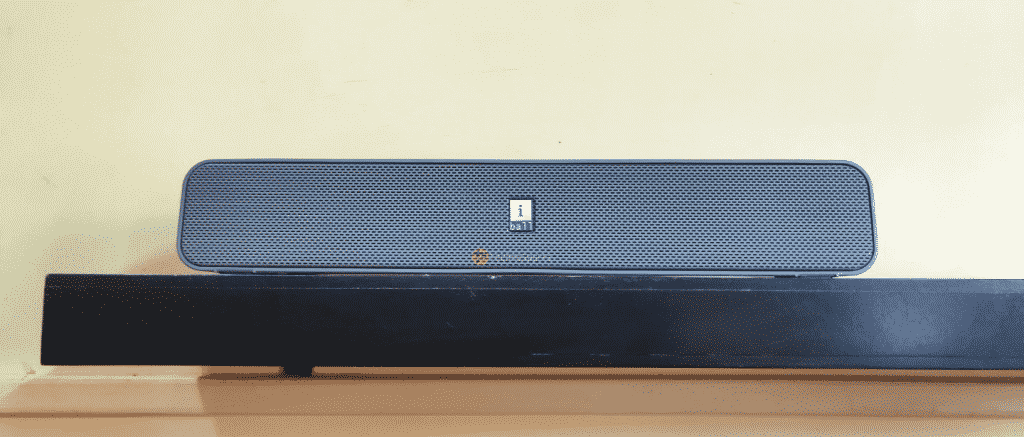 Audio Performance
Obviously, the main thing you notice is the audio quality of the soundbar, well to be honest I had doubts in my mind that coming in that cheap will the 10W (5 W x 2) speaker actually work? To my surprise, yes the speaker is on par with the expectation, in fact, the sound quality is almost alike to the costlier soundbars.
I like the fact that how much loud the soundbar can go, do note that there are different audio interception quality in Bluetooth and Line-in modes, personally the Bluetooth mode can go very loud. If you are an ardent music listener, you'll love this iBall Musi Bar, how much loud you might go, the soundbar doesn't feel distorted, do use high quality music players like Spotify or Gaana or JioSaavn.
However, the speaker doesn't blow up your mind when it comes to base, as you miss the thump which any high priced soundbar from boAt or JBL gives you. For music listners, I would very much recommend this as the quality of the music is just crystal clear but however, do not plan to use it as a movie companion because its high tones are not tuned well to handle any gun fires or explosions, those kind of scenes.
But if you plan to use it for watching matches, daily soaps and that kind of stuff where high tones don't matter much, then the iBall Musi Bar is a great option. Also, I like the fact that even though being such compact it delivers wide sound which is enough to fill a small or medium-sized room, do not expect any surround sound effect you get from costlier soundbars.
As I told previously, the sound quality in Bluetooth mode is great and if you use at 60% volume, you can get satisfactory results, however, when used in Line-in mode you have to go full 100% volume to get best results, quite strange honestly. Also, the USB and SD card reader mode works well and can easily be controlled via remote, comes in handy if you want no setup just endless songs one after another almost like a home theater with some limitations.
I don't about heavy songs, but the soundbar can handle any Bollywood song or even bhajans quite well, overall the music listening experience is great. If you are accustomed to listening such songs do go for this soundbar, don't expect punchier base with any English song and you cannot tune it with any equalizer so, just to have a soundbar at a low budget, the iBall Musi Bar should be a great choice for most people out there.
Battery Life
I was not expecting anything better in this segment because most soundbars do not give as much battery life as they promise, with this I have mixed feelings. The iBall Musi Bar says to deliver up to 15 hours, which is huge but doesn't actually give so but with Bluetooth mode, I got 10 hours battery life while with Line-in mode I got over 10 hours, practically enough for a budget soundbar. It doesn't support fast charge, so you need a lot of time to actually charge it.
Verdict
The iBall Musi Bar is a great budget soundbar that does the job for the most average user who needs a Bluetooth speaker maybe but having a compact soundbar like this actually helps a lot. The connectivity options are great as well, with lots of modes at around Rs. 1,500- Rs. 2.000 (depending on the color you chose), I have no complaints with this soundbar.
The value it offers is amazing and yes, it deserves to be the Amazon's bestseller as well, if you do not have huge expectations with it and need a daily driver, this is perfect! Buy from here: https://amzn.to/3gcKWen
Do check out:
😎TechnoSports-stay UPDATED😎