The leaks just don't stop here, ITCooker again pushes the limit on his new unreleased AMD APU – the 8 core & 16 threaded Ryzen 7 4700G that seems to be a new weapon for team red. The guy has been teasing some benchmarks with the APU and posting on Facebook but now the tipster has achieved around 5 GHz across all 8 cores without LN2 cooling.

This AMD APU based on Zen 2 architecture features 8 cores and 16 threads along with 4 MB of L2 and 8 MB of L3 cache along with base clock speed of 3.60 GHz and boosts up to 4.45 GHz. The CPU-Z screenshot shown here totally matches with the previous leaks.
The Ryzen 7 4700G has a TDP of 65W and features the integrated 7nm Vega GPU which comes with 8 CUs clocked at 2100 MHz, making this the fastest APU we have ever seen both from CPU and GPU power.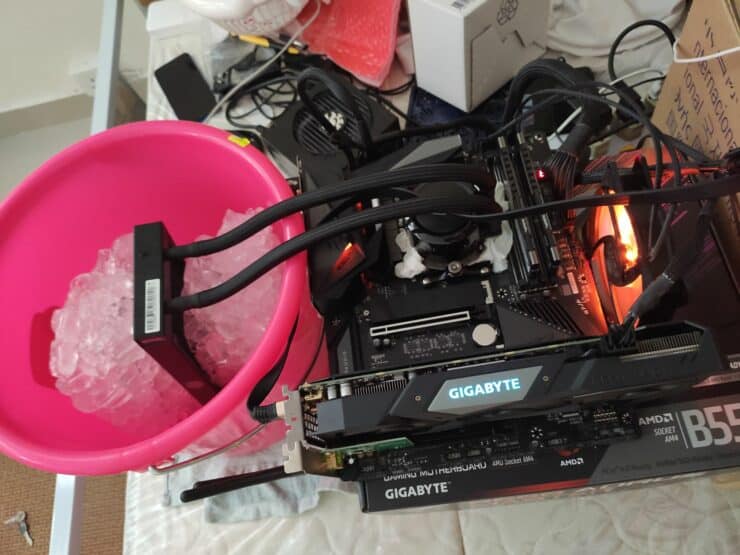 Being overclocked to 4.55 GHz across all 8 cores the APU achieved great scores on benchmarks, beating the likes of Ryzen 7 3800X & Core i9-10700K. In this setup, we see the use of a Gigabyte B550 AORUS Master motherboard alongside Crucial Ballistix Gaming series RAM clocked at DDR4-5400, these new motherboards support high-speed RAMs with the selected XMP profile.
The AMD Ryzen 7 4700G APU was pushed to an incredible 4.96 GHz across all of its 8 cores consuming a voltage of 1.519V and a 360mm AIO radiator was used that was cooled in-turn cooled by two bags of ice. Obviously, pushing to this limits requires this type of crazy stuff but generally, any good AIO cooling solutions will easily allow you to boost up to 4.5-4.7 GHz.
There are no benchmarks as such but seeing this insane amount of overclocking is giving hopes that these upcoming APUs shall not only give a great iGPU performance but also a strong CPU performance that its Ryzen 3000 brothers give. Also, new B550 motherboards with high-speed RAMs again helps to push the performance even more. Don't worry AMD is slated to launch these Ryzen 4000G APUs as soon as tomorrow July 21st.
via Wccftech
Buy the Ryzen 7 3700: https://amzn.to/39pYq41
Buy the Ryzen 7 3800X: https://amzn.to/39cQAdT
Do check out:
😎TechnoSports-stay UPDATED😎