Needless to say, the global pandemic affects all the market places along with other fields all over the world and it's worst any of us ever seen. The smartphone market is not an exception. Stats said the overall YoY smartphone market drop in India is 48% and it is analyzed by Canalys.
According to the list, Xiaomi once again leads the market followed by Vivo and Samsung. Oppo and Realme switched their positions on the list. Now Oppo comes up at the fourth position and Realme downed at fifth position.
As usual, Xiaomi keeps its top position in the second quarter of 2020 with the shipment of 5.3 million units and secure 30.9% of Indian market share, YoY growth decreased by 48%.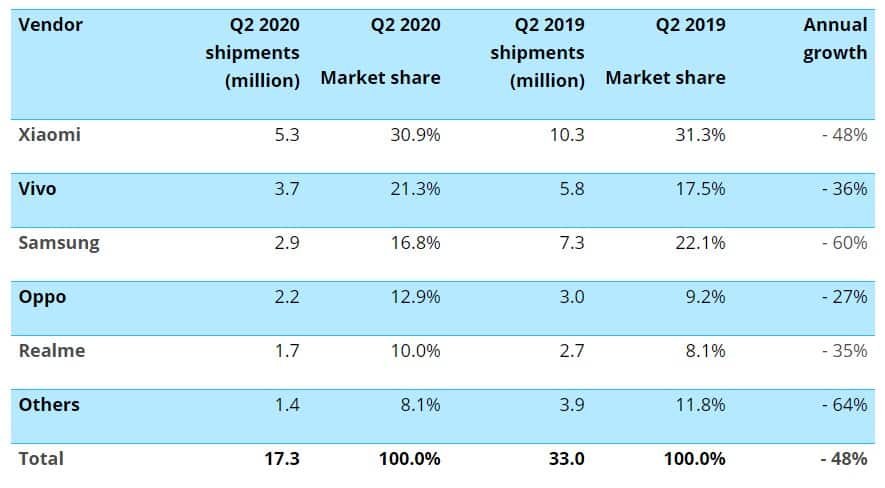 Similar to Xiaomi, Vivo also gets success to secure the same position as Q4 2019. It ranked 2nd after shipping 3.7 million and holds a 21.3% market share.
After that, in the third position, there is Samsung. It shipped 2.9 million units in Q2 2020 and keeps 16.8% of the market share. The annual growth of Samsung is 60% less than previously.
Oppo and Realme come back to back after Samsung at the fourth and fifth positions respectively. As I mentioned, Realme loses its fourth position to Oppo and comes down to the fifth. Oppo shipped 2.2 million units, where Realme managed 1.7 million units. Both companies have market shares of 12.9% and 10% respectively.
The other OEMs including Apple, Nokia, Asus, OnePlus, together, shipped 1.4 million units and have a market share of only 8.1%. Among all the smartphone makers, Apple is the less affected brand with 20% of YoY reduction.
Do Check Out 👇🏼