Moto G8 Play was launched nearly at the end of the previous year so now the company is already working on the successors of the G series. Yes, we are talking particularly about the Moto G9 Play. The Moto G9 Play will be one of the entry-level smartphones of the G series this year with various kinds of specs upgraded from the previous versions.
Last year we have seen that the Moto G8 Play was using MediaTek Helio P70M but this year according to reports the successor G9 Play seems to have a motherboard codenamed "camp". We have no concrete information about this chipset but reports claim that its an old Snapdragon 665 chipset. Though old, still better than the MediaTek Helio P70M.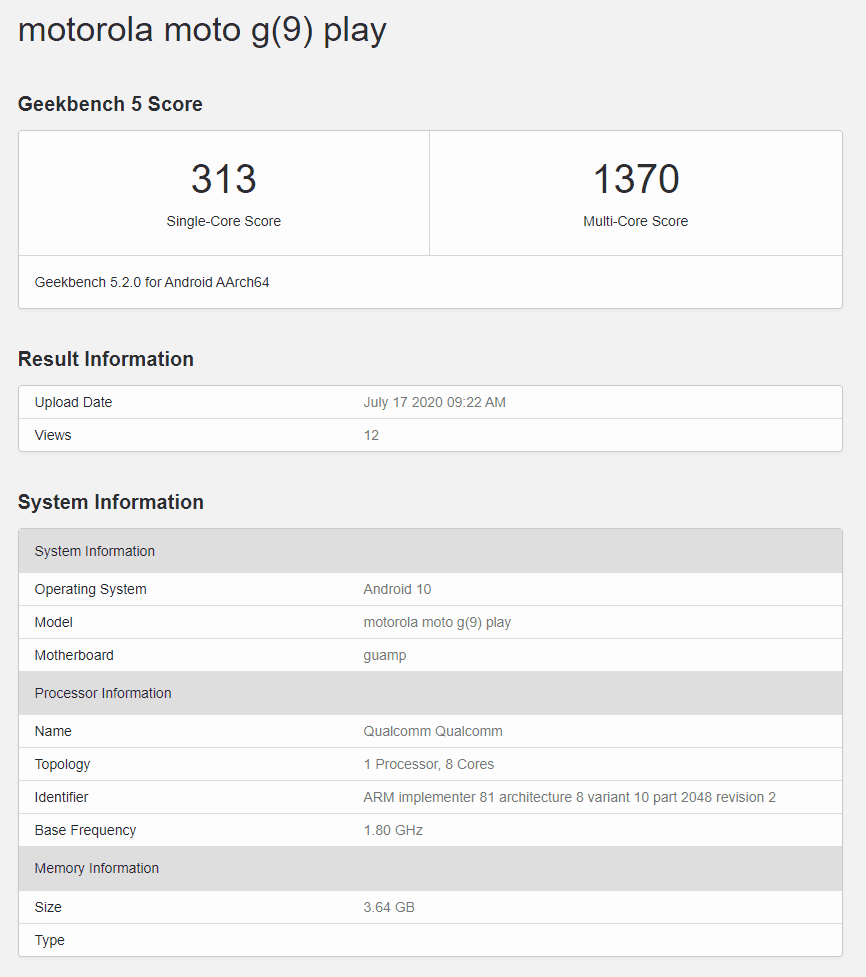 Lately, we have spotted the Moto G9 Play in the Geekbench 5 listing. The listing shows a 4G RAM variant an octa-core processor that has a 1.80GHz base frequency and the processor name suggested Qualcomm might confirm the Snapdragon 665 chipset. The phone will also run on Android 10.
Moto G8 Play only has 2GB RAM as it is considered to be the entry-level smartphone of the G series but the G9 Play will have 4GB RAM as mentioned by Geekbench, and we are pretty sure there might be some lower RAM variant for this device available during launch if Moto wants this device to make an entry-level smartphone of the G series.
This device is not the first one to surface from the new G9 series – Moto G9 Plus 4 GB of RAM and 128 GB storage which was listed at an online retailer at €277.