Konami will not be launching a new PES 2021 as a whole new game but will be updating its existing PES 2020 game with a new season update. Konami has announced that the PES 2021 season update will be coming on 15th September and will be priced at £25.
This update will include the latest players and the club data for the new season along with a new exclusive Euro 2020 mode. This mode will include an offline tournament mode which includes all the 55 UEFA national teams and the new Wembley Stadium, on the other hand, the real-life version of Euro 2020 has been postponed to 2021.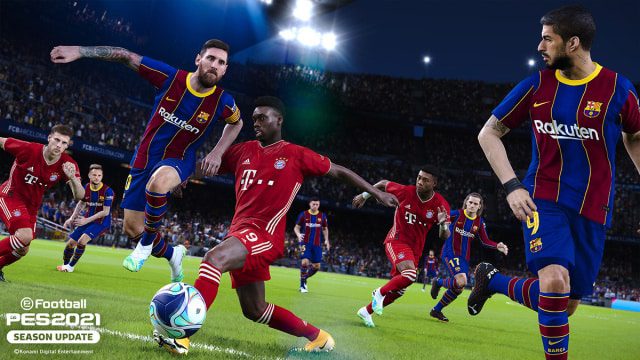 Now, because of the delayed endings of the football seasons due to COVID-19, Konami will be adding up-to-date info for some of the leagues and teams in the day-one patch itself. There's will also be a "veteran's bonus" – rewards depending on the milestones you have achieved in the PES 2020.
Also, this time, AC Milan and Inter Milan will be called MILANO RN and LOMBARDIA NA, as Konami has lost the official licenses with the clubs but these renamed two PES original clubs will feature players with real names.
The PES 2021 season update will be available for all platforms including PlayStation 4, Xbox One and PC (via Steam) on September 15th. Konami will be selling it in physical form as well and as a download for a price of £24.99 or $29.99.
Much like last year, there will also be special Club Editions of PES 2021 via digital platforms exclusively. This will be available for its partnered clubs which includes FC Barcelona, Juventus, Manchester United, FC Bayern Munich and Arsenal FC.
So, these Club Editions will include unique club-specific content such as myClub squads, Iconic Moment Series players, exclusive kits, branded menus and much more and the Club Editions will cost you £29.99 or $34.99. Now, if you order a Club Edition through PES 2020, you'll get a 20% discount as well.
Konami had to call off a dedicated full version of the PES 2021 game because it wants to focus on a full next-gen version for the next year. At this fall, we will get the new PlayStation 5 and Xbox Series X launched, so Konami wants to ready its next big game for the next-gen console by moving PES over to the much better Unreal game engine.
Do check out:
😎TechnoSports-stay UPDATED😎