Technically we have already seen the renders of the Google Pixel 4a and now there is also another small mistake done by Google's Canadian store page where an image of the Nest WiFi should have been shown and the focus was meant to be on the WiFi technology. The banner image accidentally showed the Pixel 4a and that too in the black colour variant.
We have seen renders from various places that suggested that the Pixel 4a will have a single rear camera in a square glass design. The renders also suggested that there will be a punch hole selfie camera cut at the left top corner of the device. But we wanted some official confirmation all this time and now we got that confirmation but indirectly.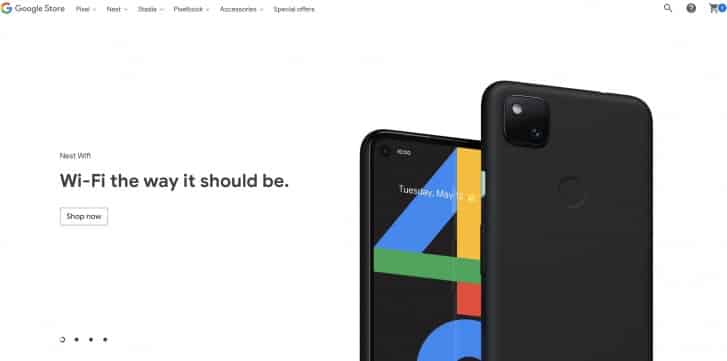 The date on the screen of the smartphone mentioned is "Thursday, May 12". This means that Google was planning to launch this device in the Google annual I/O 2020 but now the launch has been pushed back due to the cancellation of the event.
There are renders and reports all over the internet and for the past few days there is more news about this smartphone surfacing which means that the launch of the Pixel 4a is nearing. Google has not revealed yet when they are going to unveil this smartphone but we are pretty sure that along with this device there will be more devices that will pop up alongside.