Reliance Jio is strong in India with about 388 million subscribers in India, thanks to its affordable data plans in the country and obviously its JioPhone which is still the cheapest 4G phone on planet. Jio's strategy in gathering people and ultimately giving all the access to internet at cheaper rates has been successful since its inception 4 years back.
Jio ended the monopoly in data when people had to strive for having data and it was very costly years back, Jio was the first to offer attractive data plans and pioneered for a digital India. JioPhone also brought as much people as it could with its cheap pricing and people gained access to internet, both rural and urban areas started progressing with this move.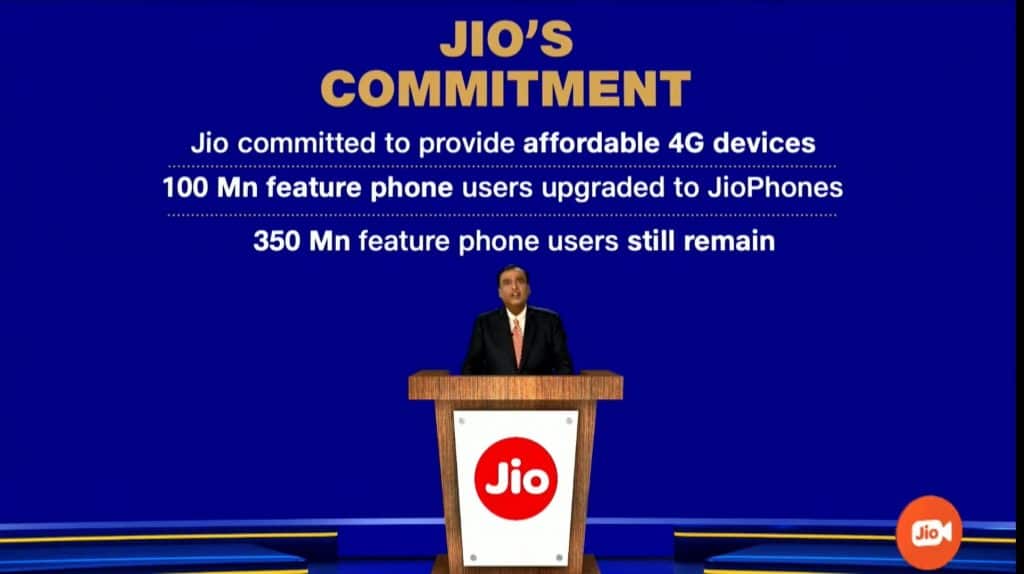 Well, as Mukesh Ambani said today only Reliance Jio sold over 100 million JioPhones and ultimately brought that many amounts of users to 4G network. But he also highlighted the fact that as much as 350 million people still use feature phones.
Now with 5G incoming, Jio plans "to make India 2G-mukt", which is indeed a bold proposition but will be backed by Google, who is now a strategic partner of Jio. Jio also says that they will also be providing affordable 4G devices to more than 300 million feature phone users in India.
Today at its AGM, Reliance Jio confirmed that the company is working on indigenous 5G mobile networks and promised to deliver affordable 5G smartphones in India. "As India is standing at the doorsteps of the 5G era, we should accelerate the migration of 350 million Indians, who currently use a 2G feature phone, to an affordable smart phone", said Mukesh Ambani Chairman and Managing Director of Reliance Industries.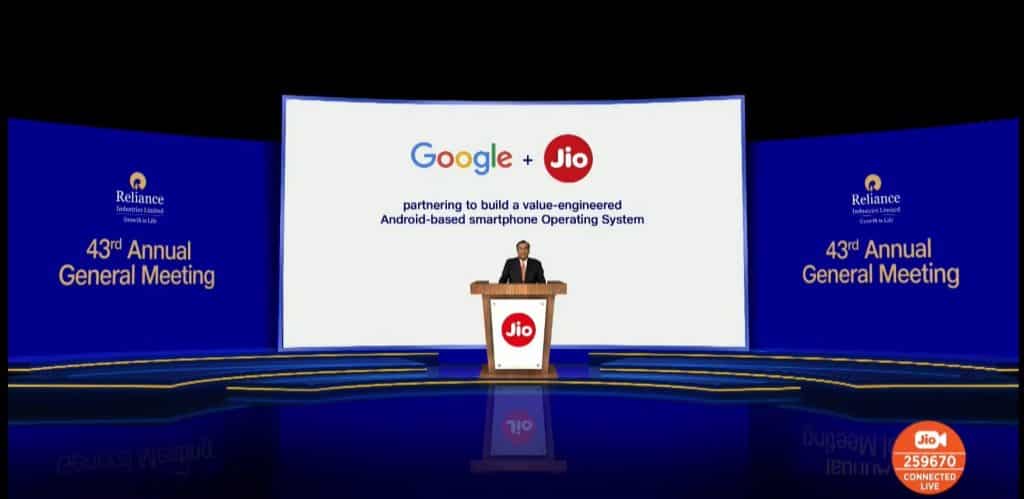 Mukesh Ambani also confirmed that they are working with Google to bring a custom Android-based smartphone OS optimized for these cheaper affordable 5G smartphones. This will ultimately help make a reliable cheap 5G smartphone for all and is based on Jio's own 5G network, people will benefit from the advantages of 5G services.
Mr Sundar Pichai, CEO of Google and Alphabet, said, "Reliance Industries, and Jio Platforms, in particular, deserve a good deal of credit for India's digital transformation. The pace and scale of digital transformation in India is hugely inspiring for us and reinforces our view that building products for India first helps us build better products for users everywhere. Google is proud to invest ₹ 33,737 crores into Jio. I am excited that our joint collaboration will focus on increasing access for hundreds of millions of Indians who don't currently own a smartphone while improving the mobile experience for all."
All these developments come at a time when India is boycotting Chinese products and supporting homegrown products so, Jio has the perfect opportunity to pounce with its services and bring cheaper 5G smartphones as 5G becomes ready in India.
Do check out:
😎TechnoSports-stay UPDATED😎