FC Barcelona are one of the most iconic clubs in world football. Club captain, Lionel Messi has been the centre of attraction in the last few years.
The Catalans had many great players over the years with the likes of Cruyff, Ronaldinho, Puyol, Xavi, Iniesta among many others to have worn the Blaugrana shirt. But there are some players as well who made it big after Barcelona sold them or wanted a transfer away from Camp Nou. Barcelona definitely regret selling those players.
Here's a list of the top 10 players Barcelona regret selling: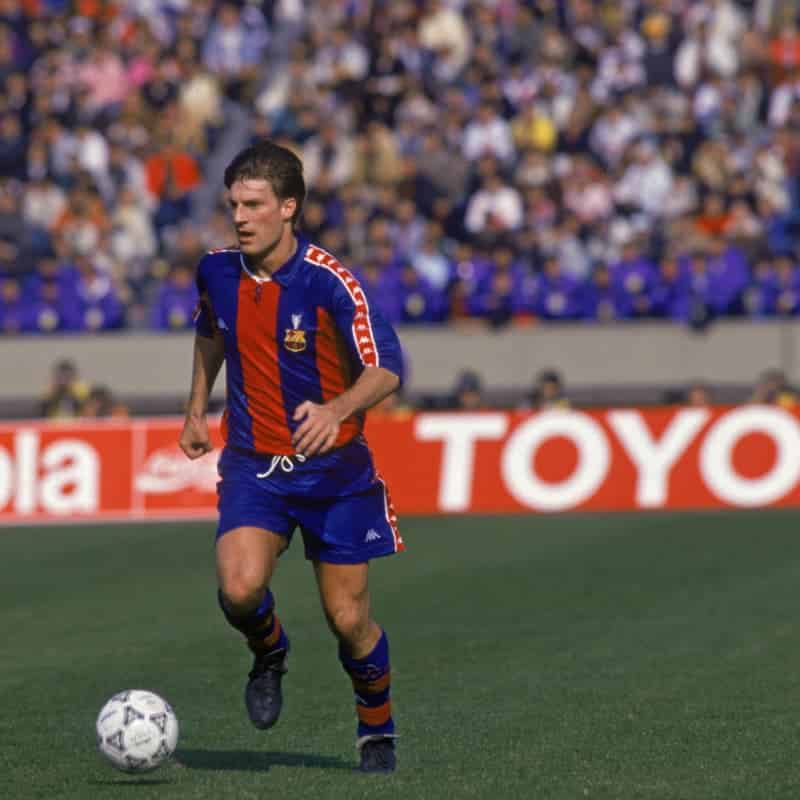 10. Michael Laudrup
The Danish international joined Barcelona in the 1989-90 season and played 5 seasons for them before joining their arch-rivals Real Madrid. Laudrup said about his time at the Camp Nou: "I think we played some very good football, and I think most of all we demonstrated that even without getting the ten best players in the world, you can have the best team. Because everybody talked about Begiristain, Bakero, Guardiola, Stoichkov, and Koeman, but when we started none of us was a best player, then we became maybe the best team in the world, together with AC Milan in that period."
In 1994, Laudrup left Barcelona after a reported fight with Johan Cruyff. Laudrup went on to win the LaLiga with Real Madrid that ended the Barcelona's stranglehold. He is the only player ever to win the Spanish league five times in a row playing for two different clubs.
Laudrup said about his move to Real Madrid: "People say I wanted to go to Real Madrid just to get revenge. I say revenge from what? I've had a perfect time; five fantastic years here [at Barcelona]. I went to Madrid because they were so hungry to win, and they had four or five players who went to the World Cup. I said this would be perfect; new coach, new players, and hungry to win."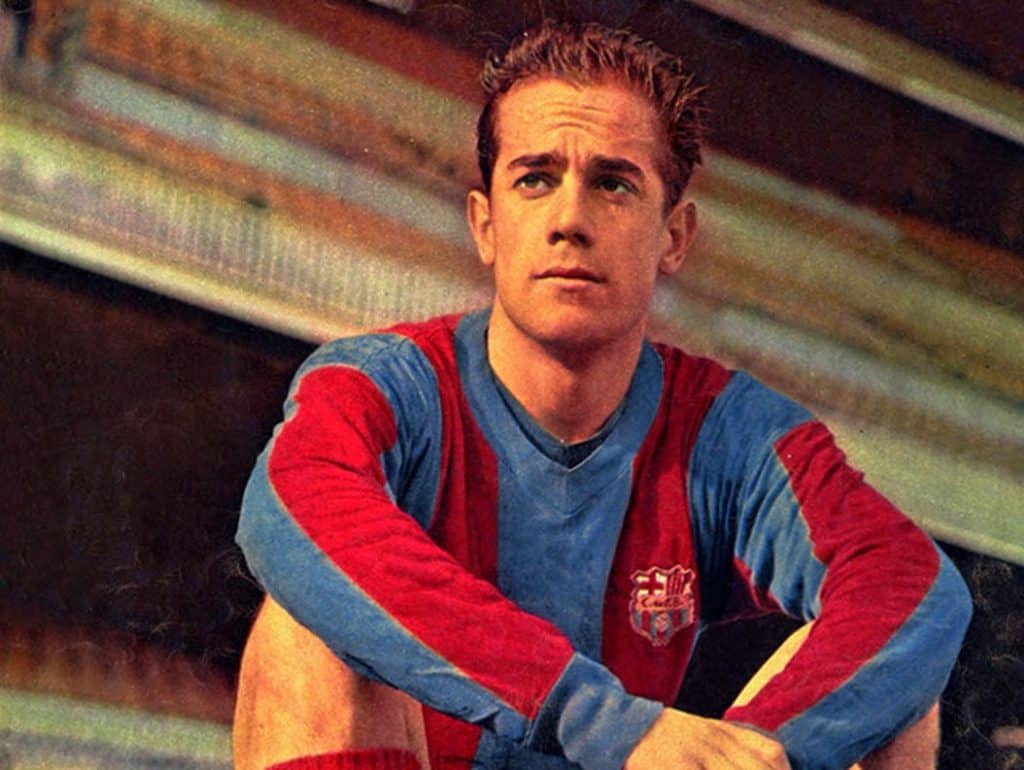 9. Luis Suarez Miramontes
Luis Suarez played for Barcelona since the 1954-1955 season. He formed a deadly duo with Hungarian trio Ladislao Kubala, who is the club's fourth-highest goalscorer. Luis Suarez has recently surpassed him to be the third-highest goalscorer in Barcelona's history.
Read: Luis Suarez becomes the third-highest goalscorer in Barcelona history
Suarez was so good during his time at Barcelona that he won back-to-back LaLiga titles and was voted as the Ballon d'Or winner in 1960, beating Real Madrid's Ferenc Puskas. But in 1961, Barcelona sold him to Inter Milan for £142,000, which made him the world's most expensive footballer and the first £100,000 transfer.
The Spanish international was even more successful at Inter. He won three Serie A titles, two consecutive Champions League and two Intercontinental Cups.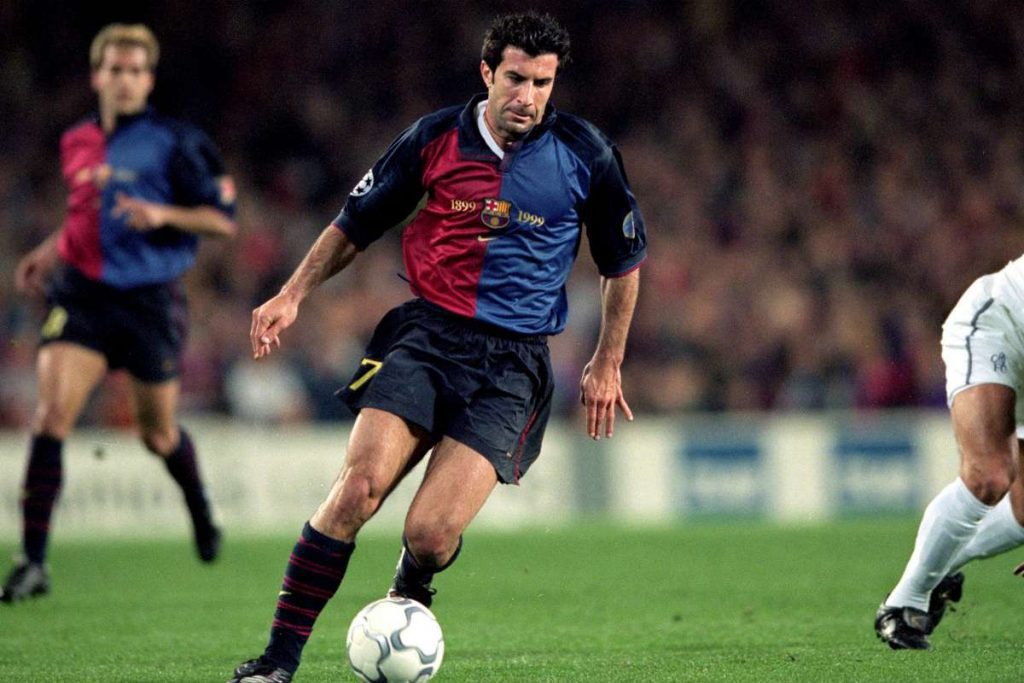 8. Luis Figo
The Portuguese international formed a formidable attack at Barcelona along with Rivaldo and Patrick Kluivert. His career graph was beginning to rise. But surprisingly, in July 2000, Figo made a controversial €62 million move to Barcelona's bitter rivals Real Madrid.
Real Madrid gave out his release clause to bring him to the Santiago Bernabeu and started the Galacticos era. Figo won the Ballon d'Or in 2000.
Barcelona couldn't have done anything as Real Madrid paid out his release clause, but they would have definitely liked if Figo continued to play at the Camp Nou.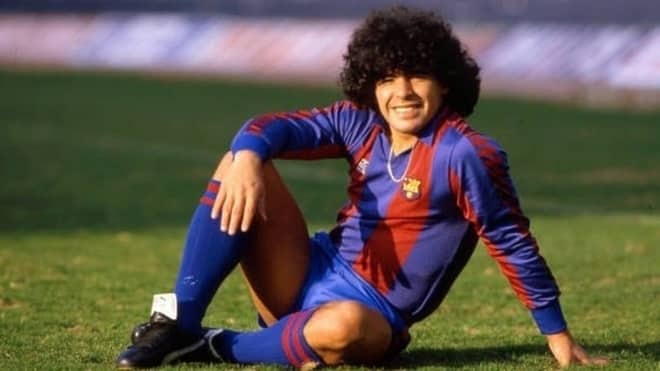 7. Diego Maradona
Regarded by many as the greatest ever player, Barcelona couldn't handle the Argentine. Maradona was involved in a mass brawl in a Copa del Rey final with Athletic Bilbao in 1984. One Barcelona executive stated: "When I saw those scenes of Maradona fighting and the chaos that followed I realized we couldn't go any further with him."
Despite scoring 38 goals in 58 games in two seasons with the club, Maradona was sold to Napoli for a world-records fee of £6.9 million. He won 2 Serie A titles and 1 UEFA Cup with Napoli and became a club legend there.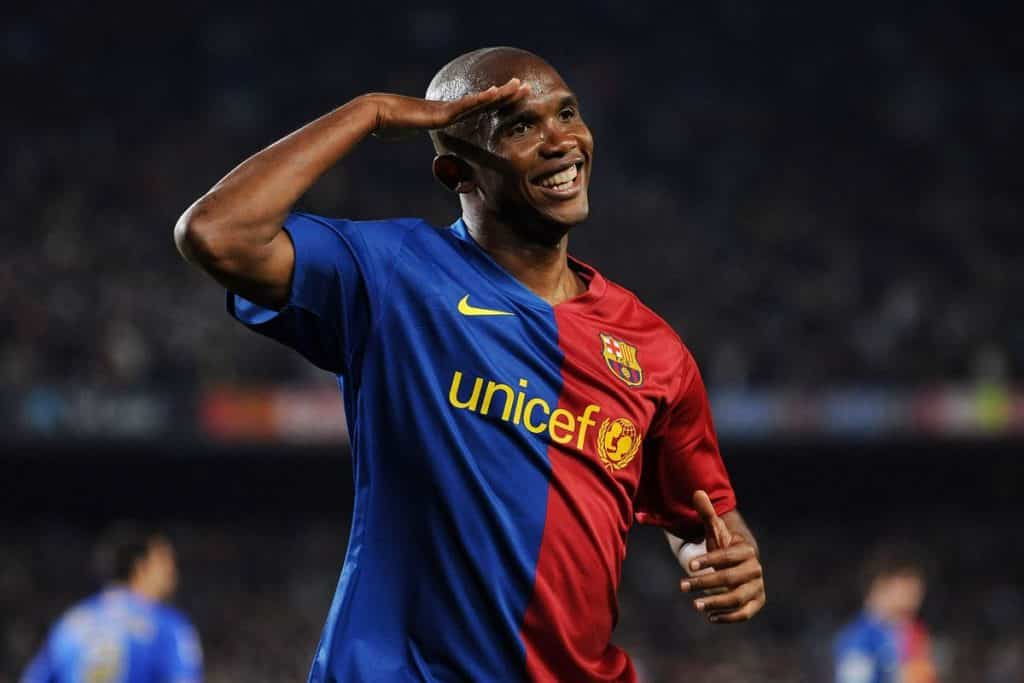 6. Samuel Eto'o
Samuel Eto'o won 3 LaLiga titles and 2 Champions League in his 5 seasons at the Camp Nou. He scored goals in each of the two Barcelona's Champions League final win. He was an instrumental player in the Barcelona squad.
But strangely in 2009, Pep Guardiola wanted an exchange in between Barcelona and Inter Milan. He wanted Zlatan Ibrahimovic to join the club in exchange for Eto'o and €46 million.
Eto'o had a hugely successful first season at Inter winning the Serie A and Champions League, the third of this career. Ibrahimovic never became a success like Eto'o in Barcelona, so Barcelona really regret selling the Cameroon international.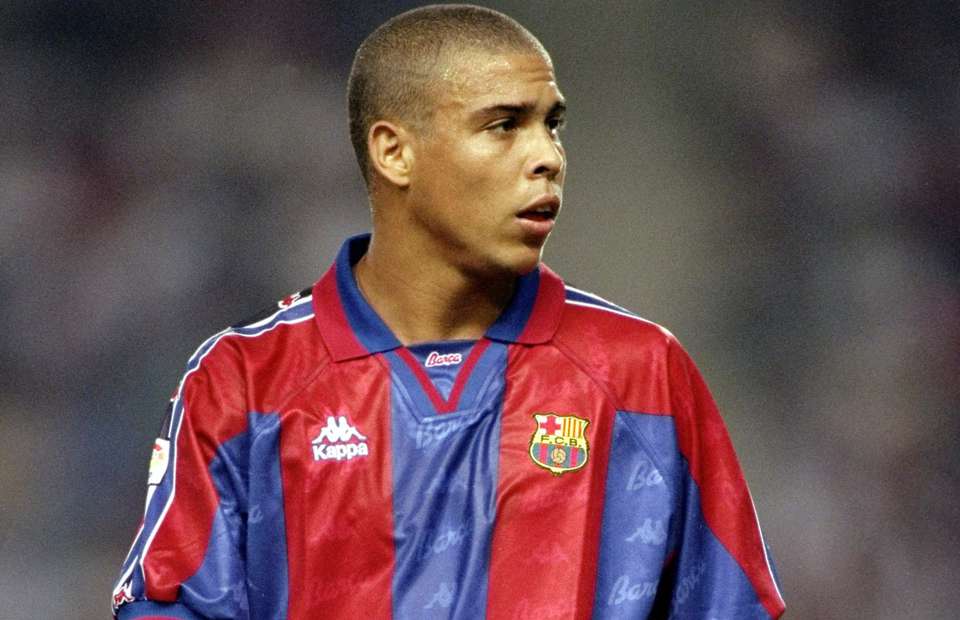 5. Ronaldo Luis Nazario de Lima
The Brazilian Ronaldo played only one season at Camp Nou. He scored an astonishing 47 goals in 49 games in his first season at Barcelona, but there were disputes over his contract extension and Inter Milan took the opportunity to bring him to Milan.
Inter Milan signed him in the summer of 1997 for a then world-record fee of $27 million. His career graph never went down after that. He had a successful time at Inter which earned him a move to Real Madrid where he was a part of the Galacticos era of global stars signed by the club every summer, which included Zinedine Zidane, Luis Figo, Roberto Carlos and David Beckham. He also won the Ballon d'Or during his time at the Santiago Bernabeu.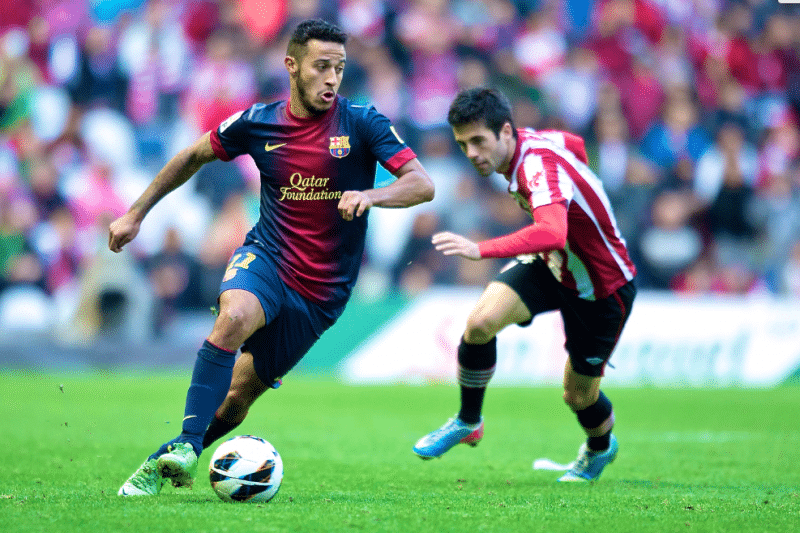 4. Thiago Alcantara
Alcantara is a product of Barcelona's famed youth academy, La Masia. Pep Guardiola knew the potential he would reach one day. So when Guardiola left for Bayern Munich in 2013, he wanted Thiago to join him at the Allianz Arena.
Guardiola told: "I spoke to the club [Bayern Munich] and told them about my concept and told them why I want Thiago. He is the only player that I want. It will be him or no one."
When Pep Guardiola wants a player or nothing, you can definitely guess how good a player he will transform into. Instead of holding onto him, Barcelona sold the Spanish midfielder to Bayern for around €25 million. He has won his seventh consecutive Bundesliga title this season with Bayern. The 29-year-old is wanted by all the top European clubs.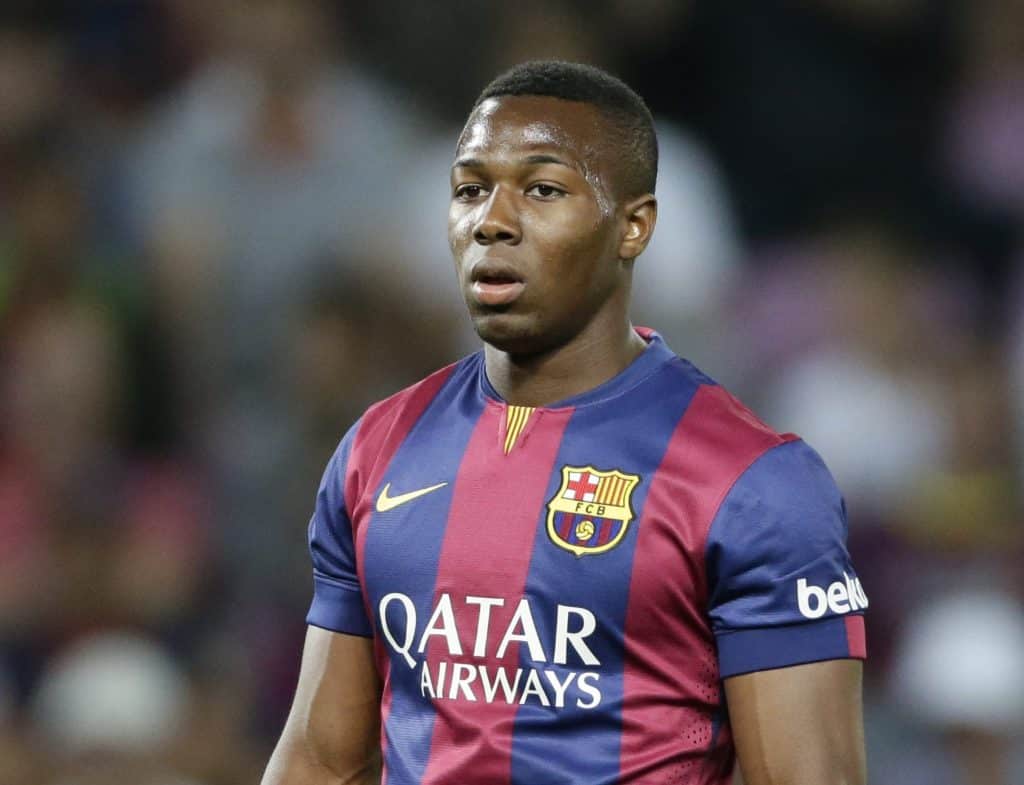 3. Adama Traore
Traore is also a graduate of La Masia. In 2013, Traore played his first LaLiga game at the age of only 17, replacing Neymar late on in the 4–0 home win over Granada CF. He made his first appearance in the UEFA Champions League on 26th November, coming on for Cesc Fabregas in the 82nd minute of a 1–2 defeat away to AFC Ajax in the group stage. He scored his first goal for the Blaugrana's main squad on 16th December 2014, playing 16 minutes and contributing to an 8–1 home demolition of SD Huesca in the Copa del Rey.
Barcelona thought he doesn't have the potential to make it big and sold him to Premier League club Aston Villa in 2015. He now plays for Wolverhampton Wanderers and on his day, the Spanish winger is almost unstoppable. He has blistering pace and great physical which gives him a massive advantage as a winger.
The Catalan club doesn't have a proper winger now, so if they hadn't sell Traore back in 2015, he would have definitely helped this Barcelona side.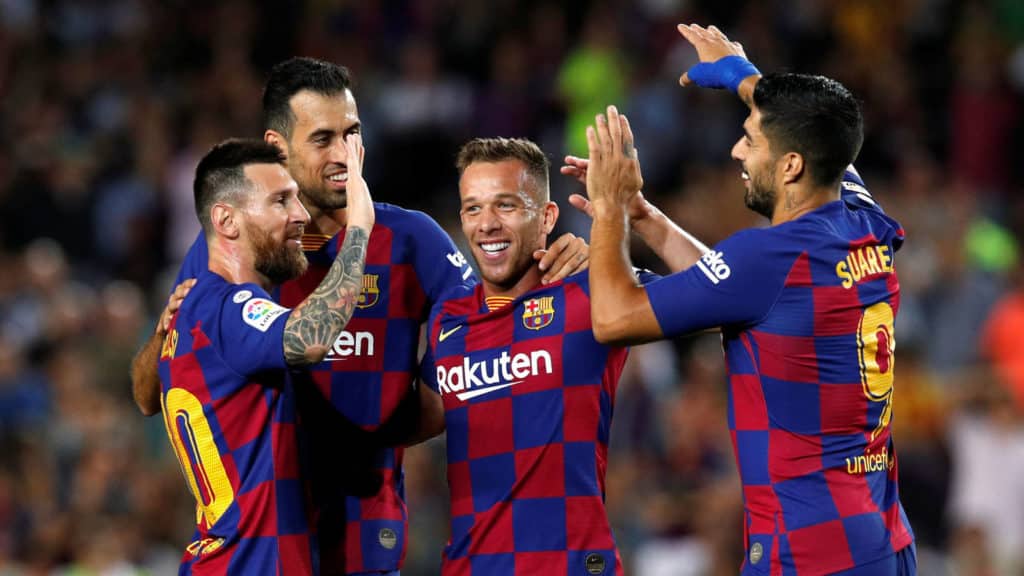 2. Arthur Melo
Barcelona has swapped the 23-year-old Brazilian midfielder for Juventus's 30-year-old Miralem Pjanic and €10 m. The deal has been agreed and the players will be exchanged at the end of this season.
Pjanic may become a hit at Barcelona but considering their ages, letting Arthur go, who has so many years left in his career is definitely going to make Barcelona regret at some point of time.
Read: Arthur-Pjanic swap deal confirmed by both Barcelona and Juventus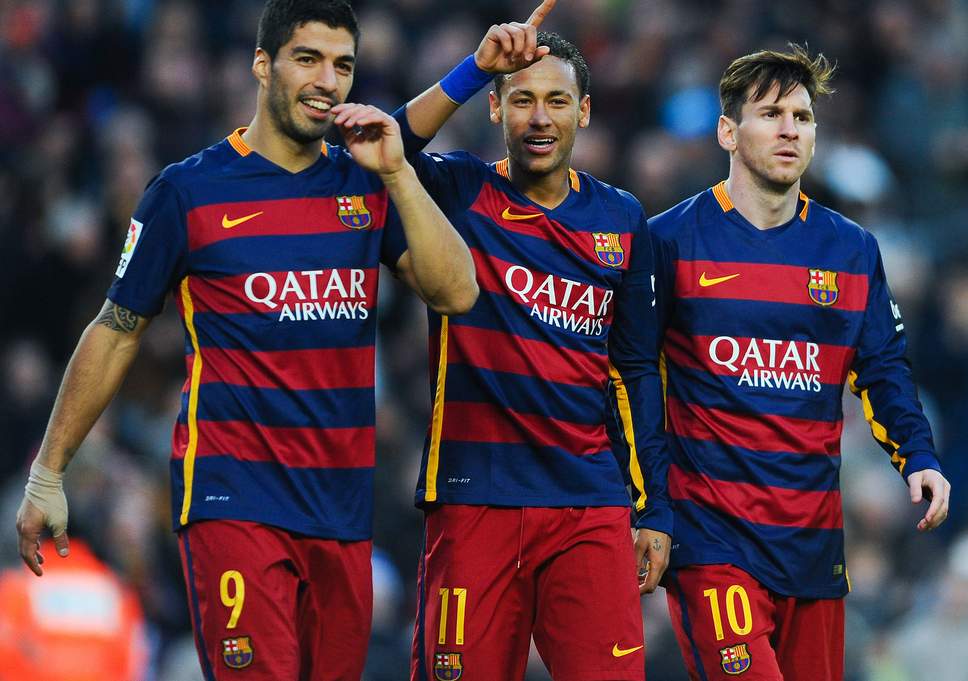 1. Neymar
Barcelona signed Neymar from Santos in 2013. The young Brazilian quickly adapted to life at the Camp Nou. The attacking trio of Messi-Suarez-Neymar was considered the best during those days. They conquered Spain as well as Europe.
In 2017, Neymar decided to move to Ligue 1 side Paris Saint-Germain for a record transfer fee of €222 million. But since leaving Barcelona, Neymar has publicly regretted his move.
As Messi is entering the dawn of his career, Barcelona also wanted somebody to carry on the mantle and who could probably be better than Neymar for that role! In every transfer window, there's a rumour of Neymar returning to the Camp Nou.
Do check out:
All the latest 2019-20 kits of football teams from all over the world are now available on Tech2Sports. Superior quality kits at the lowest price guaranteed. Show your support for your favourite club and country by wearing their colours.
If you're a Barcelona fan, then check this out:
1. Home Kit
2. Home Kit (Full Sleeve)
3. Away Kit
4. 3rd Kit
5. Mobile Cover