The Indian Government banned 59 apps mostly belongs to China at the end of June. Mainly the reason was security concerns. Combining this with the Indo-Chinese border tension, the demand for the Indian products and Indian replacements of 59 apps reached its pick. Besides, we also need to figure out the origins of the products available in the market and if the solution is provided by any of the Indians, that will be great. Two brothers from Mumbai, Nilesh and Deepak, bring the easiest solution to us.
They developed a bar code scanning app named 'Aatmanirbhar' by which you can find out a product is Made in India or not. Not only that, but there are also some more things to reveal to you. Firstly discuss the main feature.
After opening the app, you need to give access permission of your device camera only. To find out your item is Made in India or not, you have to open the scanner by taping on the banned saying 'Scan Any Barcode' or on the barcode icon at the top right corner and scan the barcode. If your internet connection is activated, the result will pop up on your mobile screen.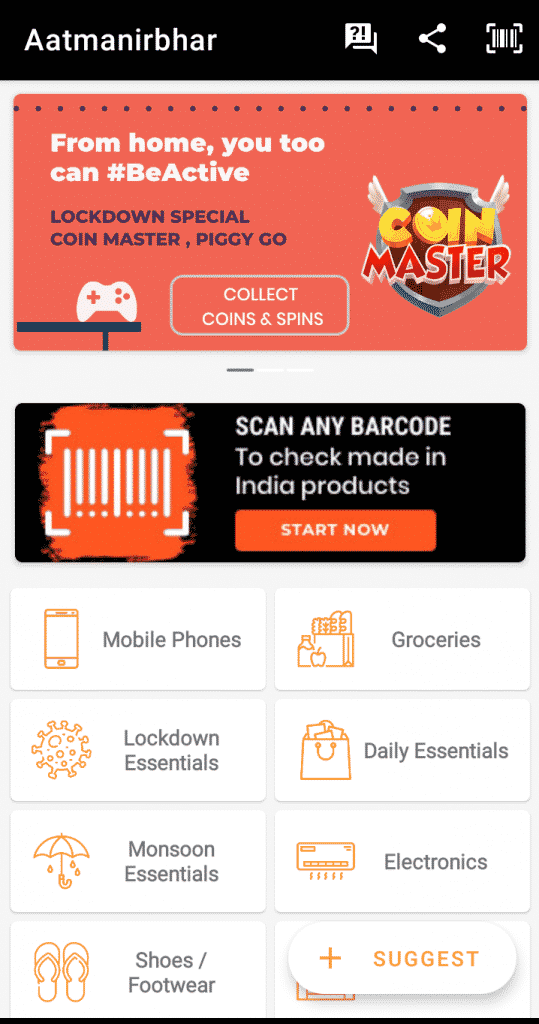 Now coming to the additional advantages. Rather than the upper mentioned facility, there is a well-categorized list of products mostly Made in India or non-Chinese. The Category chart includes almost all like groceries, mobile phones, accessories, even furniture, books, and so on. If you get interest in any of the items, the 'Buy Only' button will redirect you to Amazon. In the app, there are some games too which you can play in your free time.
As it is a new member of the Android app community, it needs more updates. Alongside, this type of app is not new in the market. We already saw 'Made in India' app before. Expecting more Indian solutions for the needy Indians.
Download it from Play Store
Do Check Out 👇🏼