AMD already dominates the desktop CPU market with its amazing price-to-performance ratio and the value it offers against Intel CPUs is amazing. Also the Red team has an habit of offering CPUs and GPUs with bundled games for free to attract more gamers.
So, AMD this time is bundling select Ryzen 3000 processors with the latest Assassin's Creed Valhalla game which is the latest instalment of the Assassin's Creed by Ubisoft. It is the twelfth major instalment and the twenty-second release in the Assassin's Creed series, and a successor to the 2018 game Assassin's Creed Odyssey.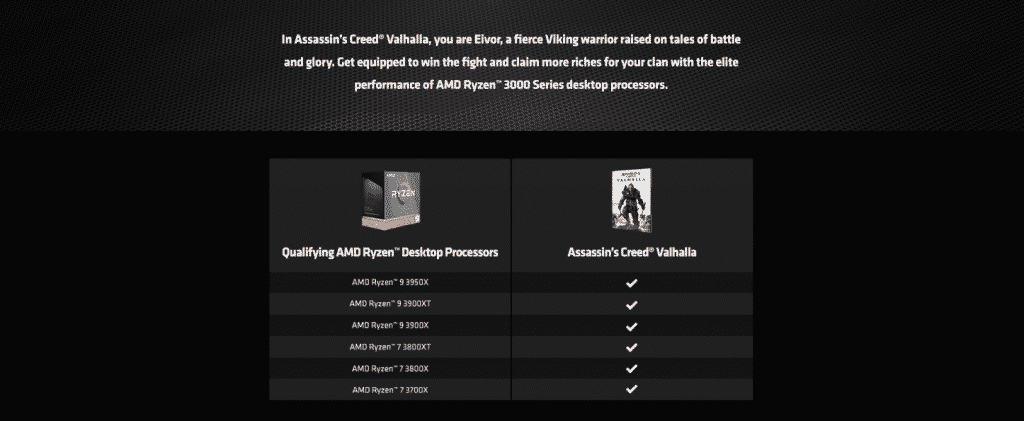 Here is the complete list of processors:
AMD Ryzen 9 3950X
AMD Ryzen 9 3900XT
AMD Ryzen 9 3900X
AMD Ryzen 7 3800XT
AMD Ryzen 7 3800X
AMD Ryzen 7 3700X
This latest game is scheduled to be launched in Q4 2020 and getting the latest game even before launch just buying a CPU is a great deal honestly and AMD knows how to attract gamers to itself with this move.
A lot of major retailers will be providing this game bundle with the CPUs and in India mdcomputers is one of them. So, why wait? Go get your AMD CPU now!!!
Do check out:
😎TechnoSports-stay UPDATED😎