OnePlus has recently declared with some instagram stories that it will launch the OnePlus Nord on July 21. The date of launch is nearing and we have already seen the glance of the device in the recent YouTube video. The phone looks sleek in a silver colour and triple rear camera.
OnePlus has again revealed a new feature of the smartphone which is the Optical Image Stabilization. Nothing is mentioned except this, and this smartphone will be able to do this with the triple rear camera. This camera feature has been revealed by Instagram – oneplus.nord in their recent IG story.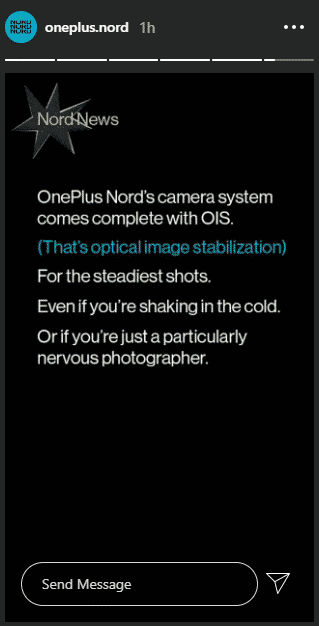 The account has also revealed the packing box of the smartphone also. The smartphone box looks pretty cool this time, with a Platinum Black and Blue colour combination. The company mentions the box is sturdy.
The smartphone will be powered with the Snapdragon 765G and will also support 5G. It has been said by the CEO in an interview and has also been confirmed by Amazon's Nord landing page.
Recently the Instagram account has shared another IGTV video where they are showing the New Beginning episode 1 and there discussed the various hurdles and processes of making this smartphone. First off, OnePlus CEO Pete Lau confirmed that the upcoming phone will come with a sub $500 price tag.
Buy OnePlus 8 5G from here: