Today, it's been announced that Silicon giant Intel has invested in Jio platforms, joining hands with the other 11 investors who have invested to make Reliance debt-free recently. Intel Capital will invest ₹ 1,894.50 crores in Jio Platforms at an equity value of ₹ 4.91 lakh crore and an enterprise value of ₹ 5.16 lakh crore.
Intel Capital's investment will translate into a 0.39% equity stake in Jio Platforms on a fully diluted basis. Intel Capital joins the list of marquee firms who have recently invested in Jio Platforms, taking the total investment amount to ₹ 117,588.45 crores. Companies are trusting to invest in Jio who holds strong with 388 million subscribers in India alone.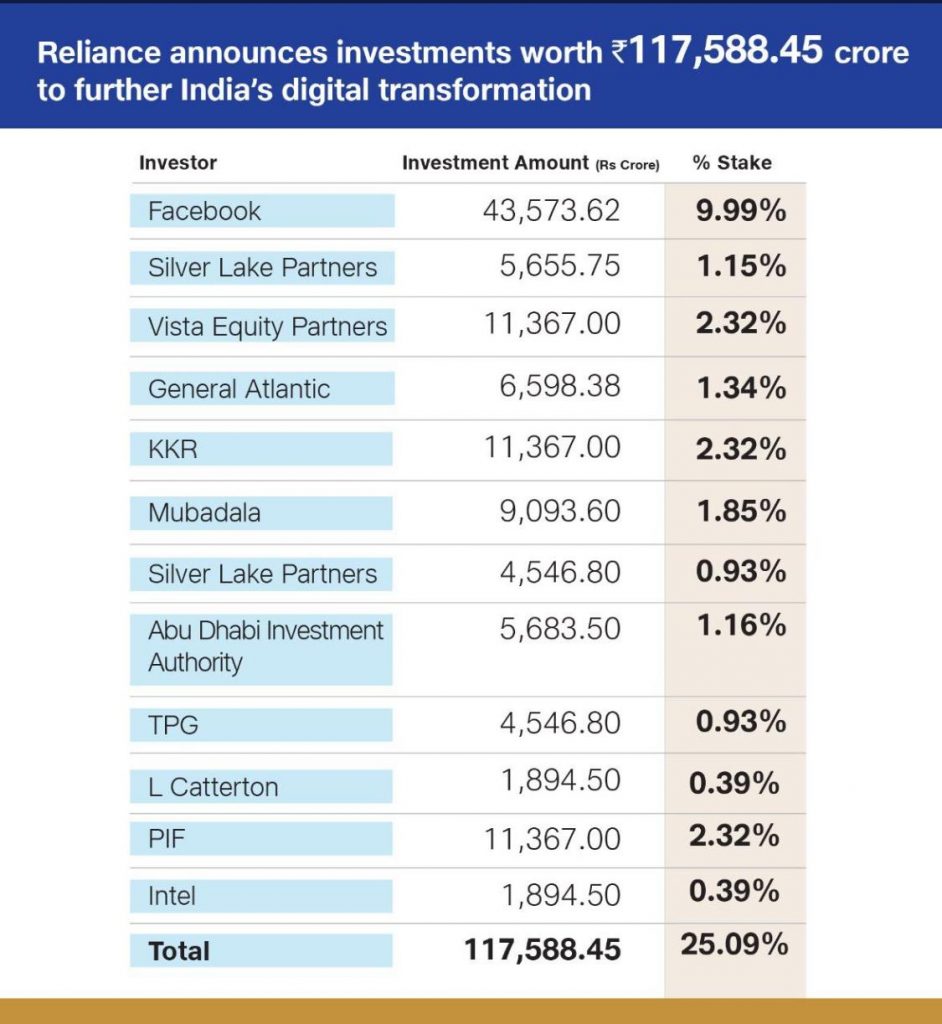 Reliance Jio is totally changing India with its digital movement with its 4G evolution, Optical fibre internet and with a bunch of apps and services Jio has been providing since its inception. It's not only transforming urban cities but also has been making 4G accessible to many via its JioPhone, which was another huge step in digitalization of the country.
When Jio decided to open its arms for investors, Mukesh Ambani never really thought he could be so much lucky to bag companies like Facebook, Silver Lake, KKR, PIF, Mubadala and others who took the investment level to ₹ 117,588.45 crore whereas Jio diluting a total of 25.09% of its stake in the company.
Here's what both Jio and Intel has to say about the investment:
Mr Mukesh Ambani, Chairman and Managing Director of Reliance Industries, said, "We are extremely delighted to deepen our ties with technology leaders that embody our vision of transforming India into a leading Digital Society in the world. Intel is a true industry leader, working towards creating world-changing technology and innovations. Intel Capital has an outstanding record of being a valuable partner for leading technology companies globally. We are therefore excited to work together with Intel to advance India's capabilities in cutting-edge technologies that will empower all sectors of our economy and improve the quality of life of 1.3 billion Indians."
Mr Wendell Brooks, Intel Capital President, said, "Jio Platforms' focus on applying its impressive engineering capabilities to bring the power of low-cost digital services to India aligns with Intel's purpose of delivering breakthrough technology that enriches lives. We believe digital access and data can transform business and society for the better. Through this investment, we are excited to help fuel digital transformation in India, where Intel maintains an important presence."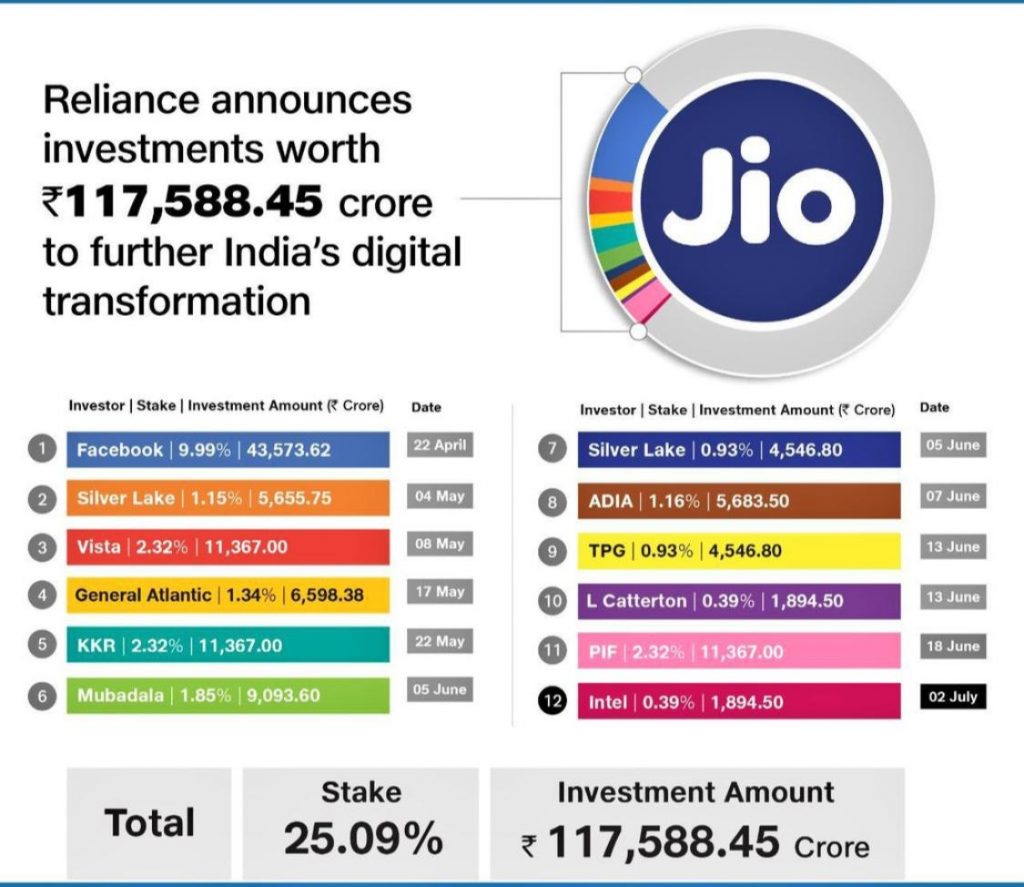 Apart from making itself debt-free, and enjoying the highest amount of wireless subscribers in India, Mukesh Ambani is having a pleasant 2020, but also his company is bringing useful services in the form of JioMart, bringing one-stop digital payment solution Jio UPI ID and yesterday announced JioMeet video conferencing app.
So, all in all, Intel's investment is the 12th one in this total series of investment and with such volume of investment, Jio can eye for a bigger move in transforming the country. Also, keep in mind, the anti Chinese movement is active, so, keeping in mind of both business and service, you can expect more announcements from Jio.
Also, Intel's move to invest in Jio brings another thing to note whether Jio is planning big for the 5G evolution in the coming days. Already Indian Govt. has asked telecom sectors to not to use Chinese equipment, so Intel who is actually pioneering 5G in other countries can play a major role in Jio's digital movement. Also, Jio can benefit from Intel's huge progress in AI, datacenter and HPC, even though it's just an investment, this is a small step in the evolution of the country.
Do check out:
😎TechnoSports-stay UPDATED😎